Hamish & Andy (LiSTNR (SCA)), Casefile True Crime (Audioboom),and The Kyle & Jackie O Show (ARN/iHeartMedia) hold down the top three positions on the Top 100 Ranker and Top 100 All-Australian Ranker for June according to Triton Digital.
Liar, Liar: Melissa Caddick and the Missing Millions (Nine Publishing) drops down to number four on both rankers.
Hooked, Hitched & Hung Up (ARN/iHeartMedia) and SBS News Updates both debuted this month.
SCA General Manager Digital Audio, Grant Tothill, says, "June's Podcast Ranker is a great result for LiSTNR podcasts led by comedy, sport, news, and popular culture podcasts. It's great to see a blend of both radio and original podcasts doing so well.
"With the release of the first audio rom com based on Zöe Foster Blake's book The Younger Man and some great new original podcast releases in the coming months, plus the radio teams looking to continue to grow their radio show podcasts, it's an exciting time for LiSTNR."
ARN/iHeartMedia lead the publishers with 3,628,449 monthly listeners and 18,662,308 monthly downloads.
ARN's Head of Digital Audio, Corey Layton, says, "Being Australia's top Podcast Network for the 26thconsecutive ranker is an outstanding achievement and is testament to the hard work of our incredible team and partners. It is great to see such strong results across the genres that count as we continue to expand our diverse offering through our originals and partnerships with the best creators in Australia and across the globe."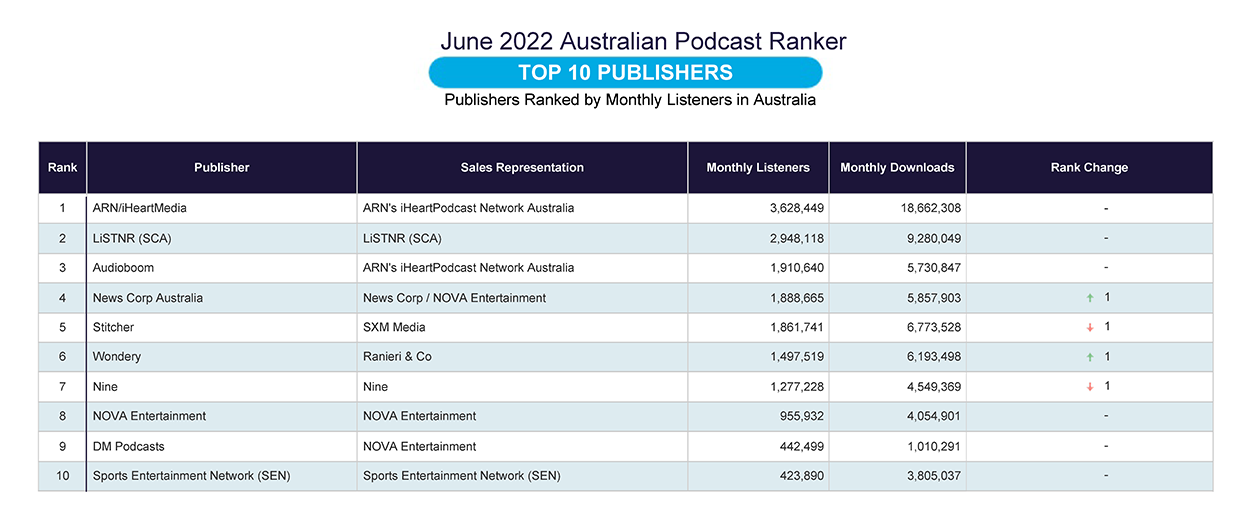 Total downloads for the month were down slightly to 69.1 million from 74.3 million in May.