John Maizels takes on the challenge to recreate an old radio studio for the ABC.
---
The brief: build a 1980s country radio studio for a segment in a comedy/drama series.
What comes to mind when you read 1980s? Do you flash back to walls of carts, turntables, Byer tape decks, AKG and Sennheiser mics on goosenecks, planet lamps, and big on-air signs outside a studio with wooden furniture, an AWA BAC-1 and Cuemaster 750 decks? If so, you're in the zone.
The challenge: Does any radio station today still look like that?
Even the few studios that still have original working mono RME consoles (and there are some) have long since dispensed with tape and moved to computers, and in the 1980s the LCD screen had not been invented. The studio has to be there and look the part because a gag calls for a radio talkback show. Gear needs to be set up in a way that's compatible with a film shoot. So this was going to be a special build.
The location: a disused voice-over and engineering booth previously used to record talking books.
I swapped notes with the Head Set Decorator, and foolishly claimed that I could handle the full brief. She said yes, but couldn't tell me exactly what would be needed other than old phones, turntables, gooseneck microphones, and tape recorders. Pretty sure they planned on prettying up whatever static stuff I could provide with small torches and fake lamps to trick up the result for the camera. Apparently that's what they do. My aim was slightly different: provide a studio and control room full of stuff that would work, and look real, because it was real.
The solution: get into the Maiz Museum and Archive, and extract all the gear that I've been threatening to fix on that rainy day that never comes.
The summer break became a busy work cycle. Pull a piece of gear from the garage and move it to the family room. Turn it on to see if smoke comes out. Do a trip to WES for parts. Replace fuses, globes, and perished belts. Turn on again to see if smoke would come out. Connect to speakers and sources of audio. Wait to see if smoke comes out of the speakers. Back to WES for more parts. Rinse and repeat.
Several devices were overly exciting. The Soundcraft desk worked sometimes, but stopped working if the power was cycled. Channels worked, but the monitor section was weird and wouldn't monitor. It was the power supply (who knew?). Replace all the caps and keep going. The Sonifex cart machines had belts that looked to be in perfect condition…and were perfect until they were touched, when the belts instantly disintegrated into puddles of very black goo. You couldn't create that effect in a lab if you tried. Buy another bottle of isopropyl alcohol to clean up the mess. Rinse and rinse and rinse and repeat.
Smoke did indeed significantly emanate from several devices, most spectacularly from a Cuemaster 4000 record/replay machine which actually played half a cart before going BANG in a very loud and smoky way. Interesting technical challenge: replace the caps in a generation one home-design switchmode power supply for which there was no documentation. Pray that turning on the deck would not cause the house to catch fire.
Not surprisingly, circuit diagrams were a problem for much of the gear. The correct manual pages for the Sonifex carts came from a hobbyist in Holland. The ex-ABC Symetrix phone system had come with the wrong manual, something I'd failed to notice in 20 years of ownership. And it didn't work: the mainframe and control boards refused to light up. Fortunately the open circuit regulator was easy to find, but almost every screw in the frame had to be removed to replace it. My two Cuemaster 750 decks couldn't be powered up: they had entirely different fuseholders of a type no longer made, and the fuses for both decks were made of unobtanium too. Strip down, replace the fuseholders, and pray for no smoke.
Along the way I cornered the local and international market on the old red XLR power connectors. Fun fact: the world supply of those connectors was from Victoria but I still can't understand how they ever got past the SECV, or why the BBC thought it was a good idea to standardise having power on the male.
The AWA BAC-1 took special attention: it needed to look the part, but really only the meters needed to actually work. Sadly, one of the original AWA meters had turned into a fuse and was very open circuit. Unbelievably, I had another Master Instruments meter of almost identical design which had been used as a doorstop. Combining the two created a Franken-meter which not only looks the part but has correct ballistics. They don't make them like that any more. Actually, they don't make them at all any more.
Speaking of carts: those of you who remember comparing Fidelipak and Audiopak carts: the Audiopak carts still win. I have a box full of Fidelipaks where the head pads have totally turned to dust. And I have another two boxes of carts which might contain priceless 1970s content. It's a bit hard to tell when they won't play. Still, nobody noticed or complained.
On the day before the shoot I relocated and set up the gear – it took most of a very long day with no air conditioning to wire everything up again. But the result was worth it: a 100% practical studio where the mics worked and the meters bounced, and no anorak would need to go unhappy. Sadly, the flashing on-hold lights, the bouncing meters, the carefully synchronised studio clocks, and the working Cuemaster 4000 never made it in-shot. No matter. Three of us knew it could have worked, and the audio director was impressed.
The show: you can check out the whole glorious two minutes of fame in Series 2 Episode 2 of Frayed, from 13:27 and available on iView right now. If you haven't seen the series at all, it's a bit of a giggle. You can binge from the start. By the way, the "studio" was a real VO booth, so it was studio-sized. The very tasteful lighting was from practical sources, and it's one of those miracles of film production that the shots don't show the other 450 people who crammed into the booth for the shoot. Think "Marx Brothers stateroom scene" and you'll be close.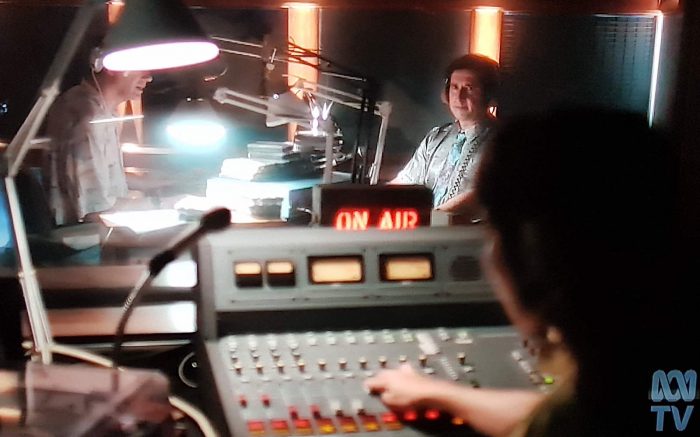 The without-whom: there are many who went above-and-beyond to help with the reconstruction of my household's equipment collection, whether they knew it or not: the long-suffering Lorraine, several staff at WES, Alistair Reynolds, Andrew Chapman, Peter O'Neill, Dennis van Benthem, Karen Olliver, and all the people who stayed out of the family room for a month.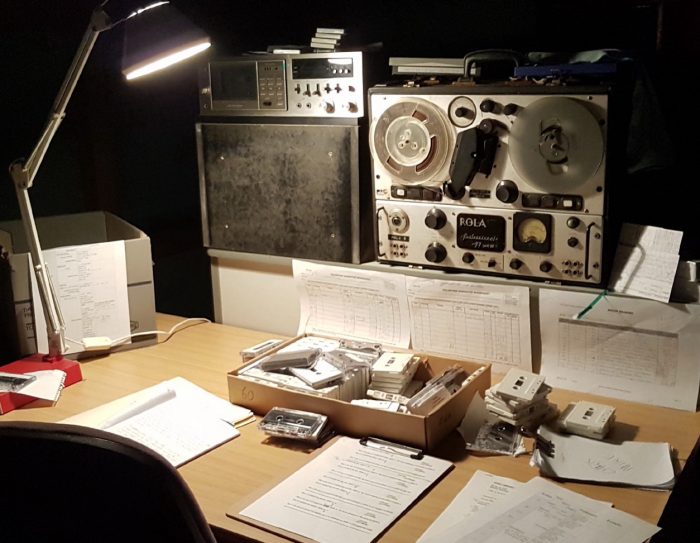 About the Author
After years of bidding for treasures at ABC auctions, John claims Frayed as the tenuously plausible justification for his overstuffed man-cave. He appreciates the extreme irony of building a commercial station studio for an ABC TV show, using gear largely purchased over the years from the ABC at auction.
John Maizels has spent the last 50 years dabbling in IT and broadcast engineering; radio then television. These days he is a technology evangelist who recognises Ohm as a god, helps TV students to understand the difference between SDI and a sprocket, and believes that every engineer should be forced to feel the pain that they inflict on their customers.
He still enjoys doing the occasional VO and is passionate about radio and training. He is a Fellow of the SMPTE, recipient of the CBAA's Michael Law Award, and volunteer President of Technorama Inc, so at least the money is where the mouth is.