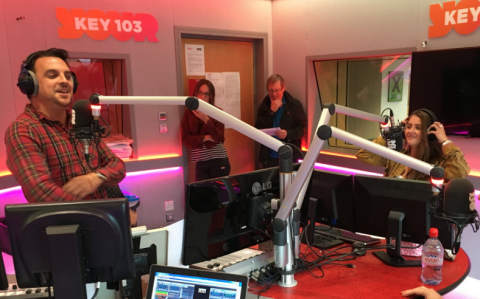 UK regulator Ofcom has upheld complaints made against Manchester-based radio station Key 103 over a phone-in competition dubbed 'Heartless Hotline'. (Pictured on air)
During the segment listeners were invited to ring the station to present their case for why they deserved to win a particular prize. The prize could then be "stolen" by another listener if they felt they deserved it more – and if they called in within the 30 second window during which phone lines were opened
On 27 April this year one listener, Sarah, called in to request a £2,000 prize to cover divorce costs and a court order that would let her keep her home. However, another caller, Leigh, who said she wanted a holiday, rang in and "stole" the money.
Responding to a complaint from a listener who described the competition as "disgusting," Ofcom said: "Sarah and Leigh were allowed to confront one another on air and argue about the extent to which each deserved the prize. At one point, this confrontation continued for over 30 seconds without any form of intervention from the presenters.
"We considered that it was likely that this would have increased the level of offence caused to listeners, because the station allowed this confrontation to occur in the first place and then let it continue uninterrupted."
"In our opinion, the Licensee should have been more aware before transmission of the potential for offence arising from including Sarah as a contestant in this competition."
Ofcom requested a meeting with Bauer Radio, owner of Key 103, to discuss its approach to live radio competitions.
A Bauer Media spokesperson said: "Following the call from a listener who was seeking to win money to cover legal advice for her divorce, Key 103 put her in touch with a legal firm who offered her £2000 – the equivalent value – of advice free of charge".
Two separate complaints were made about another 'Heartless Hotline' phone-in that took place two days later, in which a caller asked for £1,000 to pay off a debt that would let her get possession of her mother's ashes. Presenter Mike Toolan prevented any other callers from getting through so nobody else could steal the prize.
Ofcom found that this breached rules on broadcast competitions being conducted fairly.
Damned if you do – damned if you don't.