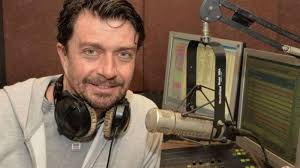 Two men have been arrested for the murder of British radio presenter Gavin Ford (pictured) in Lebanon.

Mr Ford, 53, was reportedly found bludgeoned and strangled with his hands tied behind his back at his apartment in a mountain town close to the capital Beirut.

The suspects, both Syrian, were arrested in Beirut.

He celebrated his birthday with around 10 friends at an Indian restaurant on the Sunday but colleagues became concerned when he didn't turn up for the 7am show on Tuesday.

His death led to an outpouring of shock and sadness on social media by people who followed his popular morning programme on all-music Radio One station. Mr Ford had worked for the station since the 1990s, gaining a large number of fans in Lebanon.