2UE has made further changes to its line up. This time on weekends, by extending it's morning and afternoon shifts to six hours. Now George (Moore) and Paul (B. Kidd) will start at 6 am and go through to Noon when they hand over to Tim Webster who'll now work till 6pm.
The shift, formerly known as Breakfast, on Saturday and Sunday, which most recently was hosted by Stuart Bocking, will disappear. Bocking, who now does Mon-Fri Mornings, couldn't be expected to work weekends too.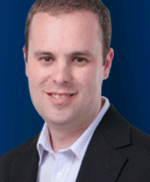 2UE Program Director, Clinton Maynard, (left) rejects any suggestion that this latest reshuffle is simply a cost cutting measure, telling radioinfo, "The changes we've announced to the 2UE line up are very much driven by our listeners. They have been asking us all year to put Stuart Bocking back on the Monday to Friday schedule, which is what we've have done.
"With Stuart's departure we've had to ensure we have a replacement program equally as strong. George and Paul have been the station's top performers for years so it has made sense to increase the length of their program to include the breakfast slot.
George and Paul previously presented the 6-Midday slot and recorded stronger ratings than what we've achieved so far this year.
When George and Paul last presented that shift they consistently rated in the 11s and 12s so, we are confident they will again be successful. The move also allows us to extend Tim Webster's afternoon program. Again our personality research indicates Tim is very popular and having more time will allow him to be heard by more listeners," said Mr Maynard.
Meanwhile, The International Business Times reports: The Fairfax Radio network's market value has been cut by 50 per cent months after the offer to buy it for $200 million came from John Singleton of Macquarie Radio Network. The lower valuation of $100 million happens amid continuous struggle of 2UE and 4BC in the Sydney and Brisbane markets.
2UE General Manager Chris Parker told the publication, "What we're trying to do is arrest the decline and improve what have been poorer than expected ratings results. We've got a very clear plan and will require some fine tuning, but it doesn't happen overnight. We are continuing to invest in 2UE. It turns 90 next year and our plan is to get it to 100."

In response to the headline in this radioinfo article Mr Parker offered the following statement:
"It's a bit much to say we have cancelled an entire meal, particularly one as important as Weekend Breakfast.

"The Better Health website reminds us that it's the most important meal of the day and people who skip the George and Paul weekend Breakfast program are missing out on their daily dose of News, Views and award winning Entertainment. This can lead to loss of concentration and a vacant expression when attempting to make sense of local, national and international affairs.
"The exception to this rule however is Stuart Bocking who has been asked to scale back his working week to a mere 5 days and host Monday – Friday Mornings and therefore will be working on his golf handicap on any given Saturday/ Sunday for the foreseeable future.

"So for the avoidance of doubt 2UE has not cancelled the Weekend Breakfast program. Far from it we have ensured that it'll remain Sydney's most listened to commercial radio weekend Breakfast program for many years to come," said Mt Parker.