The 2022 Techsurvey from Jacobs Media was released overnight giving radio stations a sobering look at the listening trends of their audience.
This year 474 radio stations across Canada and the USA participated with 30,819 respondents taking part in the survey from January 5th to February 7th this year.
Most of the respondents are members of station databases, and all responses were collected online and weighted using Nielsen 2021 market population data.
Jacobs Media refer to these respondents as 'Core Listeners' to radio.
When asked "Why do you listen to AM/FM radio", 65% say because it is the easiest to listen to in the car, 62% for the DJ's/Hosts/Shows and 59% because it's free.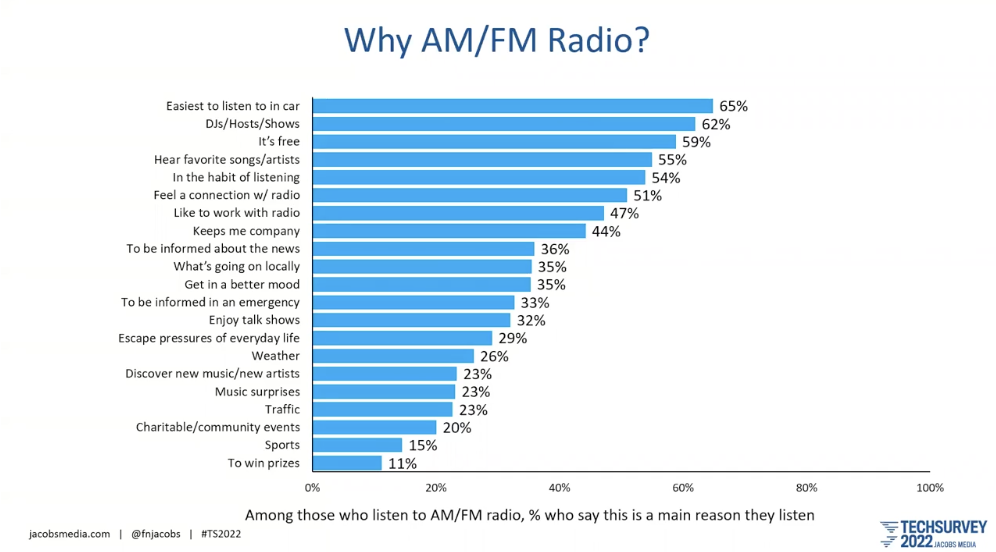 On the emotional underpinnings of radio, 54% listen because of habit, 51% because they feel a connection or for companionship (44%) or listen at work (47%).
Taking a closer look at those who have a connection to their local station, during the COVID era this has strengthened, with those that Strongly Agree that they have a stronger connection now at 37% in the past two years, up from 29% and 31% in the previous two years, with females in particular (40%) saying they have a stronger connection now.
Localism is also growing in importance for listeners, with 49% in the past two years strongly agreeing that localism gives radio an edge, up from 43% in 2018.
It isn't all chocolates and roses for radio with 12% of the core listeners saying they are listening less, but Techsurvey found that this has most likely been a result of the pandemic with 50% of these listeners saying they are spending less time in the car and therefore less time listening, or 48% who say lifestyle changes are the cause.
The appeal of personalities continues to strengthen over music as the main reason people listen to their favourite station.
Looking back at the 2014 Techsurvey wanting to hear a favourite song or artist was the reason 70% of those surveyed listened, compared to 57% wanting to hear the onair talent. Since 2019 this has flipped with onair talent (62%) ahead of music (55%) this year.
This personality appeal is stronger among women (65%) and Gen Y's (67%) and Gen X's (66%).
Digital listening is growing, especially among younger listeners with streaming of radio growing on computers (17%), mobile apps (8%) and smart speakers (6%) helping digital listening reach 35% this year.
Among Millennials digital is up at 42% compared to 53% traditional listening.
Going back to the 2013 Techsurvey, traditional listening to AM/FM radio in the car or at home/school/work was way up at 85%, with digital at 14%.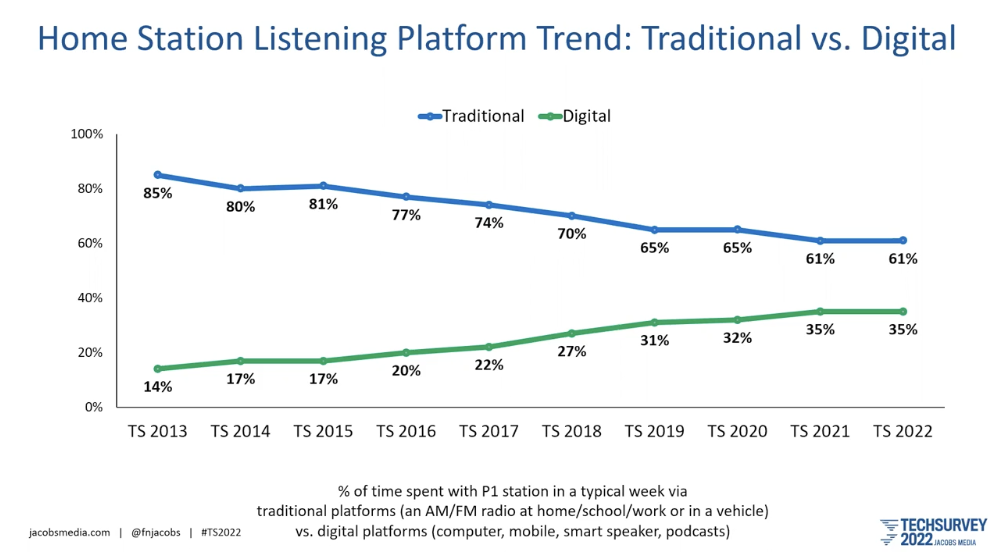 Of those streaming their favourite station, 61% use the stations website, down from 68% two years ago, with 48% using that stations own app, up from 42% in 2020, and 26% use their smartspeaker.
Seven out of ten have now downloaded a Radio/Music app with station apps on the rise. Gen Z and Millennials are the strongest app users.
For stations that have their own app, Techsurvey found that mobile device owners are mostly aware of the app, and about 4 in 10 have downloaded it, but there are still around 4 in 10 that don't know their favourite station has an app.
One of the surprises for the survey this year is that smartspeaker ownership has flatlined. In 2018 ownership was around 18%, growing to 35% last year, but stagnating there in 2022.
The number one objection to smartspeakers is a privacy issue with potential owners not wanting to have something in their home that eavesdrops on their conversations, this despite iPhones and connected cars also listening in.
According to Fred Jacobs, smartspeakers reputation of eavesdropping is something both Amazon and Google are going to have to address if they want to get further into the market.
For those that already own a smartspeaker, now more than 60% of them have multiple speakers in the home, meaning there are more devices owned in total.
This year the Techsurvey took an in-depth look at the car dashboard and the connected vehicle.
Of those who indicated they are going to buy a new car, for the first time, Bluetooth connectivity (76%) overtook FM (70%) radio as the most important feature.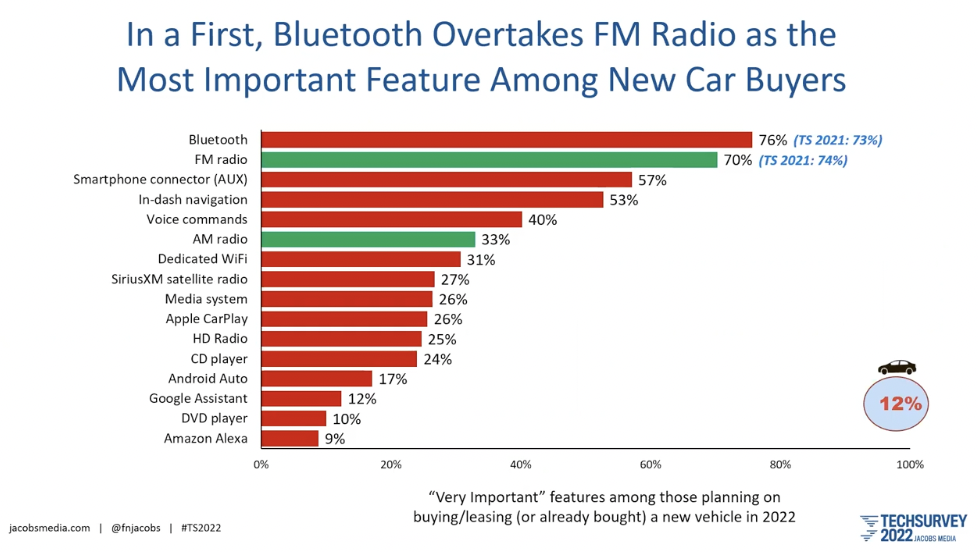 AM/FM is still the most listened to audio source in the car though at 56% it is down from 61% in 2018. Bear in mind that Techsurvey is US/Canada based and SiriusXM also has a large share with 19% this year.
For those with a Connected Car System, AM/FM radio listening drops to 47% while SiriusXM climbs to 23%.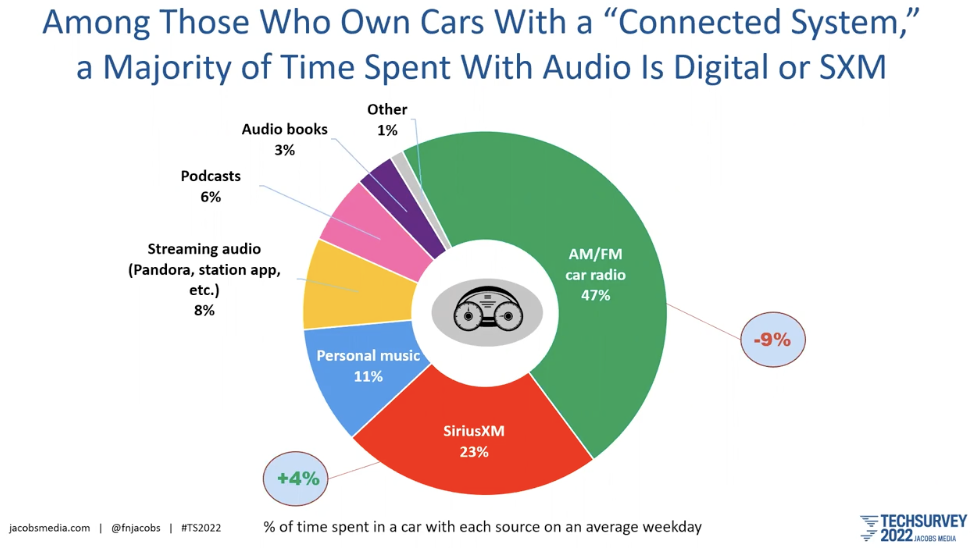 Techsurvey also took a look at the metadata displayed in car infotainment systems, and beyond Artist and Title, what people wanted to see.
Of those that own dashboards that can display Artist/Title information, emergency weather information was on top of the most desirable features they would like displayed.
Upcoming Artist/Title information was next and then Game Score, Show Name and Song Year were next.
The NAB released their Digital Dashboard Best Practices Report in June 2021 as a guide for stations setting up metadata.
The report is free to download and available non-members of NAB.