2Day FM has refreshed more than three quarters of its playlist in the music repositioning it has undertaken this year.
As we reported early in January, when the station came back to format after the Christmas break, listeners noticed a change in music format, moving the sound out of the mainstream CHR format more towards an AC format.

Since then we have been observing the music on the station to see just how much change has taken place.
We can now report, thanks to analysis from Aircheck, that there is a big change. More than 75% of last year's list has changed, according to analysis of one week in December and one week in January.

Aircheck analysed music from the week 4-8 December, against last week, 22-26 January, as shown in the chart below, revealing that only 22.5% of songs played were the same as last year. Both weeks were in ratings.

33.5% of songs were dumped from last years playlist, while this year's playlist was refreshed by adding 44% of different songs, based on the comparison of samples from both weeks. During prime time hours of 6am-6pm weekdays, the difference was slightly higher.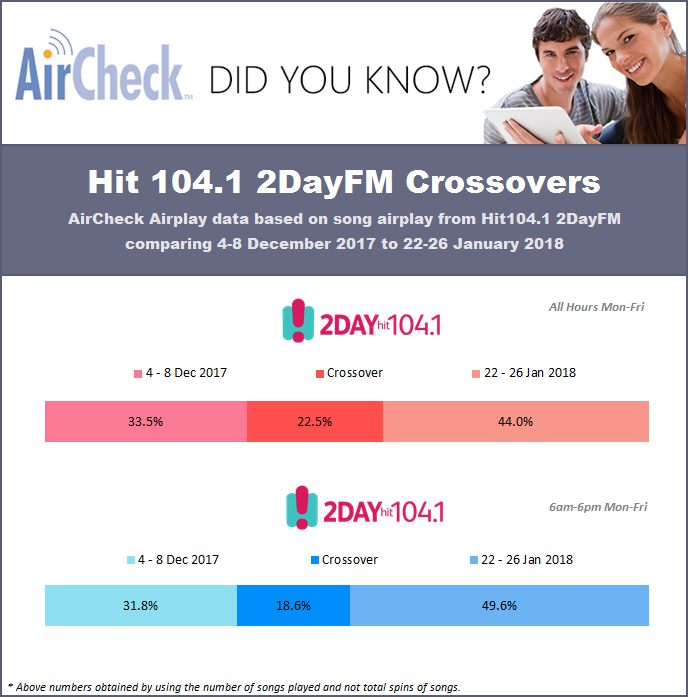 What type of songs were retained?

Artists who avoided the cut and remained on the 2Day Hit 104.1 playlist include 2Pac, Beyonce, Bruno Mars, Chris Brown, Destiny's Child, Ed Sheeran, Jennifer Lopez, Justin Timberlake.

The list below shows some of those artists retained in the list. Ed Sheeran has had more songs added to the playlist, Destiny's Child has been culled slightly, and Justin Timberlake remains strong in the playlist, but the Timberlake songs played have been changed to refresh the sound, compared with last month.

December is on the left in Green and this month is in the yellow columns.





Which artists were dropped or decreased?

Planet Funk, Post Malone, Lily Allen, Linkin Park, Missy Elliott, Mis-Teeq, Pharrell Williams, The Killers and T-Shirt were some of the artists to be dropped from the list.

Taylor Swift remained in the playlist, but was severely cut. In December Tay Tay had 19 songs in the rotation, while in January she had only 3.


What songs or artists were added?

The occurrence of Pink in the playlist was doubled, with these Pink songs added to the list: Funhouse, Leave me alone, So What, U + Ur Hand, Just Give Me Reason.

U2 was added to the playlist, with no U2 songs in December compared with 6 on rotation in January.

Toni Braxton, The Rembrants, Cranberries, Goo Goo Dolls, Scissor Sisters and Ricky Martin were amongst other artists added to the playlist for 2018.

With a significant change in music positioning accompanying the addition of Grant Denyer and Ed Kavalee to the breakfast shift, 2Day is certainly trying to carve out a new position for itself in the Sydney market. It remains to be seen whether the first few ratings results for 2018 will prove it to be a successful strategy.