ABC RN staff have moved a no-confidence motion against radio management over recent radio division cuts.
More than 60 Radio National staff met at the broadcaster's Ultimo office today.
The CPSU has confirmed to radioinfo that staff unanimously passed a motion of no confidence, citing " systemic failure" in senior radio management and "the erosion of the editorial and managerial responsibilities of executive producers."
While an ABC spokeswoman has told radioinfo: " ABC Radio has made changes to its lineup for 2017 to reinvest in new content rather than to cut costs. Following today's meeting we are continuing the process of staff consultation."
In the motion, staff expressed concern over four separate areas, including: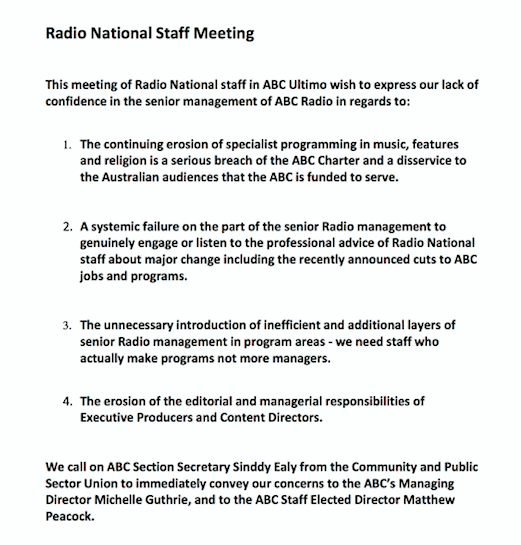 CPSU ABC Section Secretary Sinddy Ealy told radioinfo: "Radio National staff are immensely proud of the world-class programming they produce, but concern has been growing for years that RN's quality and variety is being gradually but steadily undermined.
"The CPSU strongly supports the decision of RN staff in Sydney to pass this no confidence motion in ABC Radio management. Managing Director Michelle Guthrie should be standing up for RN as a quality radio network rather than allowing it to be intentionally dumbed down."
It was reported in January this year the Community and Public Sector Union urged the Federal Government to restore ABC funding to an acceptable level so the broadcaster could properly serve the Australian community.
At the time Sinddy Ealy said: "The ABC's funding has been in decline in real terms for more than 30 years, but that damage has accelerated as the current Government has stripped $254 million in much needed funding.
The Government's recent cuts have meant the loss of 400 jobs and irreplaceable experience and expertise from the ABC, with at least 100 more positions still on the chopping block.
The ABC has been further stretched providing the digital services that Australians now expect and demand, such as iview. The more popular and successful ABC content is on iview, the more it actually costs the ABC to provide it.
It's time for Prime Minister Malcolm Turnbull and the Government to recognise the importance of the ABC to all Australians and start to repair the damage they've caused. More funding is needed across the board, but particularly in regional and rural Australia where the ABC plays an even more important role."
It was this month ABC managing director Michelle Guthrie was called on to outline her strategy for the broadcaster following budget cuts and major programming changes resulting in the loss of seven jobs at ABC Radio National.