Acast is launching Acast Open, bringing the world's most sophisticated podcast hosting engine to every podcaster, big and small.
For the first time, any podcast of any size will be able to access "the best tools in the industry," according to the company.

radioinfo spoke to Acast's ANZ Regional Managing Director, Henrik Isaksson (pictured) about Acast Open:

Is Acast Open free (including the transcription function)?
There are three tiers podcasters can subscribe to: Starter, Influencer, and Ace.Starter is free of charge, and includes basic hosting, distribution and analytics.
Influencer costs AUD$19.99/month when paying for a year upfront (or $35/month if paying monthly), and brings additional distribution and customisation tools.
Ace costs AUD$29.99/month when paying for a year upfront (or $45/month if paying monthly), and includes extras like episode transcriptions and advanced support.

Will this give Acast an edge over your competitors in this region?
Being an industry first, we're very excited to be at the forefront in launching the Acast Open product and see how it will shape and help grow the overall podcast industry in Australia. Giving more podcasters access to Acast is great and something I think will help drive more growth in this region.
Acast Open will give independent Aussie podcasters and publishers an advantage and removes all friction in what used to be quite a complicated process. They'll also be backed by the might of Acast, with access to the best tools that have previously been used by some of the biggest and most successful podcasters and publishers in the world.
How is Acast doing for share of audience in this region?
Acast hosts and distributes the audio content of many of the largest local and global content providers around and have done so for a long time, so our market share is extremely high.
Do you think the Podcast Ranker report is a good innovation? How are Acast podcasts performing on it?

Yes I do. Creating a ranker is one step of many in the right direction to create a better, more effective marketplace for podcast advertising. We don't make the decisions on behalf of our content partners on whether to join, but just like the participants in CRA's Podcast Ranker, Acast is also IAB V2 compliant.

And, on that basis, we as a podcast distributor have a significantly larger audience across Acast than all of the participants combined (based on the September edition of the ranker).

Your top 3 tips for anyone wanting to make a podcast.
1. Only commit to a topic you are passionate about. The best content flows when there is a genuine interest at the heart of it.
2. Plan your content. At episode one have a plan and keep the structure/format consistent. Listeners love consistency.
3. Grow your audience. From the outset have a strategy around how you are going to build out your audience and find a hosting platform that is going to give your podcast the best chance at success.


With Acast Open, podcasters will get access to market-leading metrics and the smoothest hosting experience, while exclusive functionality such as automated episode transcription and the Snipper audiogram tool.

The news follows Acast's acquisition of technology company Pippa earlier this year, which has now been integrated into the Acast platform.

All Acast Open subscribers, including former Pippa users who have been automatically migrated to the platform, will receive access to Acast's world-class tech stack, which now includes the slick product suite built by Pippa.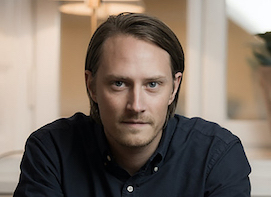 Acast co-founder and CPTO, Johan Billgren (pictured right) says:
"Acast is the only truly global, end-to-end podcast platform that can take creators from bedroom heroes to worldwide success stories. Now we're putting the same tools we've built for the world's biggest and best podcasts and publishers into the hands of every podcaster on the planet.

"With Acast Open we're combining the simplest, smartest way to host and share your show with the might of the world's biggest podcast company."

If podcasts on Acast Open are determined as having a large, sponsorable listenership, they may be invited to be monetised alongside Acast's most successful shows, including My Dad Wrote a Porno, The Osher Gunsberg Podcast and The Lady Vanishes, and podcasts from publishers like the BBC, the Guardian, The Economist, The Australian and Seven West Media.

Acast Open is available in English and French at launch, with more languages to follow.