WS FM's Jonesy and Amanda have won the Best On-Air Team (Metro FM) category at tonight's ACRAs. Graham Mott enters Hall of Fame.
The pair also picked up a gong for hosting My Generation, for MCM Media, which won the category for Best Syndicated Australian Program.
Winner of the Best On-Air Team (Metro AM) was the Continuous Call Team from 2GB. The team also picked up the award for Best Sports Event Coverage for their call of the 2011 NRL Grand Final and Ray Hadley collected a gong for Best Talk Presenter (Metro).
The Kyle and Jackie O Show, from the Today Network, received an award for Best Networked Program in Australia.

Other winners in major categories were:
Best Current Affairs Presenter – Neil Mitchell, 3AW, Melbourne
Be
st Newcomer –
joint winners
Matty Johns, Triple M, Sydney
and Ella Hooper, Today Network Radar
Best Music P
resenter
–
Dylan Lewis, Nova 100,
Melbourne
Best News Presenter
FM
–
Emma Blackwood, Triple M, Brisbane
Best News Presenter AM –
Steve Blanda
,
2UE,
Sydney
Best Sports Presenter – Ray Warren, Triple M, Sydney
Sarah Morice from 2UE, Sydney, won the prestigious Brian White Memorial award which recognises sustained achievement and effortacross news, current affairs, entertainment and sports reporting.
One of radio's most respected executives, Graham Mott, was inducted into the Commercial Radio Hall of Fame. The former General Manager of Fairfax Radio Network, Graham began his radio career as a talk radio panel operator at 2GB in 1969. He went on to hold many positions at talk and music stations over the next 42 years including program producer, production manager, operations manager, music director, program director and general manager.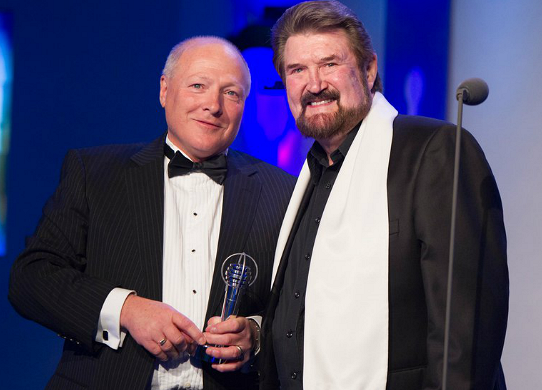 The ACRAs gala event was co-hosted by businesswoman, music manager, television host and author, Sharon Osbourne and Triple M's, Merrick Watts.
The national Awards, organised by Commercial Radio Australia, cover all metropolitan, provincial and country commercial radio stations with winners announced for each of these areas in 33 categories. The categories encompass all aspects of commercial radio including news, talkback, sport and music.
WINNERS FOR 2012 AUSTRALIAN COMMERCIAL RADIO AWARDS (ACRAs)
Category Finalists: Country, Provincial, NonMetropolitan, Metropolitan
MOST POPULAR STATION MANAGER
Darren Inglis; Star FM, Dubbo NSW, Southern Cross Austereo C
Gina Hogan; Hot FM & Sea FM, Cairns QLD, Southern Cross Austereo P
Sean Ryan; Nova 106.9, Brisbane QLD, DMG Radio Australia M

ENGINEERING EXCELLENCE
Max Healey, Alastair Reynolds & Bill Barrington; Fairfax Radio Syndication, Fairfax Radio Network
BRIAN WHITE MEMORIAL
Sarah Morice; 2UE, Sydney NSW, Fairfax Radio Network

BEST NEWCOMER OFF-AIR
Mick Shannon; 3WM, Horsham VIC, ACE Radio Broadcasters C
Ant Middlemiss; TRFM, Traralgon VIC, ACE Radio BroadcastersP
Mark Adams; Nova 969, Sydney NSW, DMG Radio Australia M
BEST NEWCOMER ON-AIR
Amber Wheatland; Star FM, Mildura VIC, Southern Cross Austereo C
Nick Gill; Hot FM, Cairns QLD, Southern Cross Austereo P
Matty Johns; Triple M, Sydney NSW, Southern Cross Austereo M
Ella Hooper; Today Network, Southern Cross Austereo M
BEST MUSIC PRESENTER
Chris Holland; Star FM, Dubbo NSW, Southern Cross Austereo C
Jack Laurence; Sea FM, Gold Coast QLD, Southern Cross Austereo P
Dylan Lewis; Nova 100, Melbourne VIC, DMG Radio Australia M
BEST TALK PRESENTER
Adrian Renzi; 8HA, Alice Springs NT, Alice Springs Commercial Broadcasters C
Mike Welsh; 2CC, Canberra ACT, Capital Radio Network P
Ray Hadley; 2GB, Sydney NSW, Macquarie Radio Network M
BEST ON-AIR TEAM – COUNTRY AND PROVINCIAL
Kewy & Karis Breakfast Show; Karis Britton & Richard Kew,Coast FM, Warrnambool VIC, ACE Radio Broadcasters C
Heath & Normy; Heath Piper & Lucas Dorrell, Star FM, Albury NSW, Southern Cross Austereo P
BEST ON-AIR TEAM – METRO FM
Jonesy & Amanda; Brendan Jones & Amanda Keller, WSFM,Sydney NSW, Australian Radio Network M
BEST ON-AIR TEAM – METRO AM
The Continuous Call Team; Ray Hadley, Steve Roach, Darryl Brohman & Bob Fulton, 2GB, Sydney NSW,
Macquarie Radio Network M
BEST CURRENT AFFAIRS PRESENTER
Pete Davies; Mix 104.9, Darwin NT, Grant Broadcasters NM
Neil Mitchell; 3AW, Melbourne VIC, Fairfax Radio Network M
BEST SPORTS PRESENTER
Jock Brady; 3CS, Colac VIC, ACE Radio Broadcasters C
Simon Corr; 2AY, Albury NSW, ACE Radio Broadcasters P
Ray Warren; Triple M, Sydney NSW, Southern Cross Austereo M
BEST SPORTS EVENT COVERAGE
2011 AFL Grand Final; K-Rock Football, K-Rock, Geelong VIC,Grant Broadcasters NM
2011 NRL Grand Final; The Continuous Call Team, 2GB, Sydney NSW, Macquarie Radio Network M
BEST NEWS PRESENTER – COUNTRY & PROVINCIAL
Lois Chislet; 3YB, Warrnambool VIC, ACE Radio Broadcasters C
Kate Taylor; 104.7, Canberra ACT, ARN/Southern Cross AustereoP
BEST NEWS PRESENTER – METRO FM
Emma Blackwood; Triple M, Brisbane QLD, Southern Cross Austereo M
BEST NEWS PRESENTER – METRO AM
Steve Blanda; 2UE, Sydney NSW, Fairfax Radio Network M
BEST SHOW PRODUCER – ENTERTAINMENT / MUSIC
Jaimi Robinson; Holmsey & Flan, Hot Tomato, Southport QLD,Hot Tomato NM
Tom Ivey; Fitzy & Wippa, Nova 969, Sydney NSW, DMG Radio Australia M
BEST SHOW PRODUCER – TALK CURRENT AFFAIRS
Matthew Hepworth; 360 With Pete Davies, Mix 104.9, Darwin NT,Grant Broadcasters NM
Shannon Reid; 3AW Drive, 3AW, Melbourne VIC, Fairfax Radio Network M
BEST MUSIC DIRECTOR
Josie Fitt; Snow FM, Jindabyne NSW, Capital Radio Network C
Dan Hill; NXFM, Newcastle NSW, Southern Cross Austereo P
Mathew Eggleston; Fox FM, Melbourne VIC, Southern Cross Austereo M
BEST PROGRAM DIRECTOR

Michael Moffett; 2EC & Power FM, Bega NSW, Grant Broadcasters C

Ryan Khay; Sea FM & Mix FM, Maroochydore QLD, Southern Cross Austereo P
Derek Bargwanna; 2Day FM, Sydney NSW, Southern Cross Austereo M
BEST DIGITAL RADIO FORMAT – LONG TERM
Radar; Jaime Chaux, Olivia Belvedere, Reegan McLaughlin & Zoe Sainsbury, Southern Cross Austereo
BEST DIGITAL RADIO FORMAT – SHORT TERM
Elf Radio; Nick Condon, Australian Radio Network
BEST STATION PRODUCED COMEDY SEGMENT
Alan Joyce Announcement; John Sutherland, 2NZ, Inverell NSW, Super Radio Network C
And I'm a Mormon; Paul Gale, Sea FM, Gold Coast QLD,Southern Cross Austereo P
Nova 106.9 Funny Phone Call; Ash Bradnam & Dan Anstey, Nova106.9, Brisbane QLD, DMG Radio Australia M
BEST NETWORKED PROGRAM

Jon Vertigan for Breakfast; Jon Vertigan, 3YB, Warrnambool VIC,ACE Radio Broadcasters C
Nayta & Kristie; Nathan Robb & Kristie Mercer, TRFM, TraralgonVIC, ACE Radio Broadcasters P
The Kyle & Jackie O Show; Kyle Sandilands & Jackie Henderson,Today Network, Southern Cross Austereo M
BEST SYNDICATED AUSTRALIAN PROGRAM
My Generation; My Generation, MCM Media
BEST DOCUMENTARY

The Todd Langley Story; Geire Kami & Jerimiah Busniak, RadioWest, Bunbury WA, Southern Cross Austereo NM

Kristian Anderson 'Rest In Peace'; Sideshow Mike Andersen & Gus Worland, Triple M, Sydney NSW, Southern Cross Austereo M
BEST ACHIEVEMENT IN PRODUCTION
Sophie Jackson; Radio West, Albany WA, Southern Cross Austereo C
David Huth; Sea FM & Mix FM, Maroochydore QLD, Southern Cross Austereo P
Sideshow Mike Andersen; Triple M, Sydney, NSW, Southern Cross Austereo M
BEST MUSIC SPECIAL
History of Rock n Roll; EJ & John Young, 2PK, Parkes NSW,Super Radio Network C
Gold FM Unflogged 400; Al Dobie, Trent Towson & Andrew Very,Gold FM, Gold Coast QLD, Southern Cross Austereo P
Lady Gaga Live From Sydney Monster Hall; David Konsky, 2DayFM, Sydney NSW, Southern Cross Austereo M
BEST STATION SALES ACHIEVEMENT

104.7 Sales Team; 104.7, Canberra ACT, ARN/Southern Cross Austereo NM
2Day FM Sales Team; 2Day FM, Sydney NSW, Southern Cross Austereo M
BEST AGENCY SALESPERSON
Ashley Pope; Regional SCA, Adelaide SA, Southern Cross Austereo NM
Lena Rapley;ARN National, Sydney NSW, Australian Radio Network M
BEST DIRECT SALESPERSON
Luke Witton; 2GZ FM & STAR FM, OrangeNSW, Southern Cross Austereo C
Justine Price; Hot FM & Sea FM Mackay, MackayQLD, Southern Cross Austereo P
Danielle Jarvis; Fox FM & Triple M, MelbourneVIC, Southern Cross Austereo M
BEST STATION PRODUCED COMMERCIAL – SINGLE
Logans Restaurant – Julia & Kevin; 3YB & Coast FM Creative Team, 3YB, WarrnamboolVIC, ACE Radio Broadcasters C
Coastal Water Dive – Shark Shield; Andy Macleod & Sophie Jackson, Hot FM, BunburyWA, Southern Cross Austereo P
Breakdown; Rusty Graham & Shelley Klum, Smooth FM, SydneyNSW, DMG Radio Australia M
BEST STATION PRODUCED COMMERCIAL – CAMPAIGN
Elite Smash Repairs; Cameron Horn & Marc Dwyer, 2CFM, GosfordNSW, Southern Cross Austereo NM
Delux; Jonathan Williams & Chris Gates, Fox FM, MelbourneVIC, Southern Cross Austereo M
BEST MULTIMEDIA EXECUTION – STATION
The Fast & The Fuel Efficient; Sarah Duffy, Ant Middlemiss, Jarryd Haefele, Kristie Mercer & Nathan Robb, TRFM, Traralgon VIC, ACE Radio Broadcasters NM
Australian Belly Flop Aquatic Team; Ash, Kip & Luttsy with Scott Tonges, Nova 106.9, BrisbaneQLD, DMG Radio Australia M
BEST MULTIMEDIA EXECUTION – SALES
2CC Christmas Lights; Peter Davidson & Richard Phelps, 2CC, Canberra ACT, Capital Radio Network NM
Subway Runner; Kelly Miller, Nathan Russell,Anna Bloor&Samantha Townend,Nova 106.9, BrisbaneQLD, DMG Radio Australia M
Kyle & Jackie O's Cruze Car Chase; 2Day FM Content, SydneyNSW, Southern Cross Austereo M
BEST SALES PROMOTION
Jingle Bell Rock 2011; Benny Hope, Janie Birchall & Michael Coote, B-Rock FM, BathurstNSW, Bathurst Broadcasters C
90.9 Sea FM Car Full Of Stars; Andrea Hodgetts & Luke Parsons, Sea FM, Gold CoastQLD, Southern Cross Austereo P
Chemist Warehouse Mix90s; Julia Gumbleton & Sasha Jones, Mix FM, Melbourne VIC, Australian Radio Network M
BEST STATION PROMOTION
Win Your Way To Byron Bay; Jon Vertigan, 3YB, WarrnamboolVIC, ACE Radio Broadcasters C
Hot FM's Angry Dads; Ben Erbsland & Courtney Ganderton, Hot FM Mackay, MackayQLD, Southern Cross Austereo P
Fitzy and Wippa's Bob Katterpult; Ryan Fitzgerald, Michael Wipfli, Tom Ivey & the Nova Integration Team, Nova 969, SydneyNSW, DMG Radio Australia M
BEST PROMOTIONS DIRECTOR
Cassie Grentell; Star FM, Central CoastNSW, DMG Radio Australia NM
Chantalle Taylor; 2Day FM, SydneyNSW, Southern Cross Austereo M
BEST COMMUNITY SERVICE PROJECT
David Rixon – Radiothon; 2012 Team, 92.9FM & 2TM, Tamworth NSW, Super Radio Network C
i98 FM Camp Quality Convoy with Marty & Bianca; i98 Convoy Team, i98 FM, Wollongong NSW, WIN Network P
Cerebral Palsy Appeal; Radio 2UE, Sydney NSW, Fairfax Radio Network M