Our analysis of Survey 6 results by network and cities.
See the raw figures here and spin cycle here.
Refresh this page during the morning for more updates.
Networks
SCA
It was a strange survey overall in that more stations returned a 0.0 change from the previous survey than anyone can remember. Four stations in Melbourne alone stayed rock steady – two of them being SCA's FOX and Triple M.
In Adelaide, two stations had a 0.0 result – both of them belonging to SCA. There was just one 0.0 station in Brisbane: Triple M.
So, out of nine stations nationally which neither went up nor down, five belong to SCA.
In general, there were few large movements across the board in Survey 6, the biggest swing in overall share (Mon-Sun 10+, 5:30-Midnight) was a -1.6 for Nova in Perth.
Nonetheless, Survey 6 brought a Yay for 2Day which managed to gain 0.6 overall and a rise in every shift including Breakfast and Drive. In Melbourne FOX remained equal number one with GOLD – neither station budging from it's 8.6 result last time.
Hit105, Brisbane gained 0.4 – the biggest gain out of the top four FM stations. In Adelaide Hit107 didn't move from its previous score of 9.1 while in Perth Hit92.9 may as well have stayed steady with a smidgen gain of 0.1.

Nova Entertainment
smoothfm had a uniform gain of 0.2 across Sydney and Melbourne. smooth 95.3's 9.8 share in Sydney, tantalisingly close to double digits, makes it #3 overall in the market and a runaway #1 FM, a full 2.0 ahead of nearest rival KIIS106.5. smooth in Melbourne on an 8.0 share is no slouch either at #3 FM.
Like SCA, it was a strange survey for the Nova brand as well with their stations in both Sydney and Melbourne remaining neutral with a 0.0 gain/loss. Other than that, Adelaide saw a huge gain (in the context of this survey) of 1.4 to reach an 11.3 share making it a clear #2 behind ARN's Mix102.3 in that market. Sadly, an offset of -1.6 occurred in Perth while Nova Brisbane lost -0.7 but managed to retain its #1 crown.

ARN
No wild swings to ruffle the content department's feathers but the dream of having the number one and two FM stations in each capital city is fading with the disruption caused by smoothfm – particularly in Sydney.
In Sydney, KIIS106.5 lost just -0.2 (-0.9 in Breakfast) to land on a 7.8 share, overall which makes it #2 FM just 0.1 clear of stablemate WSFM (gaining 0.1) but a whole 2.0 behind smooth.
In Melbourne, GOLD held steady in a kind of Nil All Draw with FOX which also remained steady to stay at equal #1 FM on an 8.6 share. However there was a modicum of good news emanating from the KIIS bunker with the station gaining some ground (0.3) to reach a 5.6 share overall.
In Brisbane, 97.3FM waxed a tad (0.1) to consolidate #2 position while the venerable 4KQ lost 0.5 but is nonetheless the nation's most successful music station on the AM band with an 8.5 share of that market.
In Adelaide, MIX102.3 put on a spurt of 1.3 to go further ahead in first place while CRUISE1323, the second most successful AM music station in the nation, edged upwards settle on an 8.3 share.
In Perth, there's still plenty of work to do to get 96FM among the market leaders but the station is heading in the right direction with a gain of 0.3.

Macquarie Media and other Talk
Isn't it always the way… just when you change the format to start with the new survey, the station turns in a good result for the survey just released. So it is with 2UE, now called Talking Lifestyle 2UE. Only a 0.4 gain but enough to take the station out of the 4s and into the 5s. What's more, 2UE went up across the board (except Evenings) with its second biggest gain in Drive which went up 0.6 despite its Friday edition having been given over to a full-on lifestyle program about 4WD caravan and camping for most of the survey period.
No surprise though, the biggest gain was in Weekends, led in by George and Paul. The session went up by 1.1 to reach an 8.4 share, 3.2 ahead of the station average.
Meanwhile, 2GB and 3AW remain firmly entrenched at #1 in Sydney and Melbourne respectively. Perhaps most pleasing for the beancounters who favour cost saving synergies over "live and local" Brisbane's 4BC which networks big chunks of 2GB's content gained 0.7 to stake out a 5.3 share in that market.
In Perth, though, 6PR which is mainly "live and local" the station shed -1.1, leaving it on a 6.7 share overall.
NovaEnt. owned FIVEaa also dropped by 0.7 but still managed to stay in double digits on a 10.6 share overall.
Not much change in the Sports Department. Melbourne's SEN remains within the 4.0 to 5.0 range – dead in the middle at 4.5. In Sydney, Sky Sports Radio hovers around 1.0, this time with a 0.8 share.
Magic Music
Magic 882 in Brisbane had a blinder, up 1.0 to a 3.8 to make it the leading station of the three Magic sisters. Melbourne's Magic 1278 gained 0.2 for a 3.4 result overall while the (supposedly) soon to be sold Magic 2CH is on a 3.1 share having shed -0.5
ABC
The Local Radio brand was up in Sydney (+0.6) and steady in Perth (+/- 0.0) but went down by -0.7 in Melbourne, -0.6 in Brisbane and -0.4 in Adelaide. Simple addition and subtraction suggests the brand lost 1.1 in share across the five markets.
By the same arithmetic, the result was better for triple j which returned a net loss of -0.5. While Sydney shed -0.4 and Melbourne -0.5 Brisbane put on 0.3 and Adelaide 0.1.
In Perth, perennially, and by far, the ABC Youth Network's happiest hunting ground, the js returned a, you guessed it, 0.0 to remain on a 10.2 share overall.
Cities
Sydney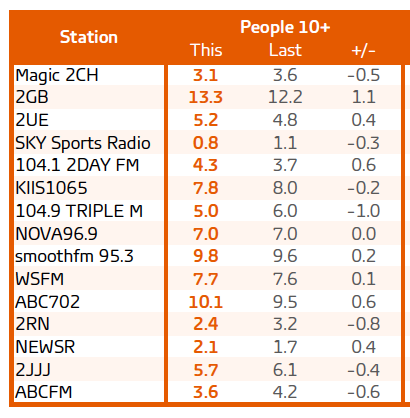 Top station 2GB had the biggest rise this survey, up 1.1 share points to 13.3% overall, more than three points ahead of its nearest competitor.
Triple M had the biggest fall this survey, down 1.0 share points to 5%.
ABC702 regained second place, up 0.6 to 10.1%.
smooth fm dropped into third palce but continued its rise, up 0.2 to 9.8%
KIIS was fourth with 7.8%, down 0.2, closely followed by WSFM in fifth place, up 0.1 to 7.7%.
2GB won breakfast.
Kiis won 10-17s, triple j won 18-24s, Kiis won 25-39s, smooth won 40-54s, 2GB won over 55s.
Melbourne
There was an unprecendented number of 'steady' scores this survey, with four stations scoring a 0.0 'no change' number. Most other stations only moved by less than one share point.
Top station 3AW slipped 0.3 to 14.1%, followed by ABC774, down 0.7 to 9.8%.
Gold and Fox tied for third place, steady on 8.6%.
Smooth fm gained 0.2 to grab fourth place on 8.0%, followed by Triple M, steady on 7.4%.
3AW won breakfast.
Fox won 10-54s, 3AW won the over 55s.
Brisbane
Magic had the biggest gain this survey, up 1.0 share points to 3.8%, from its all time low last survey. Sister station 4BC had the biggest gain, up 0.7 to 5.3%.
Nova 106.9 lost 0.7 to 13.7%, but retained top position.
Second placed 97.3FM gained 0.1 to 12.2%.
Hit 105 gained 0.4 to retain third place on 10.7%.
Fourth placed 4KQ lost 0.5 to 8.5%, followed by ABC612 in fifth position, down 0.6 to 7.9%.
97.3FM won breakfast.
Nova won 10-39s, 97.3 won 40-54s, 4KQ won 55-64s, ABC612 won over 65s.
Adelaide
The Adelaide market recorded the most movement of any markets. Mix and Nova both had significant gains this survey, although station losses were minor.
Top station Mix102.3 was up 1.3 share points to solidify its lead with 15.8% overall.
Nova 91.9 gained 1.4 to move into second place with 11.3%.
FIVEaa was pushed into third place, down 0.7 to 10.6%, followed by ABC891, down 0.4 to 10.5%.
Triple M was in fifth place, steady on 9.7%.
ABC891 won breakfast.
Nova won 10-24s, Mix won 25-55s, ABC891 won over 65s.
Perth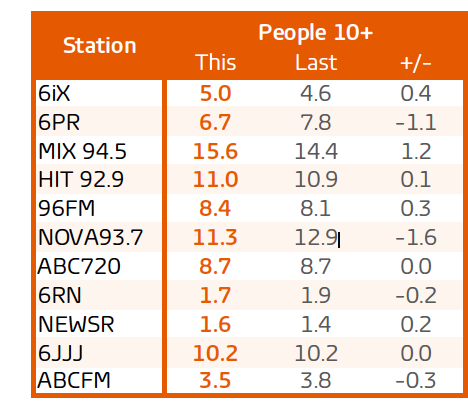 In Perth there was some volatility, with Nova and 6PR seeing significant downward movements and Mix gaining a good lift.
From part way through this survey (September 1) the Grant Broadcasting station 6IX has turned its audio streaming back on. The station recorded a small gain this survey, up 0.4 to 5.0%.
First placed Mix 94.5 gained 1.2 share points to 15.6%.
Nova held second position despite a drop of 1.6% to 11.3%.
Third placed Hit 92.9 grew by 0.1 to 11.0%.
Triple j was in fourth place, steady on 10.2%, followed by ABC720, steady on 8.7%.
Mix had the top breakfast show.
Nova won 10-17s, triple j won 18-24s, Hit won 25-39s, Mix won 40-54s, ABC720 won over 55s.