Our analysis of networks and cities.
Networks
Southern Cross Austereo
HIT
Perhaps the best news for SCA today is a tiny +0.1 gain for its long-embattled call-sign, 2DayFM, which reached a 6.0 share of all people 10+ Mon-Sun for the first time since you know "who and who" left the station. Also good for the HIT brand was the +1.6 gain in Brisbane that brought it to an 11.8 share and into the top three, just behind stablemate Triple M and current leader Nova.
Hit stations also gained (+0.4) in Adelaide but slid (-0.6) in Perth. FOX which was becoming entrenched as Melbourne's FM leader is now third on that ladder after suffering a -0.8 drop and a resurgent smooth and GOLD.
Triple M
Like its sister, 2Day, Triple M in Sydney also gained +0.1 but it only advanced the station to a 4.7 share which isn't quite the same milestone as its sister.
The better performed Melbourne Triple M which posted a 7.6 last time was down to a 6.9 this time. The network lost ground everywhere else too. The Brisbane Ms shed -0.5 in share but retained second place while the Adelaide and Perth lost -0.6 each.
Nova Entertainment
smoothfm
In Survey 1, both Sydney's 95.3 and Melbourne's 91.5 landed on a 9.7 share placing 95.3 #1 FM in Sydney and 91.5 #2 in Melbourne. This time around, 91.5 has shot up by +1.3 to an 11.0 share to lead the FM band in Melbourne while 95.3 has eased back -0.2 to 9.5 overall but still leads Sydney on FM.
NOVA
It was a steady survey for the NOVA network with relatively minor gains or losses in each market. Its biggest fluctuation was in Adelaide where 91.9 suffered a -0.9 loss but still managed to retain its #2 position in that market.
ARN
It was an interesting day for ARN with plenty of fluctuations. In Sydney, KIIS106.5 bounced back with a vengeance, up +1.4 to a 9.1 share but enough to take #1 FM spot away from smooth. As is often the case, though, when KIIS does well, WSFM does not so well: down -0.9 to a 7.9.
In Melbourne, it was GOLD104.3 that bounced back, up 0.7 to a 10.1 share to overtake FOX to be 2nd placed FM behind smooth. And while its sister KIIS101.1 didn't lose ground, it didn't gain any either – which it needs to do while sitting on a paltry 4.8 share.
In Brisbane, the once enshrined market leader 97.3FM is now relegated to fourth place despite gaining +0.4 and sitting on 10.8. Meanwhile the venerable 4KQ tumbled down -1.3.
Adelaide brought some joy for the network heads where both stations, MIX102.3 and CRUISE1323 rose by +0.6 and +0.5 respectively – with MIX easily retaining its long-held lead in that market.
Meanwhile, in Perth, ARN's problem child 96FM has finally posted a reasonable gain of +0.5 on the back of the announcement that Gary Roberts will take over the reins. Imagine how far it could climb once Roberts actually does something.
Macquarie and other Talk
It was good day for Mac Radio. All their talk stations increased share. In particular, their money stations, 2GB and 3AW re-asserted their dominance in their respective markets finishing streets ahead of their nearest rivals. In Sydney, 2GB has a 14.5 share – a full 5.0 ahead of second placed smoothfm while in Melbourne, 3AW on 15.2 and is 4.2 ahead of second placed smoothfm.
The only Talk station that lost share is FIVEaa in Adelaide which is owned by Nova Entertainment.
ABC Local

As is often the case, it was an up and down day for ABC Local stations.

Sydney: -0.1; 8.8 share; 4thplace
Melbourne: -1.1; 7.8 share; 5thplace
Brisbane: +1:0; 7.9 share; equal 5thwith 4KQ
Adelaide: +0.8; 10.2 share; 3rdplace
Perth: -0.7; 6.6 share; 7thplace
triple j

It was more a case of down than up for the national youth broadcaster.

Sydney: -0.8; 4.6 share; 9thplace
Melbourne: -1.2; 5.1 share; 8thplace
Brisbane: -1:0; 6.8 share; 7thplace
Adelaide: +0.3; 7.1 share; 8thplace
Perth: -0.4; 10.6 share; 3rd place

Cities
Sydney
KIIS and 2GB had the biggest gains of this survey, while 2CH, WSFM and triple j lost most, as the SummerHoliday/Hottest100 effect wore off the market.
Top station 2GB consolidated its lead, gaining 1.1 share points overall to 14.5%.
Second placed smooth slipped 0.2 to 9.5%, closely followed by a resurgent KIIS, up 1.4 to 9.1% in third place.
Fourth placed ABC Sydney slipped 0.1 to 8.8%.
WSFM fell 0.9 to 7.9% in fifth position.
Nova won the 10-17 demographic, KIIS won 18-39s, WSFM won 40-54s, 2GB and ABC Sydney tied for dominance of the 55-64s and 2GB won the over 65s.
Breakfast was won by 2GB, followed by KIIS then ABC Sydney.
2GB won all other shifts except Drive. The drive shift was a closely fought race, with ABC Sydney winning the day just fractionally ahead of smooth and 2GB.
Melbourne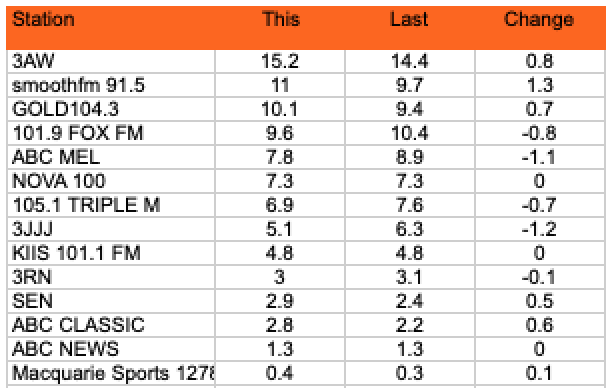 Smooth and 3AW had the biggest gains this survey, with smooth scoring the number one FM breakfast show. Triple j, ABC Melbourne and Fox all lost share.
Number one station 3AW rose 0.8 to 15.2%.
Second placed smooth consolidated its position, gaining 1.3 share points to 11.0% overall.
Gold pushed fox out of third place with a rise of 0.7 taking it to 10.1%.
Fourth placed Fox lost 0.8 to 9.6%.
In fifth place, ABC Melbourne lost 1.1 to score 7.8%.
Nova won 10-17s, Fox won the 18-39 demographics, Gold won 40-54s, 3AW won the over 55s.
3AW won breakfast, well ahead of its nearest competitors smooth and ABC Melbourne.
3AW won mornings, drive, evenings and weekends. Gold won afternoons.
Brisbane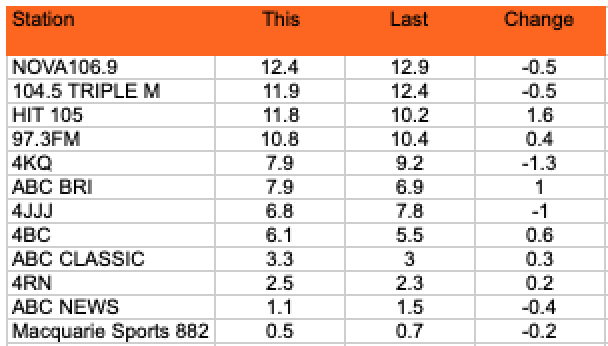 Hit 105 and ABC Brisbane had the biggest gains of the survey, while 4KQ and triple j dropped most.
Nova retains top spot despite a dip of 0.5 to 12.4% overall.
Second placed Triple M also lost 0.5 to 11.9%.
Hit moved into third place with a gain of 1.6 share points taking it to 11.8%.
Fourth placed 97.3FM rose by 0.4 to 10.8%.
4KQ was in fifth position, down 1.3 to 7.9%.
Nova won all the 10-39 demographics, Triple M won 40-54s, 4KQ won the over 55s.
Nova won breakfast, just ahead of Hit and Triple M.
Triple M won mornings and afternoons, Nova won drive and weekends, ABC Brisbane won evenings,
Adelaide
There was not much significant movement in Adelaide since last survey. Nova lost 0.9 and ABC Adelide gained 0.8.
Top station Mix rose 0.6 to 13.9%, consolidating its market leadership.
Second placed Nova dropped 0.9 to 10.3%, just ahead of a rising ABC Adelaide in third place, up 0.8 to 10.2%.
Fourth placed Hit rose 0.4 to 10.0%.
Cruise was fifth, up 0.5 to 9.1%, just pushing FIVEaa into fifth position by a fraction of a share point.
Perth
ABC Classic lost the most this survey, dropping 1.1, and 96fm gained most, rising 0.5 share points.
Top station Mix slipped 0.2 to 15.4% overall.
Second placed Nova dropped 01. to 12.1%.
Third placed triple J lost 0.4 to 10.6%.
Fourth placed Hit dropped 0.6 to 8.8%, ahead of 96fm, up 0.5 to 8.35.
Nova won 10-17s, triple j won 18-39s, Mix won 40-64s and ABC Perth won the over 65s.
Mix won breakfast ahead of Nova, and Mix won all other shifts in the market.
Are you following us on Facebook? Go here to like/follow radioinfo so you always get the latest news in your social feed.