Fox hits back
Our analysis of the latest ratings results by networks and cities.
Refresh this page during the day to see the latest additions.

Networks
Southern Cross Austereo
Today Network
The highlight for SCA is the 1.7 fightback by FOX to regain its place atop the FM tree in Melbourne on a 9.8 share. The Today Network also scored well in Adelaide where HIT107 gained 1.0 to be on 9.0. And in Perth HIT92.9 edged upwards (+0.2) to settle on an 11.0 share overall.
In Brisbane, HIT 105 lost ground (-0.5) while in Sydney the green shoots that were apparent last time at 2DayFM have succumbed to the winter chills. The station suffered a -0.8 slump (breakfast was down -1.0) to be back to 3.5 overall.
Triple M
Things were better for the Ms in Sydney. After a forgettable result last time, the 'audio man cave' clawed itself back (+0.6) to a 5.4 share. Melbourne was steady enough (-0.1) on a 6.3 overall with the HOT Breakfast on 8.0. Brisbane was down a smidge while Adelaide was up by about as much.
In Perth, despite a fast finishing NOVA93.7, MIX94.5 easily retained its number one spot in the market with a 14.7 share.
ARN
A mixed bag for ARN.
In Sydney, both KIIS and WSFM enjoyed solid gains with Kyle and Jackie O back to number one in FM Breakfast. But ARN's dream of having the #1 and #2 FM stations seems further away with smoothfm now 2.9 ahead of KIIS and 3.6 ahead of WSFM.
In Melbourne, where GOLD remained relatively steady on a 8.1 share, KIIS101.1 made ground, up 0.5 to a 7.0 overall.
In Brisbane, the venerable 4KQ cemented its number one spot on the AM band with a resounding 9.0 share on the back of a +0.9 jump. Meanwhile, 97.3 FM, which was over a long time trading places survey by survey for the #1 spot with NOVA now finds itself 4.5 behind on 11.3.
Things were steady enough in Adelaide with both CRUISE and MIX edging down slightly which in itself is not big news except fro the fact that the ever-reliable market leader MIX102.3 is no longer number one. That honour now belongs to FIVEaa.
In Perth, 96FM is in 4th place on an 8.9 share.
Nova Entertainment
smooth fm
It was a kind of strange result for smoothfm, which probably says more about the vagaries of surveys and the differences in market conditions than it says about the brand. Last time, in Survey 2, faithful readers, if you care to recall, both the smooth outlets in Sydney in Melbourne were in lockstep on a 9.9 share. Now they are separated by 1.9.
Melbourne's smooth dropped by -0.6 but no one at NovEnt would much care given that Sydney's smooth jumped 1.3 to land on 11.3, just 0.1 behind the rusted into first place, 2GB.
In fact, in Drive where smooth is number one in Sydney with a 12.4 share and NOVA 96.9 is number two on 10.5, NovEnt owns almost 23 per cent of the audience.
NOVA
The NOVA brand returned steady results in both Sydney and Melbourne while Adelaide shed 0.8 to finish in 6th spot in the market on 9.8.
Then the afterburners kicked in in Brisbane and Perth.
While NOVA106.9 had been jockeying for first with 97.3FM for the past couple of years, this time the NOVA station put on a massive spurt of +2.0 to kick away to a clear 4.5 lead and is now on 15.8 Mon-Sun. Even that figure is shaded by the Mon-Fri result of 16.3, with the the Kate, Tim and Marty Drive Show snaring an incredible 21.7 share of listeners.
In Perth NOVA93.7 soared +1.9 to land on 13.7 and in second place, just 1.0 behind perennial market leader MIX94.5.
Macquarie Radio and other AM Talk
There were two big winners today, Melbourne's 3AW which shot up by 1.7 to 15.5, reminiscent of glory days past. Perhaps happy days are here again.
While in Adelaide, the NovaEnt owned FIVEaa stole first place from MIX who had held it for as long as anyone can remember.
2GB, 4BC and 6PR all lost ground slightly.
Radio's 'Told You So Brigade' will be emboldened by today's results for MacRadio's Talking Lifestyle brand which in Melbourne, with a 0.5 share, is more like lifestyle support. Brisbane almost tripled that result with a 1.4 and Sydney which had given the doubters some curry in Survey 2, has slumped back to a 3.5 share.
Sports station SEN remained from on a 3.9 share in Melbourne and Sydney, Sky Sports Radio edged up 0.2 to arrive at a 1.3 share overall.
ABC
Local Radio
With the exception of ABC Sydney which gained 0.9 it was a downward slide for Local Radio in all other metro markets ranging from -0.7 in Adelaide to -1.6 in Perth.
triple j
Overall, there was very little movement for triple j. The biggest gain in share was +0.5 in Adelaide and the biggest loss was -0.3 in Perth.
Cities
Sydney
Smooth fm had the biggest gain this survey, up 1.4 and inching towards overall top station. Talking Lifestyle suffered the biggest drop, down 1.1.
Top station 2GB slipped fractionally, down 0.2 to 11.4%, with smooth now just 0.1 share points behind the market leader.
Smooth is number two position overall, jumping to 11.3% from its 9.9% position last survey.
Third placed ABC Sydney gained 0.9 to 8.9%.
KIIS 106.5 is in fourth position on 8.4%, up 0.6.
WSFM was in fifth place, up 0.7 to 7.7%, closely followed by Nova on 7.6%.
Melbourne
Market leader 3AW gained 1.7, the biggest jump of the survey, to score 15.5% overall.
Also scoring a big gain was FOX, up 1.7 to 9.8%, moving into second place.
Smooth slipped back into third place after a fall of 0.6 to 9.3% overall
ABC Melbourne dropped the most this survey, down 1.1 to fourth place with 9.2% overall.
Gold 104.3 was in fifth position with 8.1%, down 0.2.
Brisbane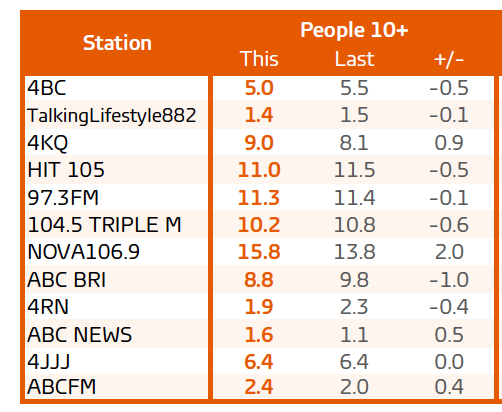 Nova consolidated its lead in the Brisbane market with a massive 2 share point rise to 15.8%.
FM97.3 slipped 0.1 to 11.3%, but moved back into second place.
Hit105 lost 0.5, slipping back into third place on 11.0%.
Fourth placed Triple M fell 0.6 to 10.2%.
4KQ moved into fifth place with a gain of 0.9 to 9.0%, pushing rival talk station ABC Brisbane into sixth position on 8.8% after a fall of 1 share point, the biggest drop of the survey in the Brisbane market.
Adelaide
There is a new market leader in Adelaide. FIVEaa moved into top position with a gain of 0.7 to 12.3%
Former number one, Mix102.3 slipped by 0.4 to second place, with 12.1% overall share.
Third placed ABC Adelaide lost 0.7 to 11.1%.
Triple M moved into fourth place with a gain of 0.4 bringing it to 10.2%
Cruise was in fifth place, down 0.1 to 9.9%, closely followed by Nova, which fell 0.8 to 9.8%.
Hit107 gained one share point to score 9.0%.
Perth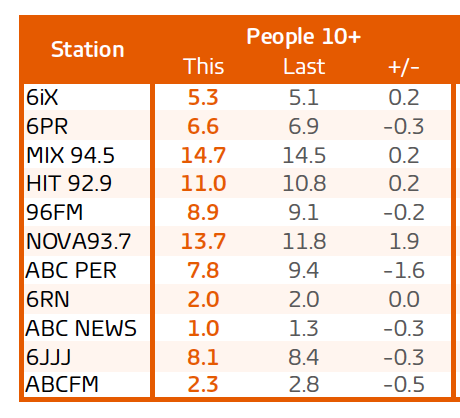 Mix94.5 consolidated its lead with a gain of 0.2 bringing it to a 14.7% share overall.
Nova scored a big jump of 1.9 share points to 13.7% in second position.
Third placed Hit92.9 gained 0.2 to 11.0%.
Fourth placed 96fm lost 0.2 to 8.9%, followed by triple j, down 0.3 to 8.1% then ABC Perth on 7.8% after a big fall of 1.6 share points.