Our analysis of the networks and cities.

Raw results here, Trend Graphs here, Spin here.
Networks
Southern Cross Austereo
HIT Network
It wasn't a bad survey for the HIT network with Brisbane's 105 ↑0.2 was enough to place it 0.1 behind a foundering 97.3 FM. The brand was up a tad in Adelaide and Perth too. In Melbourne, FOX shed just ↓0.1 but lost its FM crown to GOLD 104.3.
In Sydney, 2Day-FM lost all its gains from last time and then some. Down ↓0.7 and Breakfast ↓0.5, the station now has a 4.9 share overall.
Triple M
It wasn't a great survey for the M's. The brand shed listeners in every market. In overall share the stations were: ↓0.5 in Sydney. ↓0.2 in Melbourne. ↓0.1 in Brisbane. ↓1.0 in Adelaide and Mix 94.5 in Perth was ↓0.6 losing its long held #1 spot to Nova93.7 which surged an unbelievable ↑2.1.
Nova Entertainment
smoothfm
It was a fairly steady result for the smoothfm brand with Melbourne's 91.5 ↑0.2 and Sydney's 95.3 ↓0.3.
Nova
It was a fairly steady result for the Nova brand too until you hit Perth where 93.7 shot up an incredible ↑2.1 to a lofty 14.7 share dislodging the hitherto entrenched MIX94.5 from its number one spot. Whether 93.7 can maintain the rage for another survey or two will take another survey or too to find out.
Elsewhere, Nova station shares were: ↑ 0.4 in Sydney, ↓0.2 in Melbourne, ↓0.8 in Brisbane and ↑0.7 in Adelaide.
ARN
Despite some swings and roundabouts, it was a solid performance overall for ARN with the Pure Gold Network starring.
Pure Gold Network
Number one FM in both Sydney and Melbourne is a great result.
Although it's way too early to judge ARN's star import, Christian O'Connell's performance after just one survey, it is always better to go up than down and up he went, ↑0.7 in Breakfast on GOLD104.3 in Melbourne to an 8.7 share of that shift. Although the result is still way behind FOX-FM's offering on a 9.9 share (let alone 3AW's 19.2) it was enough to help nudge his station's overall figure ↑0.2 to place it ahead of FOX and #1 on the FM band.
In Sydney, WSFM jumped a whole ↑1.0 to consolidate its FM lead on a 10.7 share.
In Brisbane, the venerable 4KQ was ↑0.9 to a 9.9 overall while in Adelaide CRUISE1323 eased back a tad ↓0.2 to 8.2.
KIIS Network
Things were not so great over at the KIIS stations with Adelaide's MIX102.3 and Perths 96FM the only two stations to enjoy gains: both ↑0.6.
Sydney's 106.5 was ↓0.4 and is level pegging with smooth in second place behind WSFM on the FM band. Melbourne was ↓0.4 and trails the commercial FM field, while Brisbane's 97.3FM, which was #1 in the market just a couple of Surveys ago has slipped back further, ↓1.1 and is under threat of losing second place to HIT105.
Drive timeslot share and cume for the major fm networks.


Macquarie Radio and Other Talk
It was a great survey for commercial talk stations.
Sydney's 2GB shot up ↑1.3 share points to land on a 14.0 overall which constitutes a rare victory over Melbourne stablemate 3AW ↓0.6 and on 13.8 overall. Both stations remain clear leaders in their respective cities.
Brisbane's 4BC waxed too, ↑0.4 to 5.3 while Perth's 6PR was up ↑0.6 to go to heady 8.1.
The only disappointment for MacRadio Talk is that it doesn't own FIVEaa (which is owned by NovaEnt) and put in a blinder ↑1.4 to jump to 11.8 and second place overall in the Adelaide market.
Meanwhile at
Macquarie Sports Radio
, the news is mixed. In Brisbane the brand more than double it's audience, ↑0.6 to 1.1. In Melbourne, it was steady, down just ↓0.1 (25% of it's listening share) to 0.3 and in Sydney it lost more than half it's share ↓1.1 to arrive at 0.8 overall.
ABC Local
While its commercial rivals on the AM band enjoyed strong upwards trends, ABC stations lost ground in key markets: ↓0.4 in Sydney and in 5th place. ↓0.2 in Melbourne and 5th place. ↓1.7 in Adelaide and 5th place.
In Brisbane ABC BRI was ↑1.0 and 7th place while in Perth ABC was ↓0.1 and 5th place.
JJJ
JJJ fared much better with only its Perth outpost suffering a significant drop ↓0.9 but it still managed to retain a 7.9 share overall. And Melbourne eased ↓0.1 to a 3.9 share.
The others all went up: Sydney ↑0.6. Adelaide ↑0.4 while the biggest gain came in Brisbane, ↑1.1 to reach a 7.6 share.
Cities
Sydney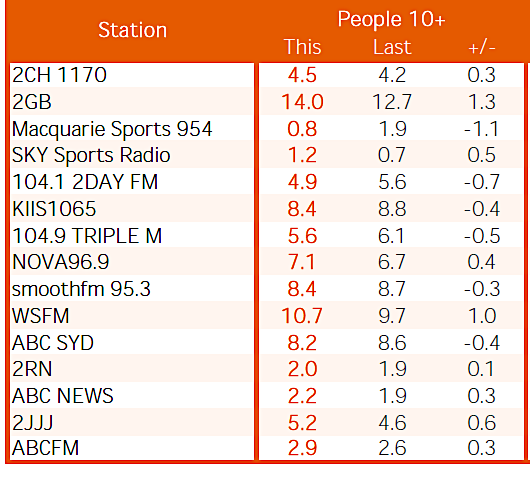 2GB and WSFM had hte biggest gains of the survey, Macquarie Sports Radio suffered the biggest loss during this football season survey, down 1.1 to fall below the one percent mark on 0.8%.
Top station 2GB gained 1.3 to 14.0% overall.
WSFM consolidated its second position, up one share point to 10.7%
KIIS and smooth tied for third placed, KIIS down 0.4 and smooth down 0.3 to 8.4% overall.
Fourth placed ABC Sydney lost 0.4 to 8.2%.
Fifth placed Nova gained 0.4 to score 7.1%.
2GB won breakfast, ahead of KIIS then WSFM and ABC Sydney. 2GB won all other timeslots in the market.
Nova won the 10-17 demographic, KIS won 18-39s, WSFM won 40-64s, 2GB won the over 65s.
Melbourne


There was very little significant movement in Melbourne this survey, with all variations below one percent.
Top station 3AW slipped 0.6 share points to 13.8%.
Gold FM was second, up 0.2 to 10.8%, followed closely by Fox, in third place, down 0.1 to 10.4% overall.
Fourth placed smoothfm gained 0.2 to score 9.1%.
ABC Melbourne was in fifth place, down 0.2 to 8.5%.
3AW continued to blitz the breakfast timeslot, almost 10 share points ahead of the next strongest breakfast shows on Fox and ABC Melbourne.
Fox won all the under 39 demographics, Gold won 40-54s, 3AW won the over 55s.
It's not often you see asterisks for a commercial station, but the chart this survey shows that Macquarie Sports Radio 1278 has no listeners in the 18-24 demographic, and very few in the other demographics, as it transitions from its old format to the new sports format during the AFL football season.


Brisbane
Triple j and ABC Brisbane had the biggest gains, while 97.3fm suffered the biggest fall this survey.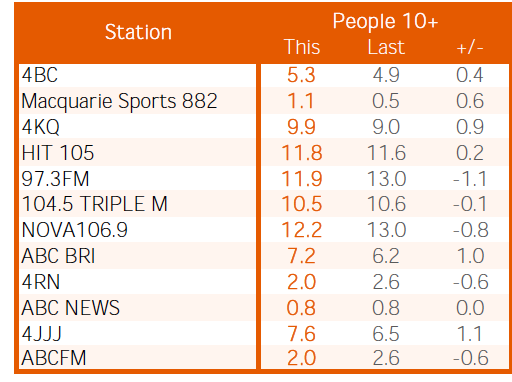 Last survey 97.3 and Nova were tied for first place, but this survey Nova gained top position.
Nova fell 0.8 to 12.2%, but 97.3fm fell more, down 1.1 share points to score second place on 11.9%.
Closely behind was Hit105, up 0.2 to 11.8% in third place.
Fourth placed Triple M lost 0.1 to 10.5%.
4KQ was fifth, up 0.9 to 9.9%, followed by triple j, up 1.1 to 7.6% then ABC Brisbane, up 1.0 to 7.2%.
Hit won 10-24s, Nova won 25-39s, 97.3 won 40-54s and 4KQ won those over 55.
Nova inched further ahead of Hit105 in the breakfast timeslot. Hit won mornings, Nova won afternoons and drive, 97.3 won evenings and weekends.
Macquarie Sports Radio had its strongest share result in Brisbane.
Adelaide


FIVEaa had the biggest gain of the survey, while ABC Adelaide, ABC Classic FM and Triple M all fell.
Top placed Mix102.3 consolidated its position, up 0.6 to 15.4%.
FIVEaa moved into second place, up 1.4 to 11.8%.
Third placed Nova91.9 gained 0.7 to 10.5%.
Fourth placed Triple M dropped 1.0 share points to 9.9%.
ABC Adelaide was fifth, down 1.7 to 9.7%.
Nova won 10-24s, Hit won 25-39s, Mix won 40-64s and FIVEaa won the over 65s.
FIVEaa regained its breakfast leadership with a strong increase of 1.8 in that timeslot, ahead of ABC Adelaide's breakfast, which fell by 2.1 in that timeslot.
Mornings was won by FIVEaa, Mix won afternoons and drive, FIVEaa and Mix tied in evenings and Mix won weekends.
Perth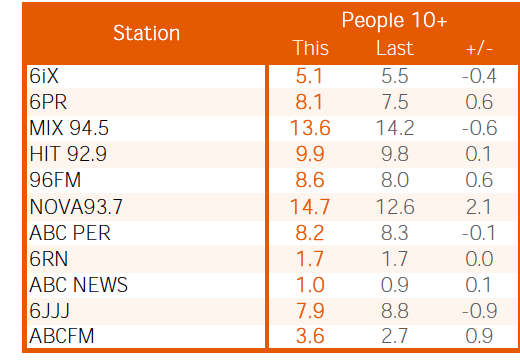 Nova93.7 had the biggest gain and moved into top position in Perth. Triple j fell most this survey.
Nova rose 2.1 to 14.7%, pushing Mix94.5 out of top position.
Mix lost 0.6 to 13.6% overall.
Hit92.9 was third, up 0.1 to 9.9%.
Fourth placed 96fm rose 0.6 to 8.6%.
ABC Perth was fifth, down 0.1 to 8.2%.
Nova won 10-17s, Hit won 18-24s, Nova won 25-39s, Mix won 40-64s, ABC Perth won the over 65s.
Nova regained the breakfast lead with an increase of 2.1 in that timeslot, followed by Mix then ABC Perth.
Mix won mornings and afternoons, Nova won drive and weekends, ABC Perth won evenings.