Our analysis of the networks and cities.

Raw results here, Trend Graphs here, Spin here, For and Against charts here.
Networks
Southern Cross Austereo
SCA has seen better surveys of late. In Sydney both Triple M and 2Day sank a little, the former by just ↓0.2 and the latter ↓0.7. Breakfast, though, with Em, Grant and Ed, which was showing some green shoots, slumped ↓1.0 to land on just a 3.3 share of 10+ in the shift.
Melbourne fared no better with Triple M and FOX each shedding ↓0.4. FOX remains #2 FM but this time behind smooth instead of GOLD. FOX breakfast with Fifi, Fev and Byron has kicked away to be clear FM leaders and #2 overall and almost 2.0 ahed of 3rd placed ABCMEL.
In Brisbane the clouds parted and sun shone for SCA with HIT105 staying rock steady on its 11.8 share yet hit #1 spot while Nova and ARN's 97.3FM battled out and lost share. Meanwhile, Triple M put in a blinder ↑1.1 to be 11.6 (just 0.2 behind HIT) for a share on second place in the market.
HIT was up in Adelaide too (↑0.7) while Triple M was just tad off ↓0.1.
In Perth, while HIT92.9 continues to improve ↑0.7, the hitherto bulletproof #1 MIX94.5 waned just ↓0.1 to come in second for the second survey in a row to NOVA93.7.
Nova Entertainment
Smiles all around in the Nova camp – not so much in Brisbane and Adelaide maybe – but everywhere else things are ticketyboo.
Firstly, if smooth seemed to be losing its mojo, it found it again for Survey 5 with Sydney ↑1,2 and Melbourne up ↑1.3 making 95.3 #2FM in Sydney and 91.5 #1 in Melbourne.
NOVA 96.9 was up in Sydney too ↑0.8 and ↑0.3 in Melbourne. In Perth, although NOVA93.7 was ↓0.8 it held on to its #1 spot for the second survey in a row from longtime incumbent MIX94.5.
In Brisbane, the news was not so good, NOVA was down ↓0.8 which plunged the station from number one to number four in the market. In Adelaide it eased ↓0.6 and down one place.
Back to the good news, NOVA's National Drive show with Kate, Tim and Marty, remains number one with an increased margin (see chart below) and Smallzy's Surgery is hits 40 surveys in a row at #1 in Nights.

ARN
Talk about ups and downs – let's.
In Sydney, WSFM has powered away (↑0.6) to be a clear #1 FM and the only station besides market leader 2GB to be in double figures (11.3). Much the same can be said of Breakfast with Jonesy and Amanda.
But just down the corridor at KIIS106.5 they're wondering what hit them. The station dropped ↓1.4 and is down to a 7.0 share and 6th place in the market to #4 FM. That's off the back a Breakfast nosedive ↓1.7.
In Melbourne, it was the other way around. While KIIS101.1FM was showing signs of life (↑0.3) with Jase and PJ in Breakfast finally stirring and up a whole percentage point ↑1.0 to a 5.9 share – over at GOLD, they were ↓0.9 with star recruit Christian O'Connell ↓1.3. Ouch.
In Brisbane 97.3FM, despite being ↓0.1, managed to leapfrog NOVA 96.9 which was number one only to be pipped at the post by HIT105 which beat them both. Even the venerable 4KQ dropped ↓1.4.
After all that, Adelaide was a relief. Although MIX102.3 was off ↓0.3, it easily retained first place on a 15.1 share. And CRUISE1323 waxed ↑0.5 to be on 8.7 – not a bad share for an AM music station.
In Perth, though, it was back to earth with a thump. 96FM was ↓1.2 and on a 7.4 share, trailing well behind the pack in 7th place.
Macquarie Media and other Talk
On the straight talk side of things, there's not a worry in the world for MacRadio. 2GB was up a tad ↑0.1 to a dominant 14.1 share of the Sydney market and while 3AW was down a bit (↓0.6) for a 13.2 but not to worry, it's still number 1 in Melbourne, a full 3.3 ahead of second placed FOX.
In Brisbane 4BC remained the same on a 5.3 share while Perth's 6PR was down to a 7.6 share after shedding ↓0.5.
In Adelaide, where MacRadio dreams of owning FIVEaa, that station jumped ↑1.3 for a 13.1 share.
But over at Macquarie Sports Radio, they've had a shocker. The brand is dead-last in all three markets where it competes: Sydney (0.6), Melbourne (0.3) and Brisbane (1.0). A media release from MacRadio stated: "We are pleased with the engagement that we are seeing with our new programs on air, online and via download."
ABC Local
Another poor survey for ABC Local stations. Apart from Brisbane ↑0.1 every other station went down. In descending order ↓0.2 Perth; ↓0.4 Sydney; ↓0.5 Melbourne; Adelaide ↓1.2.
triple j
triple j fared better with a big gain in Melbourne ↑1.7 following a shellacking last time. The j's were up in Brisbane too ↑0.3 and steady in Perth. But in Sydney it was ↓0.4 and ↓o.2 in Adelaide.
Cities
Sydney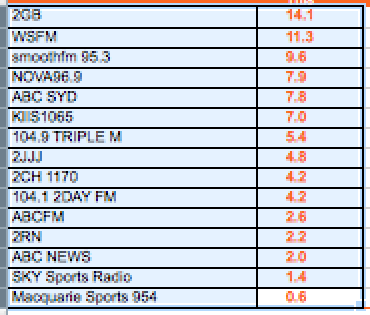 KIIS lost the most this survey, down 1.4 share points, while smooth scored the highest rise.
Top station 2GB inched further ahead with a rise of 0.1 in a survey that finished before the federal government leadership spill.
WSFM moved into second place, up 0.6 to 11.3%, followed by smooth, which had the biggest rise of the survey.
Fourth placed Nova gained 0.8 to 7.9%, with BC Sydney closely behind on 7.8, down 0.4.
KIIS was pushed out of the top 5, losing 1.4 to score 7.0% overall. SCA stations 2Day and Triple M did not appear in the top 5 either, with 2Day falling below AM station 2CH.
Macquarie Sports Radio 954 dropped further, down 0.2 to 0.6%, while Sky Sports Radio gained 0.2 to 1.4%.
Nova won 10-17s. Like Aussie skater Steven Bradbury, WSFM unexpectedlyt won the 18-24 demographic, while the other stations that seriously contest that demographic fought amongst themselves for the audience and fell in a heap at the finish line. KIIS won 25-39s ahead of Nova. WSFM won its preferred demographic, 40-54s, and 2GB won the over 55s.
2GB won breakfast ahead of WSFM then KIIS. 2GB won mornings, WSFM won afternoons, Nova won drive, 2GB won evenings and weekends.
Melbourne
Smooth had the biggest gain while triple j had the biggest fall this survey in the Melbourne market.
Top station 3AW slipped 0.6 to 13.2%
Second placed smooth gained 1.3 share points to 10.4%, the biggest rise in this market.
Fox FM was third, down 0.4 to 10.0%.
Gold lost 0.9, slipping into fourth place at 9.9%.
ABC Melbourne was fifth, down 0.5 to 8.0%.
Nova won 10-17s, Fox won 18-39s, Gold won 40-54s and 3AW won the over 55s.
3AW won breakfast despite a slight drop in that timeslot, ahead of Fox and ABC Melbourne. ABC Melbourne's breakfast audience continues to slip.
3AW won mornings, Gold won afternoons, Fox won drive, 3AW won evenings and smooth won weekends.
Brisbane
Brisbane has a new market leader, with 97.3 falling below Hit105.
4KQ had the biggest fall this survey, down 1.4 share points, while Triple M had the biggest rise.
Top station Hit was steady on 11.8%, while 97.3FM slipped by 0.3, falling into second place with 11.6%.
Triple M was in equal second place after a rise of 1.1 share points to 11.6%.
Nova lost 0.8 to 11.4%, followed by 4KQ, down 1.4 to 8.5%.
triple j gained 0.3 to 7.9%, ABC Brisbane gained 0.1 to rate 7.3%.
Macquarie Sports 882 lost 0.1 to score 1.0%.
Hit won 10-24s, Nova won 25-39s, Triple M won 40-54s, 4KQ won 55-64s and ABC Brisbane won the over 65s.
Hit105 won breakfast ahead of stablemate Triple M. Mornings and afternoons were won by TripleM, Nova won drive, ABC Brisbane won evenings and 97.3 won weekends.
Adelaide
FIVEaa had the biggest gain of the survey and ABC Adelaide suffered the biggest fall this survey.
Top station Mix lost 0.3 to 15.1%.
Second placed FIVEaa gained 1.3 share points to 13.1%.
Nova lost 0.6 to 9.9%, followed by triple m, down 0.1 to 9.8%.
Fifth palced Hit107 gained 0.7 to 9.0%.
Cruise was sixth, up 0.5 to 8.7, while ABC Adelaide slipped out of a the top 5 with a fall of 1.2 share points taking it to 8.5%.
Nova won the under 39 demographics, Mix won 40-54s, Triple M won 55-64s and FIVEaa won the over 65s.
FIVEaa won breakfast ahead of Mix and ABC Adelaide. Mix won mornings, afternoons and drive, FIVEaa won evenings and Mix won weekends.
Perth
96fm had the biggest drop this survey, while Hit92.9 had the biggest rise.
Nova just retained top spot despite a drop of 0.8 to 13.9%, just ahead of Mix.
Second placed Mix94.5 gained 0.1 to 13.7%.
Hit was third, up 0.7 to 10.6%, followed by ABC Perth which was down 0.2 to 8.0%.
Fifth placed triple j was steady at 7.9%, followed by 6PR down 0.5 to 7.6%.
Nova won 10-17s, Hit won 18-24s, Nova won 25-39s, Mix won 40-54s, ABC Perth won the over 55s.
Nova won breakfast ahead of Mix. Mornings and afternoons were won by Mix, Nova won drive, ABC Perth won evenings and Mix won weekends.
One interesting footnote to the survey is the growing influence of digital stations on weekends. ABC Grandstand is doing well in most markets on weekends, and perhaps is taking some of the shine off the ABC Local stations' normally strong weekend figures during footy season. Commercial stations that carry sport are also weakening in weekends, leaving the ground open to music stations, which seem to have become dominant on weekends over the past few surveys. We will explore this trend further with the stations and see if we can bring you some more insights into whether our observation is true or not.