Our analysis of the networks and cities is below.
Raw results here, Trend Graphs here, Spin Cycle here.
Networks
Nova Entertainment
We're not sure what's been added to the Brisbane water supply but the station lead has changed yet again with Nova106.9 (­1.2) leap-frogging three stations ahead of it to regain the #1 spot. Elsewhere the brand eased back negligibly except in Adelaide which was ↓1.1.
Smooth also shed audience share, ↓0.3 in Sydney and ↓0.5 in Melbourne.
Kate, Tim and Marty are still on top of the race for Drive.

ARN
Not the best of surveys for ARN. It starts well enough in Sydney with Kyle & Jackie O bouncing back ↑0.9 (as we said they would) into double digits (10.2) but KIIS106.5, itself, could only manage a ↑0.3 gain for a 7.3 share overall.
But while K&J won back their FM Breakfast crown, the people in the next studio down the corridor, Jonesy & Amanda, lost theirs. Meanwhile, WSFM was ↓1.3 but still holds down 2nd place in the market behind 2GB on a 10.0 share. No matter, ARN is happy to have the number one and two FM Breakfast shows in the market regardless of which of their station occupy which spot.
In Melbourne, though, there's a lot more work to do to reach market leadership on the FM band for both GOLD104.3 and KIIS101.1. Neither's Breakfast show is firing. On KIIS, at least with Jase & PJ it was steady on a 5.9 share while the station, overall, was steady on 5.4.
GOLD was ↓0.6 to a 9.3 share overall while the Christian O'Connell Breakfast show continued to shed listeners, ↓0.7 and is down to a 6.7 share in that shift.
In Brisbane, 97.3FM is ↓0.7 to 10.9 and trails the top three. Even the venerable 4KQ eased back a tad.
In Adelaide, MIX102.3 took a hammering ↓1.5 but still leads the market. And CRUISE1323 had an uptick ↑0.5. In Perth, 96FM remains a problem child ↓0.2 and languishing way behind the leaders on 7.2 overall.
SCA
It was pretty much a case of 'nothing to see here, folks' for SCA with no great peaks or troughs for either network.
Triple M was steady on 5.4 in Sydney; ↑0.5 in Melbourne; ↓0.4 in Brisbane; ↑0.2 in Adelaide and ↑0.4 in Perth.
It was quiet over on the HIT network too. 2Day was ↑0.1 in Sydney; FOX ↓0.6 in Melbourne; ↓0.1 in Brisbane; ↓0.2 in Adelaide and ↓0.2 in Perth.
Macquarie Media and other Talk
It's not often that Sydney's 2GB (↑1.3 to a 15.4 share) out-rates its Melbourne sister 3AW (↑0.3 to a 13.5). Both stations retain an iron grip on top spot in their respective markets.
In fact, I can't remember when Alan Jones recorded a higher audience share than Ross Stevenson and John Burns. But Jones is ↑2.1 to return a 19.0 share in Breakfast while Ross and John is ↓0.2 to still post an incredible 18.4.
Ray Hadley grabbed a 20.2 share of the Morning audience to Neil Mitchell's 14.8.
Yet, with all that Sydney talent available to Brisbane listeners, 4BC continues to struggle ↓0.7 to land on 4.6 overall. Perth's 6PR with its more local line-up does better on 6.9 overall, after it too was ↓0.7.
The other big success story in the chain of Talk stations sales-repped by MacRadio but owned by NovaEnt is FIVEaa. It sits in 2nd place overall on a 12.8 share.
Macquarie Sports Radio
The network has successfully defended its wooden spoon in Survey 6, posting an audience share of 0.6 in Sydney and 0.4 in both Brisbane and Melbourne.
ABC
The ABC Local network posted big gains in Melbourne ↑1.1 to a 9.1 and Adelaide ↑1.5 to a 10.0 share, reversing a lengthy downward trend and putting them back in a more competitive frame. Perth was also up, ↑0.3. The other stations, however continue to drift downwards. Sydney ↓0.3; Brisbane ↓0.5.
triple J
Not much happening at jjj in terms of ratings movement. Sydney was rock steady on a 4.8 share. In Melbourne, ↑0.4; Brisbane, ↓0.4; Adelaide, ↑0.5 and Perth, ↑0.4
Cities
Sydney
Ranking Order This/Last/Change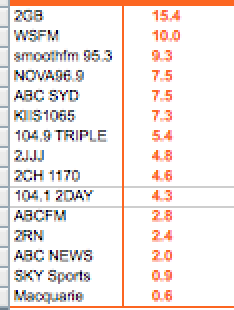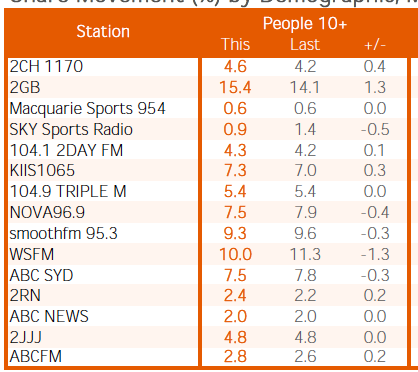 Top station 2GB had the biggest gain of the survey, up 1.3 to 15.4%, more than 5 share points ahead of seciond placed WSFM, which had the biggest drop this survey, down 1.3 to 10.0%.
Share movement across other stations was negligible.
Third placed smooth fm slipped 0.3 to 9.3%.
Nova and ABC Sydney shared fourth place, with Nova down 0.4 to 7.5% and ABC Sydney down 0.3 to 7.5%.
Fifth placed KIIS gained 0.3 to score 7.3% overall.
Alan Jones retains the top breakfast spot overall, and Kyle and Jackie regained top FM breakfast spot from colleagues Jonesy and Amanda in an audience swap that saw KIIS rise about one share point in that timeslot and WS drop by nearl;y one point.
2GB won mornings, evenings and weekends. WSFM won afternoons, Nova won drive,
Nova won the 10-24 demographics, KIIS won 25-39s, WSFM won 40-54s, 2GB won the over 55s.

Melbourne
Ranking Order This/Last/Change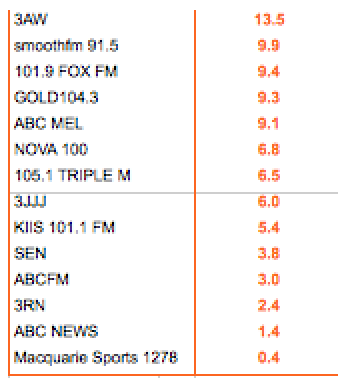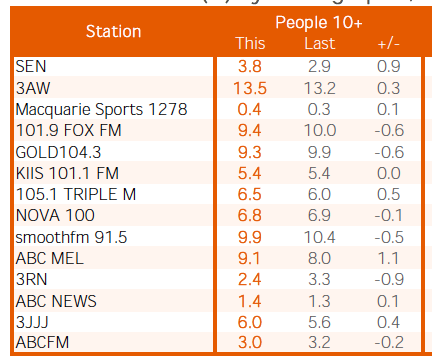 ABC Melbourne had the biggest gain of the survey while Rado National had the biggest loss.
Top station 3AW gained 0.3 to 13.5%
Second placed smooth fm lost 0.5 to 9.9%
SCA's Fox was third, down 0.6 to 9.4%, closely followed by ARN's Gold, which also dropped by 0.6 to 9.3%
Fifth placed ABC Melbourne gained 1.1 to 9.1%, moving back into the top 5.
Breakfast was won by 3AW's Ross and John, ahead of Jacinta Parsons and Sami Shah, who jumped significantly this survey in the breakfast timeslot, pushing Fox breakfast back into third spot (still number one FM breakfast show).
3AW won mornings, afternoons, evenings and weekends. Fox won drive.
​Nova won the 10-17 demographic, Fox won 18-39s, Gold won 40-54s and 3AW won the over 55s.
Brisbane
Ranking Order This/Last/Change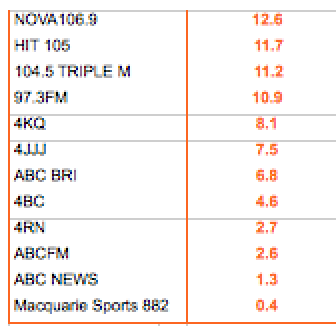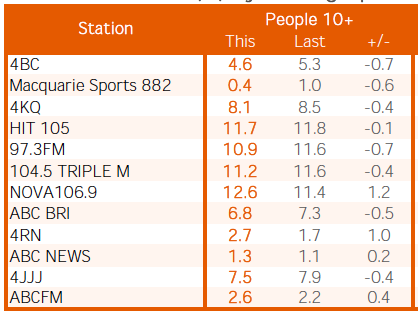 Nova (up 1.2) and Radio National (up 1.0) had the biggest gains this survey, while 4BC and 97.3 both dropped 0.7.
Nova 106.9 regained top position this survey with its 1.2 gain bringing it up to 12.6%.
Hit 105 slipped back into second place, losing 0.1 to 11.7%, closely followed by sister station Triple M, down 0.4 to 11.2%.
Fourth placed 97.3FM dropped 0.7 to 10.9%.
4KQ was in fifth place, down 0.4 to 8.1%, followed by Triple J then ABC Brisbane.
Hit105's Stav, Abby and Matt won the breakfast timeslot with a two point lead, followed by Nova, Triple M and 97.3, all within less than a point of each other, indicating the highly competitive nature of the Brisbane breakfast timeslot.
Triple M won mornings and afternoons, Nova won drive, evenings and weekends.
Nova won then 10-17 demographic just ahead of Hit, which won the 18-39 age groups. Triple M won 40-54s, 4KQ won 55-64 and ABC Brisbane won the over 65s.

Adelaide
Ranking Order This/Last/Change

ABC Adelaide (up 1.5) had the biggest gain this survey, while Mix 102.3 (down 1.5) and Nova 919 (down 1.1) had the biggest falls.
Top station Mix lost 1.5 share points overall to score 13.6%, still well ahead of its nearest rival.
Second placed FIVEaa lost 0.3 to 12.8%.
Triple M and ABC Adelaide shared third place on 10.0%, was Triple M up 0.2 and ABC Adelaide gaining 1.5.
Fourth placed Cruise gained 0.5 to 9.2%, followed by Nova, down 1.1 to 8.8%.
FIVEaa's David and Will convincingly won the breakfast tinmeslot, followed by Mix then ABC Adelaide.
FIVEaa won mornings, Mix own afternoons and drive, FIVEaa won evenings and Mix won weekends.
Mix won 10-17s, Hit won 18-54s, FIVEaa won 55-64s and ABC Adelaide won the over 65s.
Perth
Ranking Order This/Last/Change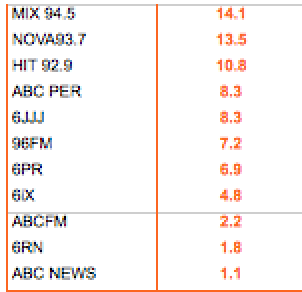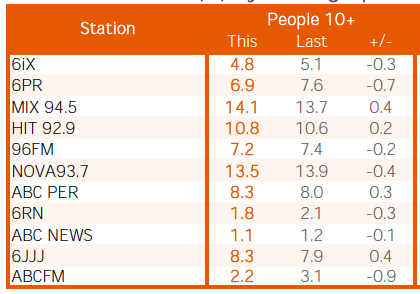 There was little significant movements in Perth this survey, with no movements above one share point. Mix gained most and ABC FM lost most, but the changes were small.
Top station Mix 94.5 gained 0.4 to 14.1%.
Second placed Nova93.7 slipped 0.4 to 13.5%.
Hit 92.9 was third, up 0.2 to 10.8%.
ABC Perth held fourth place with a gain of 0.3 taking it to 8.3%.
Triple j was fifth, up 0.4 to 8.3%.
Nova's Nathan Nat and Shaun won breakfast ahead of Mix 94.5.
Mix won mornings and afternoons, Nova won drive and evenings, Mix won weekends.
Nova won the 10-17 age group, Hit won 18-39s, Mix won 40-54s and ABC Perth won thne over 65s.
See also: Raw figures, Trend Graphs, Digital Ratings analysis, Spin Cycle.