Our analysis, by cities and networks of this football finals season survey.
See the raw results here, Spin Cycle here.
Networks
SCA
Hit Network
Kind of a strange survey for the Hit Network. Down a bit in Sydney but up a bit in Melbourne, Brisbane and Adelaide. Then, for some reason Hit 92.9 in Perth plummeted -2.1 from a 11.7 share to 9.6. In fact, it was a strange survey overall in Perth where adding up the gains and losses of all stations in the market, 1.2 worth of audience share seems to have gone missing.
Triple M
The Triple M brand was down by -0.5 in both Sydney and Melbourne with a 5.8 and a 6.1 share respectively. Ut was the lowest figure for Melbourne this year. See
trends
.
Up +0.3 in Brisbane but down -1.4 in Adelaide. In Perth, front runner Mix 94.5 shed -0.3 but easily retained top spot.
Nova Entertainment
smooth
smoothfm continues to surprise with 95.1 in Melbourne returning a 10.5 share. That's 1.2 ahead of its nearest FM rivals FOX and GOLD. Apart from market leader 3AW, it's the only other station in double figures in that market.
In Sydney, after two down trending surveys, smooth 95.3 is on the up again (+0.7) with an 8.7 share.
NOVA
Sydney's 96.9 has provided a steady performance all year with results so far all with the 7.0 and 8.0 range. This time, the station dropped from 7.9 to 7.2.
After trending upwards all year in Melbourne, NOVA100 returned it's lowest share at 6.9. The brand also leaked audience share in small amounts in Adelaide and Perth.
NOVA's best result was in Brisbane where it consolidated its hard-fought lead by gaining +0.5 while it's main rival, ARN's 97.3 lost ground to the tune of -1.2, leaving NOVA almost 2.8 ahead.
ARN
It's always a good result overall when all four of your stations gain ground in Australia's two biggest markets, Sydney and Melbourne. Outside of that, it was a bit of a mixed bag for ARN.
Pure Gold Network
WSFM in Sydney put in a solid performance, gaining +0.5 to a 9.8 share to be #1 FM and #2 overall behind 2GB.
GOLD in Melbourne waxed a little (+0.2) to level peg with FOX on a respectable 9.3 share.
Who said AM music stations were dead? In Brisbane, the venerable 4KQ put on a +0.9 spurt to land on an 8.7 share while in Adelaide CRUISE 1323 is on 9.5 despite a loss of -0.3.
KIIS Network
KIIS was up a tad in both Sydney and Melbourne although on a 6.2 share Melbourne remains a problem for ARN.
But the network lost ground everywhere else. That didn't matter much in Adelaide where Mix 102.3 waned -0.7 but retained its #1 crown. But it matters in Brisbane where once market leader 97.3 took a -1.2 tumble and finds itself 2.8 behind NOVA.
In Perth, 96fm has reversed the gains made over the last two surveys, down -0.6 to land on a 9.1 share.
Macquarie Media and other talk
Although Sydney's 2GB remained steady on a 12.6 share Mon-Sun, it returned a 14.0 share Mon-Fri, gaining in all shifts bar Afternoons.
3AW in Melbourne had a blinder, up 1.4 from last time to record its best result for the year, a 16.2 Mon-Sun and 16.9 Mon-Fri. The Breakfast figures of 21.6 (+1.1) and Mornings 17.7 (+2.5) are astounding.
Both 3AW and 2GB comfortably top the rankings in both major markets.
The next best result for AM Talk was in Adelaide where the NovaEnt owned FIVEaa lost some ground (-0.6) but still managed to return a decent 10.8 overall.
In Perth, 6PR put on +0.6 to land on an 8.0 share while in Brisbane, 4BC went down by _0.5 to land on 5.3.
Talking Lifestyle
In Melbourne, the brand remained steady on a 0.4 share while in Brisbane it dropped a further -0.4 to land on 0.6.
In Sydney, though, it gained +0.3 to reach a 3.7 share. But that was for Monday to Sunday. Monday to Friday returned just 2.6. That despite the Breakfast team chalking up the Mon-Sun average of 3.7.
The difference is Weekends where George and Paul still do the same 2UE format they've been doing for the past 15 years. Their Saturday and Sunday 6 am to Midday show helped Weekends jump by +0.9 to a 7.4 share, double the station average Mon-Sun.
ABC
Local Radio
Today it seemed that the magic number for ABC Local Radio was 0.2. It went up by +0.2 in Brisbane. It drifted down by exactly -0.2 in Sydney, Melbourne and Perth with Adelaide the only one to buck the trend and post a +1.5 gain to reinstate itself in the #2 spot in that market.
triple j
Adding the plusses and minuses, the network lost -1.7 overall.
Sydney was down -0.4. Melbourne, -0.7. Brisbane -1.0. Adelaide was steady 0.0. Pert was the only one of the js to go up, gaining +0.4.
Cities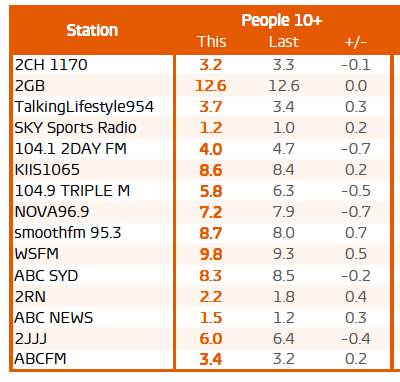 Sydney
The Sydney market had a pretty stable survey, with movements all under one share point.
2GB remained steady in number one position on 12.6% overall.
WS FM consolidated its second place position with a rise of 0.5 to 9.8%
Smooth FM was third, up 0.7 to 8.7%, followed closely by KIIS1065, up 0.2 to 8.6%
ABC Sydney, slipped into fifth place, dropping 0.2 share points to 8.3%.
2GB won breakfast ahead of KIIS and WSFM (both tied for second place), then ABC Sydney. 2GB won every other weekday shift and smooth won weekends.
KIIS won 10-17s, followed closely by Nova. The 18-24 demographic was won by Nova. KIIS won 25-39s, WSFM won 40-54s and 2GB won the over 55 age groups.
Melbourne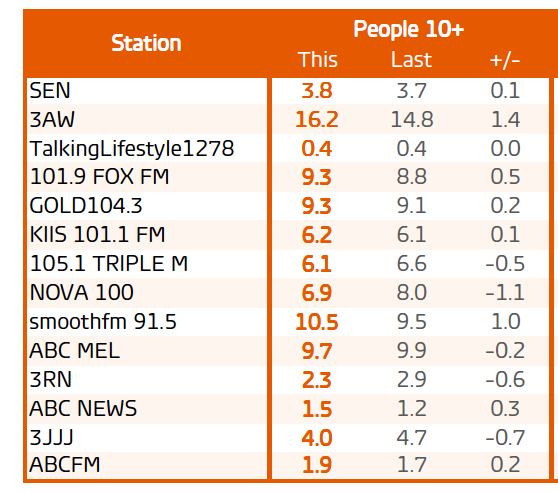 3AW had the biggest jump in Melbourne this survey and Nova suffered the biggest fall.
Top station 3AW gained 1.4 share points to 16.2%.
Smooth fm moved into second place, cracking double figures, up 1.0 share points to 10.5%.
ABC Melbourne was third, down 0.2 to 9.7%.
Fourth place was shared by Fox and Gold, which both gained slightly and tied at 9.3%.
Nova was in fifth place, down 1.1 to 6.9%, falling from being in the eights to the sixes, well behind the top four stations.
3AW dominated the breakfast timeslot, ahead of ABC Melbourne. 3AW won all other timeslots in the market.
Nova won the 10-17 demographic, Fox won 18-39s, 3AW won all the over 40 demographics.
Brisbane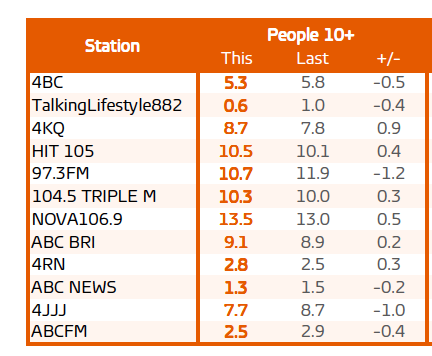 FM97.3 had the biggest fall in the Brisbane market this survey, while 4KQ had the biggest rise. Talking Lifestyle882 slipped below 1.0 overall.
Top station Nova consolidated its lead with a rise of 0.5 to 13.5% overall.
Second placed 97.3 slipped 1.2 to 10.7%.
Hit105 was in third place, up 0.4 to 10.5%, followed closely by stablemate Triple M, up 0.3 to 10.3%.
ABC Brisbane was fifth, up 0.2 to 9.1%.
Breakfast was won by ABC Brisbane, with Nova close behind, with both stations increasing their breakfast audience size this survey. Nova won all other shift timeslots in the market.
Nova won the 10-17 demographic, Hit won 18-24s, Nova won 25-39s, Triple M won 40-54s, 4KQ won 55-64s and ABC Brisbane won the over 65 demographic.
Adelaide
Triple M had the biggest fall of the survey, dropping from second to fifth position. ABC Adelaide had the biggest gain this survey.
Top station Mix 102.3 slipped 0.7 to 12.4%.
ABC Adelaide regained second place, up 1.5 to 11.6%.
Third placed Nova919 slipped 0.2 to 11.0%.
FIVEaa was in fourth place, down 0.6 to 10.8%, followed by Triple M, down 1.4 share points to 10.7%
ABC Adelaide won breakfast ahead of FIVEaa. Triple M won mornings and afternoons, Nova won drive, ABC Adelaide won evenings and weekends.
Nova dominated the 10-17 demographic, HIT won 18-39s, Mix won 40-54s, Cruise won 55-64s and ABC Adelaide won the over 65s.
Perth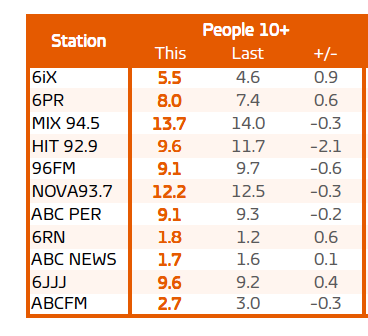 Hit 92.2 took the biggest hit of the survey, dropping by 2.1 share points, 6ix had the biggest rise, up by 0.9. With more falls than gains, the Perth market has an unaccounted-for 1.2 share points this survey that may have gone to other unlisted stations.
Mix 94.5 held top position despite slipping by 0.3 to 13.7%.
Second placed Nova 93.7 fell 0.3 to 12.2%.
Hit 92.9 dropped 2.1 to 9.6%, tied for third place with triple j, up 0.4 to 9.6%.
Fourth placed 96fm dipped 0.6 to 9.1%, tied with ABC Perth, down 0.2, also on 9.1%.
6PR was in fifth place, up 0.6 to 8.0%.
Nova 937 won breakfast ahead of Mix and ABC Perth. Mix won mornings and afternoons, Nova won drive, 6PR and Mix both tied for ownership of the evening timeslot and Nova won weekends.
Nova won 10-17s, Hit won 18-25s, triple j won 25-39s, Mix won 40-64s and ABC Perth won the over 65s.