As we sift through the results of Survey 7 we will add our analysis by networks and cities here
Networks
SCA
This was not the survey they were hoping for at SCA.
For the HIT Network, solid gains in Brisbane and Adelaide were overshadowed by losses where it mattered most in Sydney and Melbourne as well as Perth.
It was worse news for Triple M with the brand losing ground everywhere. The only highlight was MIX 94.5 in Perth retaining it's iron grip on market leadership with a modest gain.
Nova Entertainment
A solid result for NovEnt, especially for the Nova brand which returned steady if unspectacular gains in every market except Melbourne which remained the same on a 6.9 share.
Management would be pleased about the 0.8 jump for Fitzy & Wippa on 96.9's Breakfast show to land on a 7.6 share. And the 1.0 rise recorded by Ash, Kip & Luttsy with Susie O'Neil didn't hurt 106.9 in Brisbane to consolidate its hard earned number one spot in Brisbane.
It was more a case of up and down for smoothfm. Sydney gained 0.5 to stay in the hunt for the top of the FM tree among three stations in the nine's, including KIIS and WSFM.
In Melbourne. smooth lost just 0.4 in share but was overtaken by a resurgent GOLD 104.3 for the FM lead.
Nova is the #1 metro network for People 10+ in share 9.2% and cume 3,311,500
Nova's Kate, Tim & Marty is the #1 National Drive show in share 11.5% and cume 1,440,300
Nova's Smallzy's Surgery is the #1 National Nights show in share 11.5% and cume 817,300
ARN
It was bit of a mixed bag for ARN but they got the best results where it really counts, including a blinder of a survey for GOLD in Melbourne which jumped 1.8 to snatch the #1 FM spot (#2 overall) from smooth.
WSFM did pretty well too despite a slight drop in share and coming in at #2 FM behind KIIS 106.5.
In Brisbane, the venerable 4KQ came back to earth a little with a -0.6 loss but still on an 8.1 share to belie the notion that AM music formats don't work. Same could be said of Adelaide's CRUISE1323 which landed on a 7.9 share despite dropping a massive -1.6. And finally, there was some good news for the embattled 96FM that's been struggling ever since ARN bought it from Fairfax a couple of years ago. It bounced into double digits with a 1.5 increase.
Over at the KIIS stream, things were bubbling along nicely with the Sydney flagship delivering once more with a 0.9 lift to regain the number one FM spot (#2 overall) ahead of stablemate WSFM. Can't do better than that unless you could knock 2GB off its perch.
In Melbourne, KIIS which languishes near the tail end of the FM pack stayed there. But with big changes already slated for 2018, it might have been more worrying for management to see a big gain.
In Brisbane, 97.3FM seems to have arrested the slide with a modest gain to reach an 11.1 share but has been overtaken by HIT105 and is still well behind NOVA.
Meanwhile in Adelaide MIX102.3 is still number one at 11.8 but with a reduced margin.
According to their media release: ARN takes out the position of #1 national network, on the back of their best result ever.

ARN holds the #1FM station and Breakfast shows in Sydney, Melbourne and Adelaide.

And in Sydney, ARN holds both the #1FM and #2FM stations and #1FM and #2FM Breakfast shows with KIIS 1065's Kyle & Jackie O and WSFM's Jonesy & Amanda.
Macquarie Media and other talk
Not a great survey for MacRadio but not a bad one either. Both the flagships, 2GB and 3AW lost market share but remain firmly entrenched as leaders in their respective cities. 4BC Brisbane and 6PR Perth remained relatively steady as did the NovEnt owned FIVEaa in Adelaide.
Over at Talking Lifestyle, I'm told that the brand is making more money now than it did when it was higher in the ratings. Which is a good thing because it certainly isn't rating well.
Its Sydney flagship took another hit (-0.4) to be down to 3.3. Brisbane lost just -0.3 but that represented 50% of it's entire audience share. The station is now down to just 0.3 in the market. However in Melbourne, the station's up to 0.5 after a 0.1 surge.
Meanwhile the station MacRadio sold to Glenn Wheatley's consortium, 2CH1170 was up a whole 1.0 to a 4.2 share overall.
Sport station SEN in Melbourne is on a 3.5 share while Sky Sports in Sydney is on 0.9 after both suffered a slight loss.
ABC
Local Radio
Survey 7 was one of the worst in recent memory for ABC Local radio. For years the ABC has come a reliable second to 2GB in Sydney and 3AW in Melbourne. Today they came 5th and 4th on an 8.7 and a 9.3 respectively.
It's not so much that they have lost share (Sydney went up 0.4) but that FM stations like smooth, WSFM and GOLD have gained listeners and overtaken them.
Adelaide and Perth both took substantial hits, -1.2 and -1.1 respectively while Brisbane gained 0.2.
triple j
triple j recorded a mixed survey result. Up in Melbourne, Brisbane and Perth but down in Sydney and Adelaide.
The plusses and minusses for major networks
Cities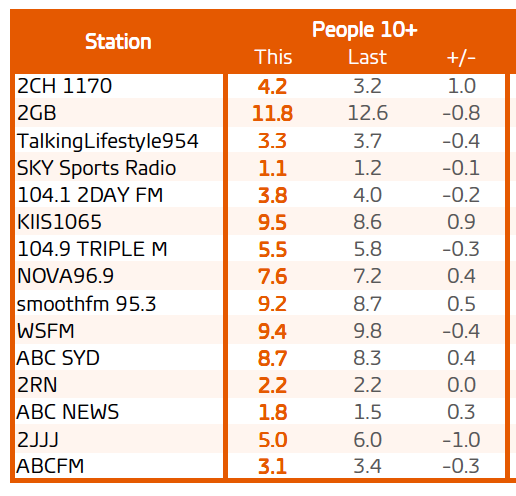 Sydney
The biggest movers this survey in Sydney were 2CH, up 1.0 share point to 4.2%, and KIIS, which gained 0.9 to win back the top FM position in the market. triple j fell most, down 1.0 share point to 5.0 in the grand final survey period.
Top station 2GB slipped 0.8 to 11.8% overall.
Second placed KIIS rose 0.9 to 9.5%.
Closely behind in third place was stablemate WSFM, down 0.4 to 9.4%.
Fourth placed smooth fm gained 0.5 to 9.2%.
ABC Sydney was in fifth place, up 0.4 to 8.7%.
KIIS won the 10-17 demographic, Nova won 18-24s, KIIS won 25-39s, WSFM won 40-54s, smooth won 55-64s and 2GB won the over 65s.
2GB won breakfast ahead of KIIS. Mornings, afternoons and evenings were won by 2GB, KIIS won drive, smooth won weekends.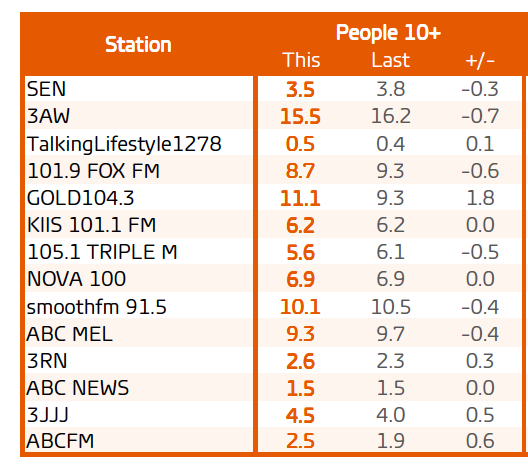 Melbourne
In what was otherwise a pretty stable survey in Melbourne, Gold 104.3 had a significant jump, up 1.8 share points overall.
Top station 3AW slipped slightly, down 0.7 to 15.5%.
Gold moved into second place, up 1.8 to 11.1%, pushing smooth fm to third place.
Smooth lost 0.4 to 10.1%.
Fourth placed ABC Melbourne lost 0.4 to 9.3%.
Fox was in fifth place, down 0.6 to 8.7%.
Nova won the 10-17 demographic, Fox won 18-39s, Gold won 40-54s, 3AW won the over 55s.
3AW dominated breakfast and mornings, Gold won afternoons, 3AW won all other timeslots.
Brisbane
In a survey with little significant movement in this market, Hit 105 gained the most and Triple M slipped most.
Top station Nova 106.9 gained 0.4 to 13.9%.
Hit 105 jumped into second placed with its gain of 0.7 share points moving it to to 11.2%, just ahead of 97.3FM.
Third placed 97.3 gained 0.4 to score 11.1% overall.
ABC Brisbane was placed fourth, up 0.2 to 9.3%.
4KQ was down 0.6 to 8.1%.
Nova won 10-17s and 25-39s, Hit won 18-24s, 97.3 won 40-54s, 4KQ won 55-64s and ABC Brisbane won the over 65s.
Nova won breakfast ahead of ABC Brisbane and Nova won all other at work shifts plus weekends. ABC Brisbane won evenings.
Adelaide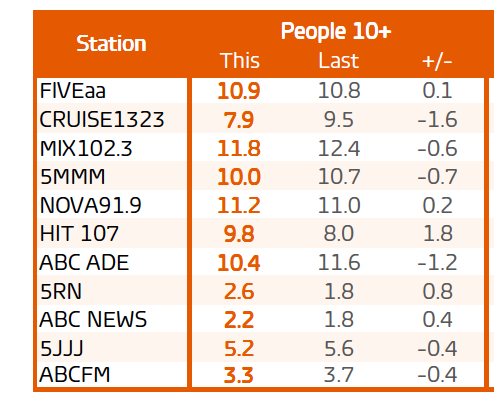 Cruise and ABC Adelaide suffered the biggest falls this survey, losing recent gains made by both stations. Cruise was down 1.6 share points and ABC Adelaide was down 1.2.
Top station Mix102.3 dropped 0.6 to 11.8%.
Nova919 followed in second place, up 0.2 to 11.2%.
FIVEaa gained 0.1, moving to third place on 10.9%.
Fourth placed ABC Adelaide lost 1.2 to 10.4%.
Triple M was in fifth place, down 0.7 to 10.0%.
Nova won 10-24s, Hit won 25-39s, Mix won 40-54s, Triple M won 55-64s and ABC Adelaide won the over 65s.
ABC Adelaide won breakfast ahead of FIVEaa, Triple M won mornings and afternoons, Nova won drive, FIVEaa won evenings and Nova won weekends.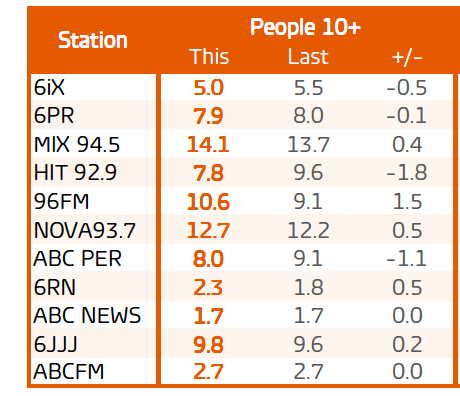 Perth
Hit92.9 fell most this survey and ABC Perth also dropped. 96fm recorded the best gain.
Top station Mix94.5 gained 0.4 to 14.1%.
Second placed Nova93.7 rose by 0.5 to 12.7%.
96fm rose strongly, up 1.5 to 10.6%, regaining third position.
Fourth placed ABC Perth fell 1.1 to 8.0%, just ahead of 6PR, down 01. to 7.9% and Hit, which fell by 1.8 to 7.8%.
Nova won 10-24s, triple j won 25-39s, Mix won 40-64s and ABC Perth won the over 65 demographic
Nova won breakfast ahead of Mix, mornings and afternoons were won by Mix, Nova won drive and evenings while Mix won weekends.