Our analysis of networks and cities for radio ratings survey 8.
Refresh this page during the day to get the latest updates.
See the raw results here and Spin here.
Networks
SCA
Santa was kind to Triple M with the men's network gaining ground in every market except Adelaide.
It went up by exactly 0.7 in both Sydney and Melbourne where the Breakfast shows holding up their end of the bargain. Brisbane was up 0.4 and Mix94.5 went up 0.5 to retain its vice-like grip on #1 in that Market. Adelaide was the only MMM to drop with a -0.7 result.
Over at HIT, Santa was not quite as generous. Sydney edged up by 0.1 overall which is a hero better than edging down by the same margin when you have just a 3.9 share. More worrying is that Breakfast is down to 2.8.
In Melbourne, Fox slipped by -0.3 playing it at #2 FM behind Gold. The HIT brand slipped in Brisbane and Adelaide too by -0.7 and 0.8 respectively.
In Perth, though, 92.9 jumped 1.4 to land in 4th place in that market.
Nova Entertainment
Is the listener love affair with smooth over? Both stations recorded losses – Sydney down by -0.6, but in Melbourne, the numbers plummeted by -2.3 to land on a 7.8 share going from #2 in the market just two surveys ago to #6 today.
What's more, in Melbourne while the Drive shows on Fox, Nova and KIIS all gained significant audience shares, smooth's Drive dropped by -2.7.
The results were better at Nova where Sydney remained steady (-0.1) and Melbourne was up by a handy 1.1.
Brisbane was down -0.6 but with it's 13.3 share overall, the station maintained it place at the top.
Adelaide was up 0.8 to put it just 0.3 behind perennial market leader Mix 102.3.
In Perth too, Nova enjoyed a nice gain of 1.0 to play it within reach of leader Mix 94.5 at just 0.9 behind.
ARN
It was a crackerjack day for ARN in Sydney where network siblings KIIS and WSFM not only retained their #1 and #2 positions on the FM band but went up again to be #2 and #3 overall leaving smooth and ABC Sydney in their dust.
In contrast, Melbourne was weird. GOLD lost much of its gains from last time (down -1.5) while KISS after locking in new Breakfast and Drive shows for next year jumped 1.3. Yet, the station failed to improve its ranking and remains near the tail end of the commercial FM pack ahead only of Triple M.
In Brisbane, the once dominant 97.3 FM drifted -0.7 and further from the lead now held by Nova with HIT105 at #2.
97.3FM's main threat now is its own stablemate, the venerable 4KQ on the AM band which put on a 2.1 surge to land on a 10.2 share, just 0.2 behind it's FM sibling.
Then just to prove that with the right format AM music stations cannot only survive but thrive, CRUISE1323 in Adelaide also put in a blinder with a 1.5 gain to put it in 4th place in the market ahead of its more fancied rivals on FM, Triple M and HIT107.
MIX 102.3 lost -0.5 but retained 1st place in the market.
Meanwhile, in Perth 96FM lost some of the ground it made last time with a -0.4 drop.

Read our earlier report about ARN's strategy for next year here.

Both 2GB and 3AW shed -0.5 in audience share yet retained their long held number one spots in each market. But it is 3AW on a 15.0 share of the Melbourne audience that has emerged far the more dominant of the two when compared to 2GB's 11.3 share in Sydney.
In Brisbane, though, 4BC is heading in the right direction and put on a 0.6 spurt to land on a 6.2 share. 6PR, in Perth, lost a little ground (-0.4) but still managed a 7.5 share to put it neck and neck with the Local ABC station.
What would be Macquarie's second highest rating station in the network, if only they owned it, FIVEaa in Adelaide, which belongs to NovaEnt, gained 0.8 to land on an 11.7 share placing it third in the market.
The Talking Lifestyle brand seems to have levelled out. The Sydney iteration is the best performed of the trio on a 3.5 share propped up by the only two programs that beat the station average: George and Paul on the weekends with a 7.2 share and to a lesser extent John and Garry on Breakfast on 3.9.
In Melbourne Talking Lifestyle is listened to by 0.3 per cent of the measured audience while Brisbane has 0.5.
ABC Local stations must have been very naughty this year because Santa has brought them little cheer this Christmas. Following one of its worst results in recent memory in Survey 7 the network has backed it up with a further, even bigger, drop in Survey 8.
Last time our For and Against table showed ABC Local as having lost -2.1 in audience share as a network. This time it has lost a further -3.2.
triple j
At triple j the results were pleasing overall with Sydney steady; Melbourne up 0.9; Brisbane also up 0.9; Adelaide up 1.4 and Perth, the only market to lose significant share was down -1.2.
For and Against Chart
Adding up the plusses and minusses for each network

Compare to previous For and Against
Cities
Smooth and 2GB slipped a little, while Triple M had a small gain in a survey with not too much significant movement.
Top station 2GB lost 0.5 to 11.3%, followed by second placed KIIS1065, up 0.4 to 9.9%.
Third placed WSFM gained 0.3 share points overall to score 9.7%.
Smooth dropped to fourth place, down 0.6 to 8.6%.
ABC Sydney was fifth, down 0.3 to 8.4%.
Melbourne
Smooth and Gold recorded the biggest drops in Melbourne, while KIIS and Nova had the biggest gains.
Top station 3AW slipped 0.5 to 15.0%, still streets ahead of the rest of the pack.
Second placed Gold1043 lost some of its sparkle, falling 1.5 share points to put it back under the ten mark at 9.6%.
ABC Melbourne was steady on 9.3%, but moved up into third place as smooth slipped down below the top 5.
Fourth placed Fox FM dropped 0.3 to 8.4%, followed by Nova100, up by a strong 1.1 share points to 8.0%.
Smooth moved to sixth place, down 2.3 to 7.8%.
Brisbane
4KQ scored a massive gain this survey, while other stations had little significant movement.
Top station Nova1069 lost 0.6 to a 13.3% overall share.
Second placed Hit105 dropped 0.6 to 10.6%, closely followed by the next two stations in the top 5.
97.3FM was third, down 0.7 to 10.4%.
Fourth placed 4KQ jumped into double figures with its 2.1 share point gain bringing it to 10.2%.
Fifth placed Triple M gained 0.4 to score 9.9%, leaving ABC Brisbane in sixth place, down 0.8 to 8.5%.
Adelaide
Cruise and triple j had the biggest gains in Adelaide, with Cruise rising 1.5 and triple j up 1.4 to 6.6%. ABC Adelaide suffered the biggest drop, down 1.7 to 8.7%
Top station FIVEaa consolidated its lead, gaining 0.8 to 11.7%.
Second placed Mix102.3 gained 0.5 to 12.3%.
Nova919 was a close third after gaining 0.8 to 12.0% overall.
Cruise jumped into fourth place, gaining1.5 share points to 9.4% overall.
Close behind in fifth place was Triple M, dropping 0.7 to 9.3% as Cruise pushed it down the ladder.
Perth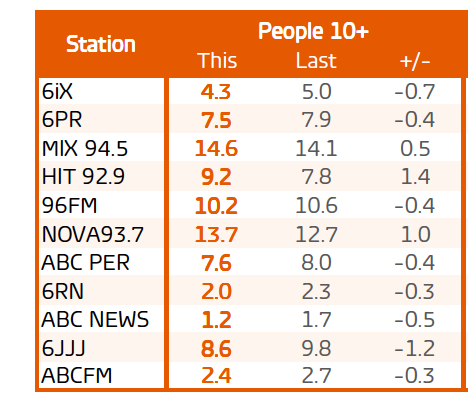 Hit 92.9 and Nova 937 scored the biggest gains in Perth, while triple j had the biggest drop.
Mix 94.5 was the top station, gaining 0.5 to 14.6%.
Second placed Nova gained 1.0 to strengthen its position at 13.7%.
96FM was third, down 0.4 to 10.2%.
Hit 92.9 moved into fourth place with a jump of 1.4 share points to 9.2%.
triple j dropped to fifth place, down 1.2 to 8.6%.