The spin from the network PR and Marketing Departments for survey 8.
See the raw results here.
Analysis here, Trend graphs here.
Refresh this page during the day to get the latest additions of press releases, as they are sent to us.
If you have a release, send it to [email protected].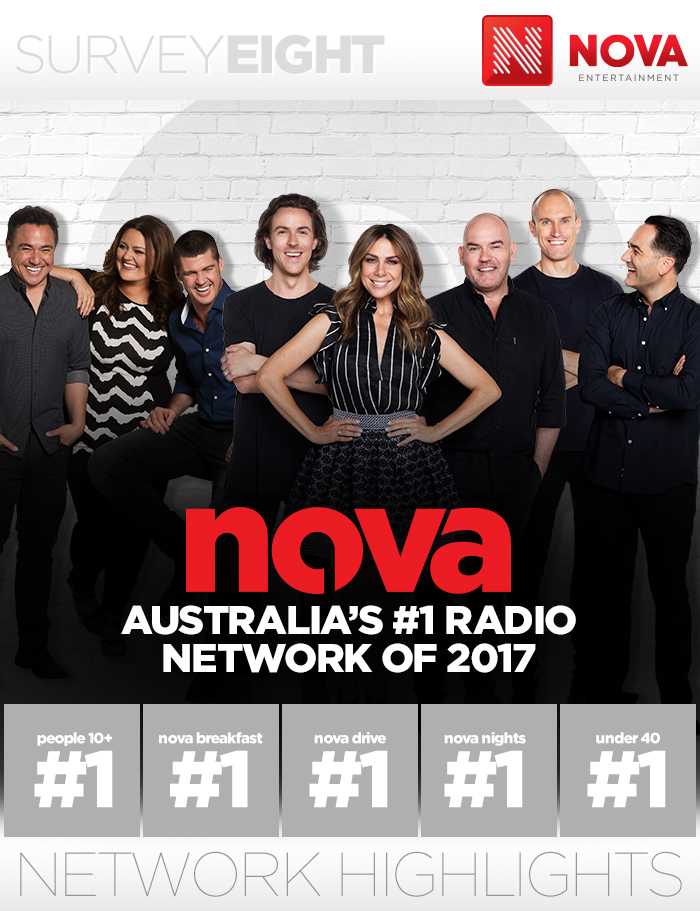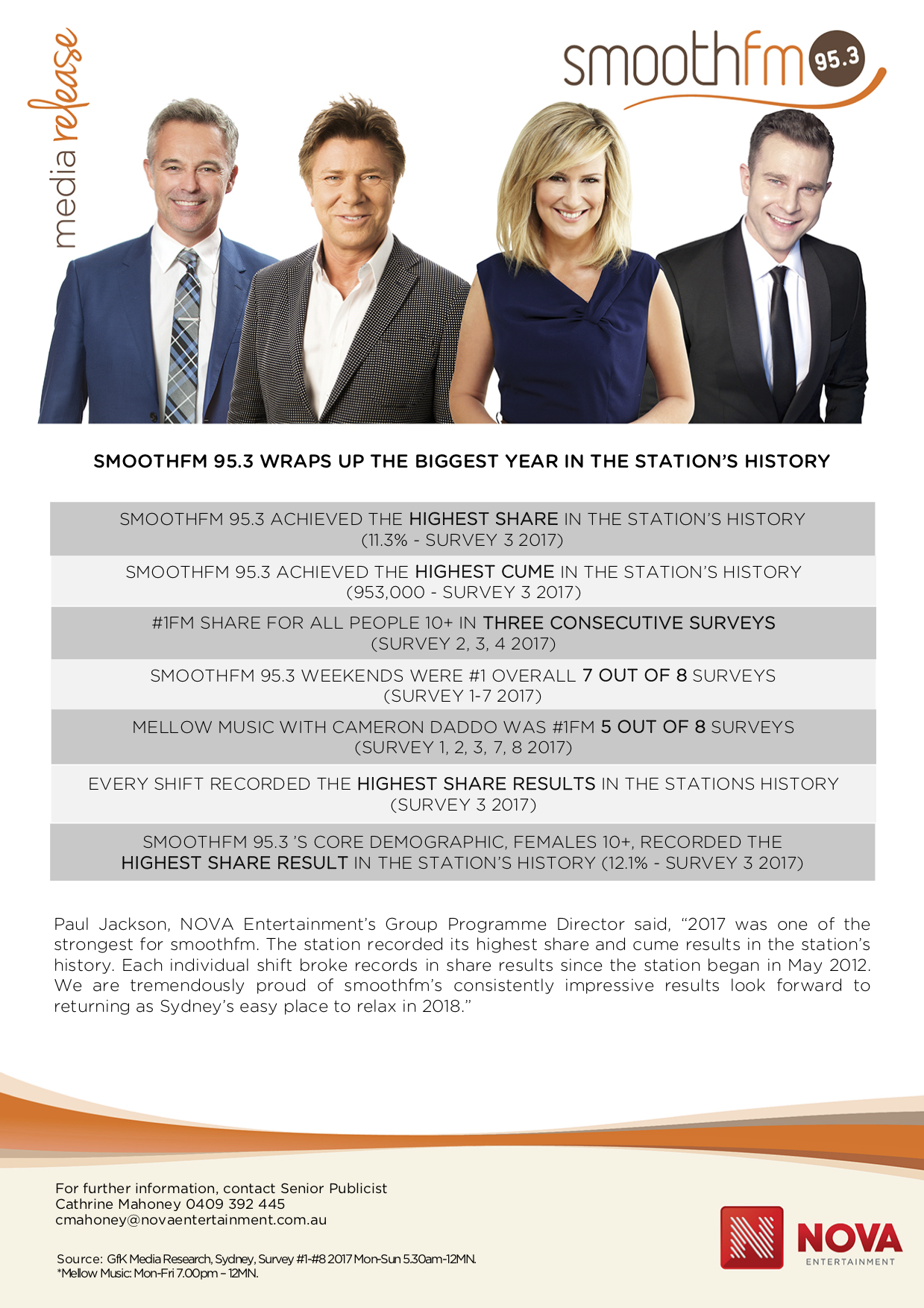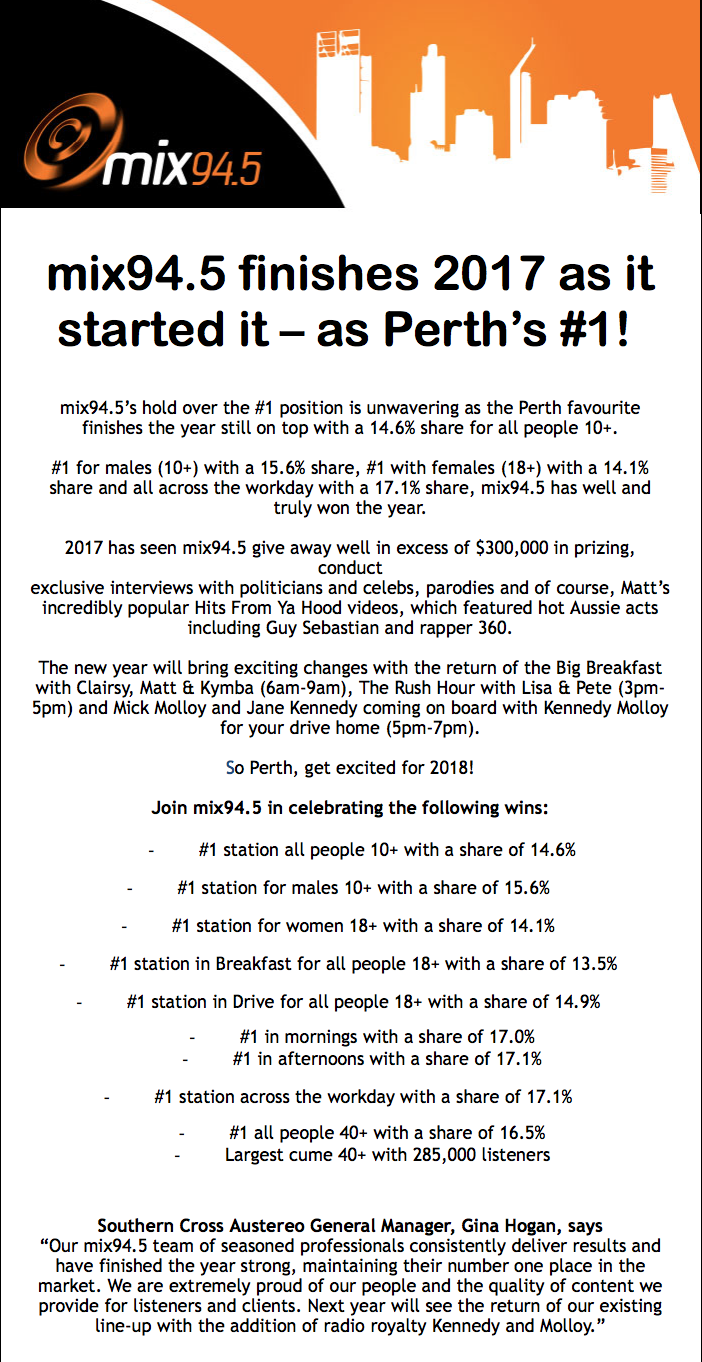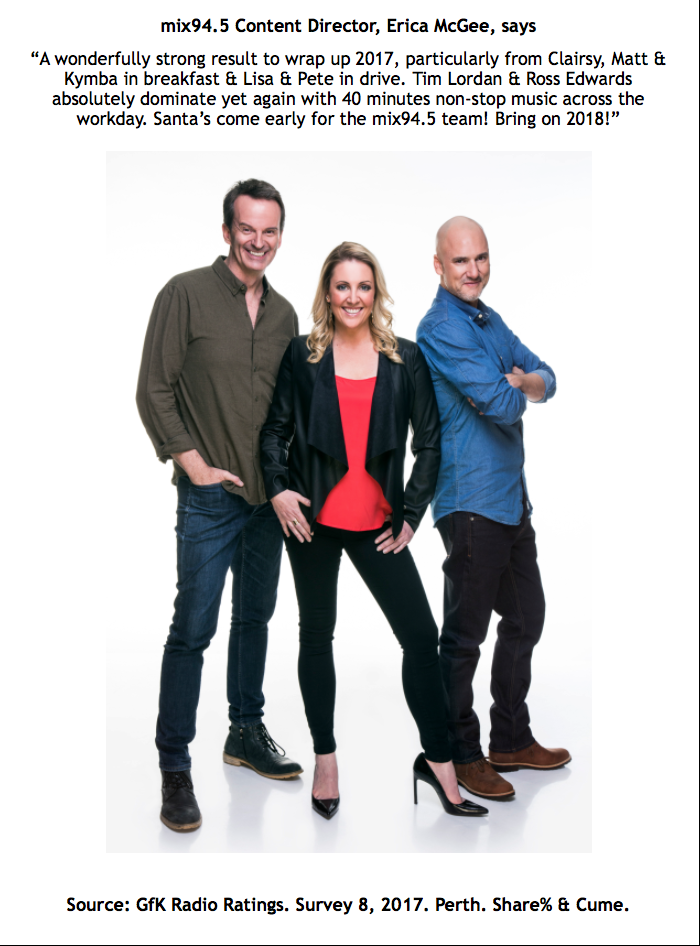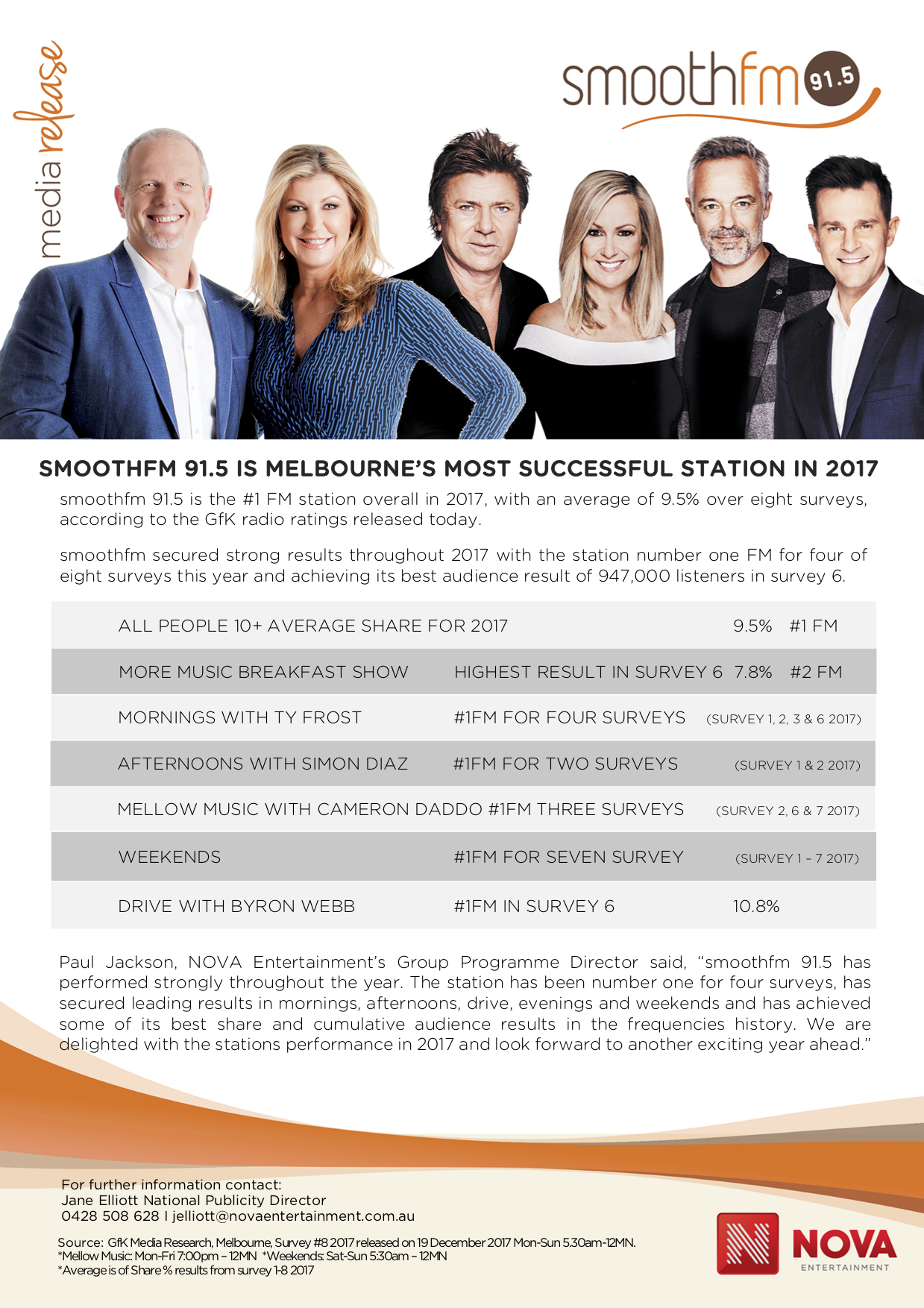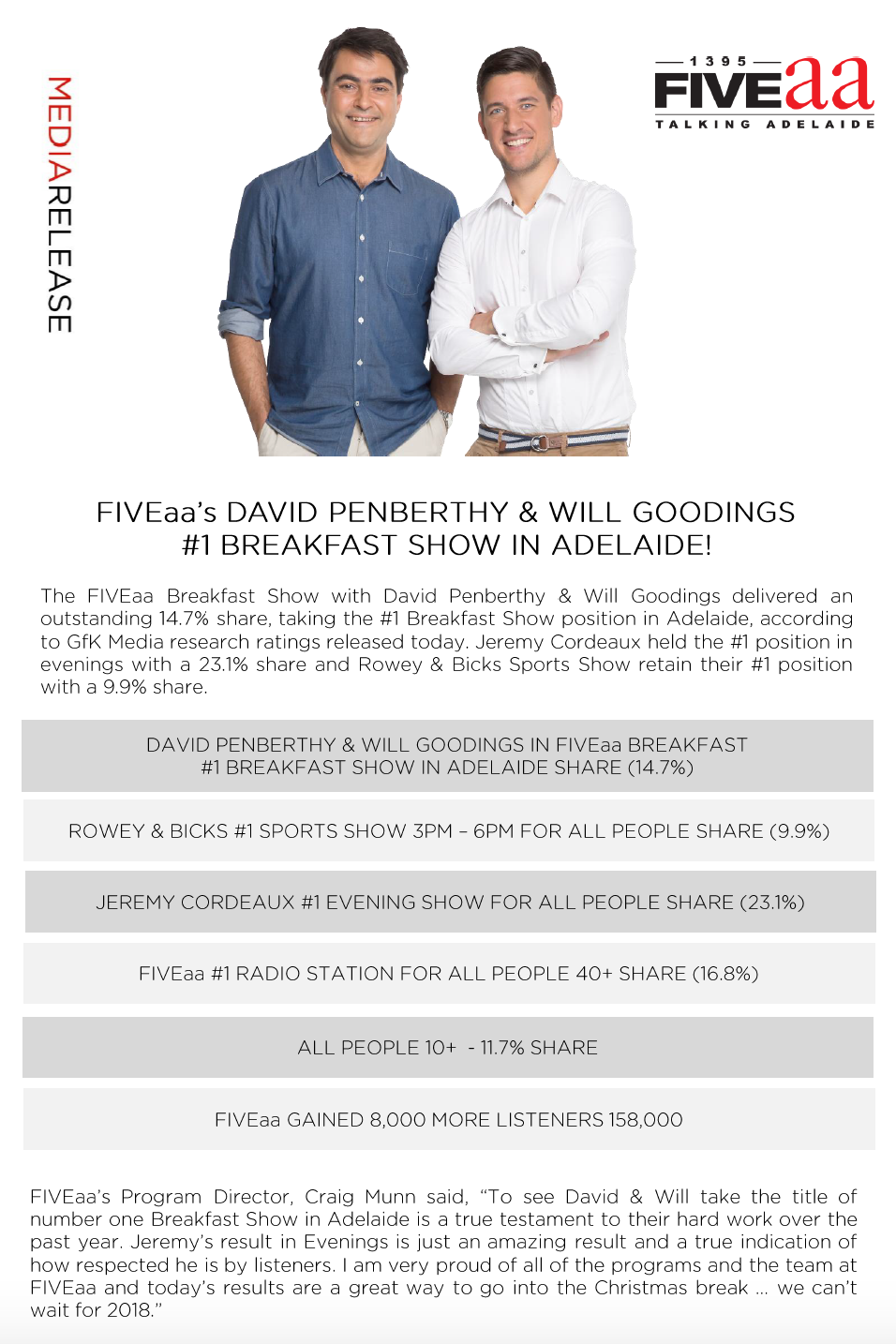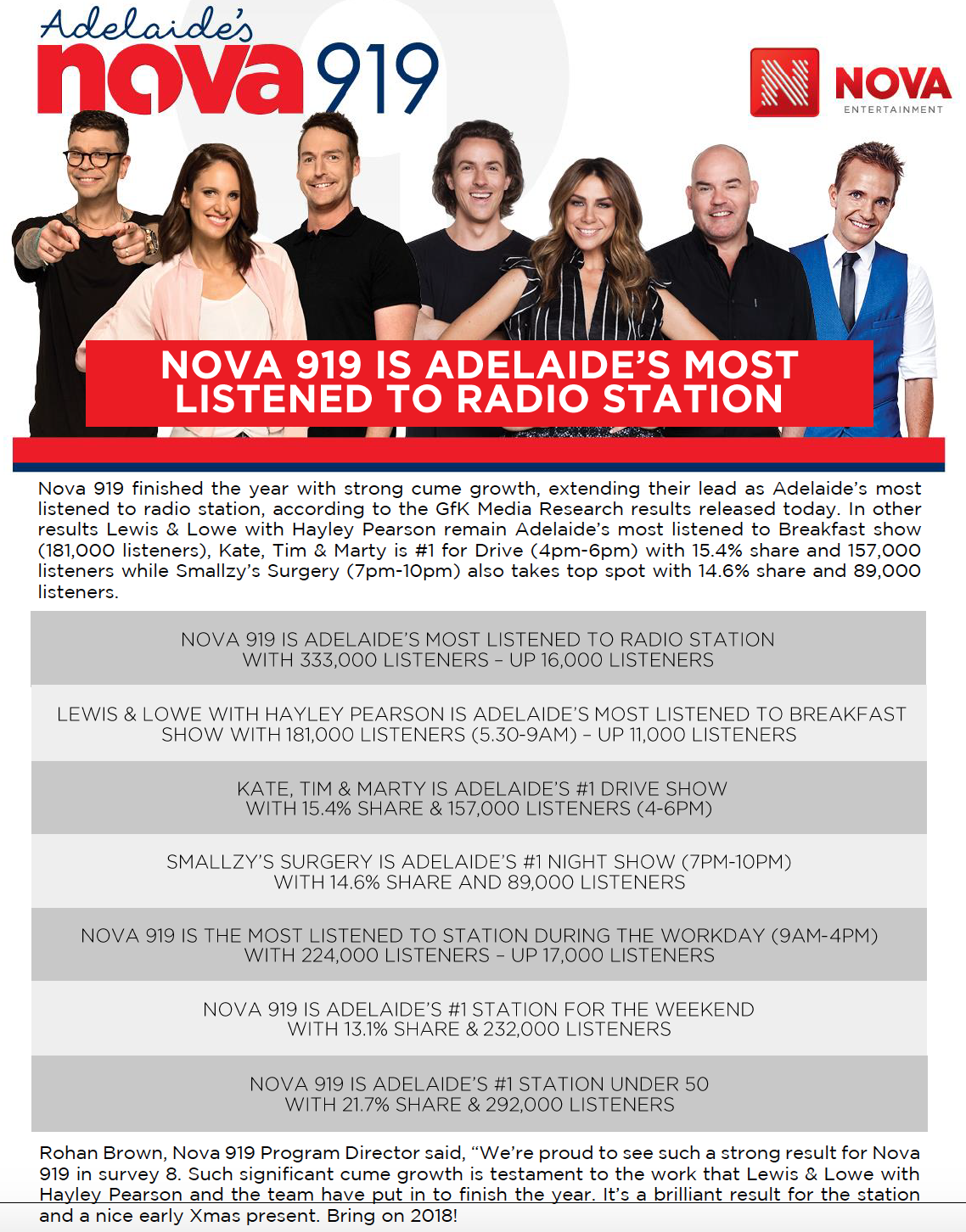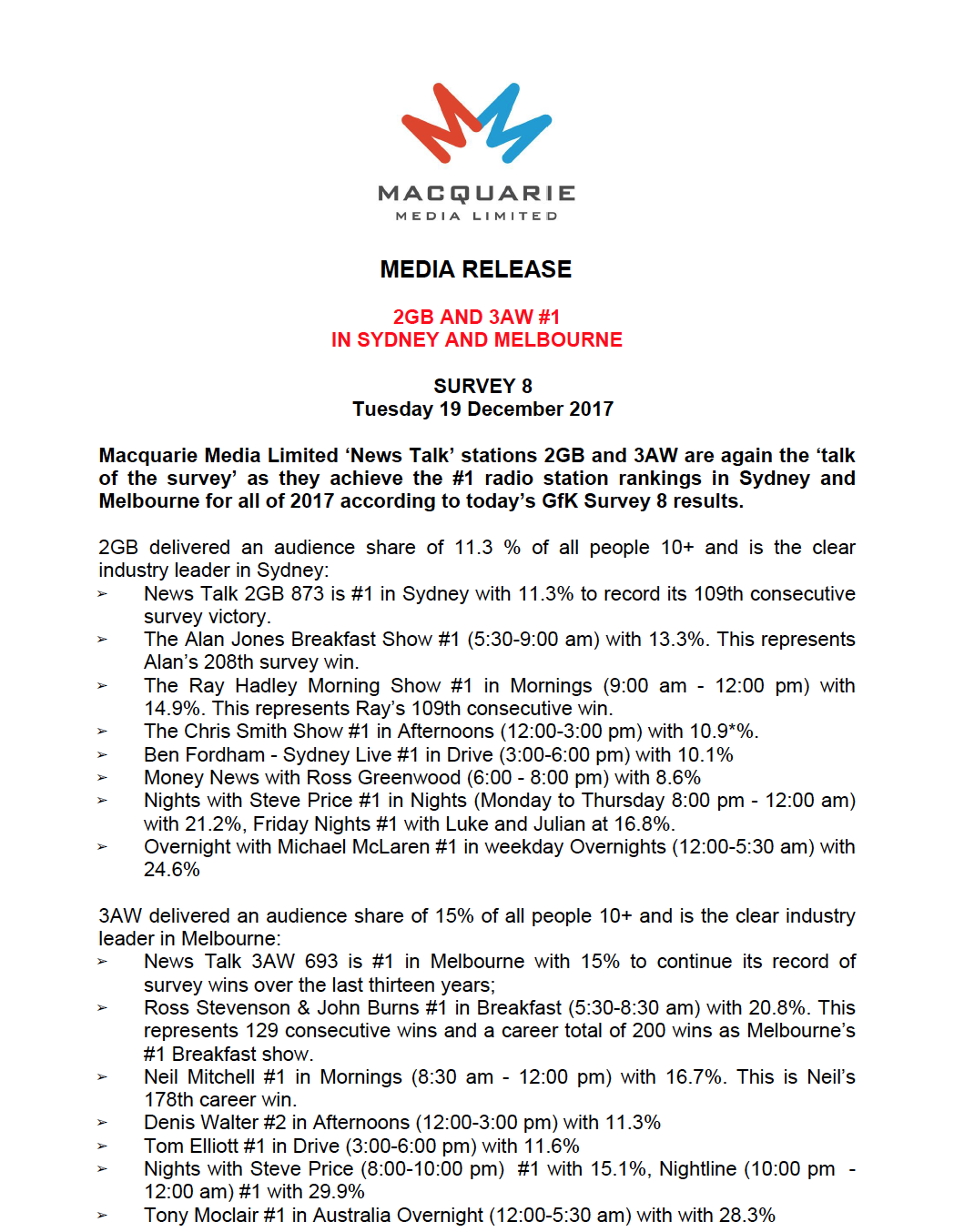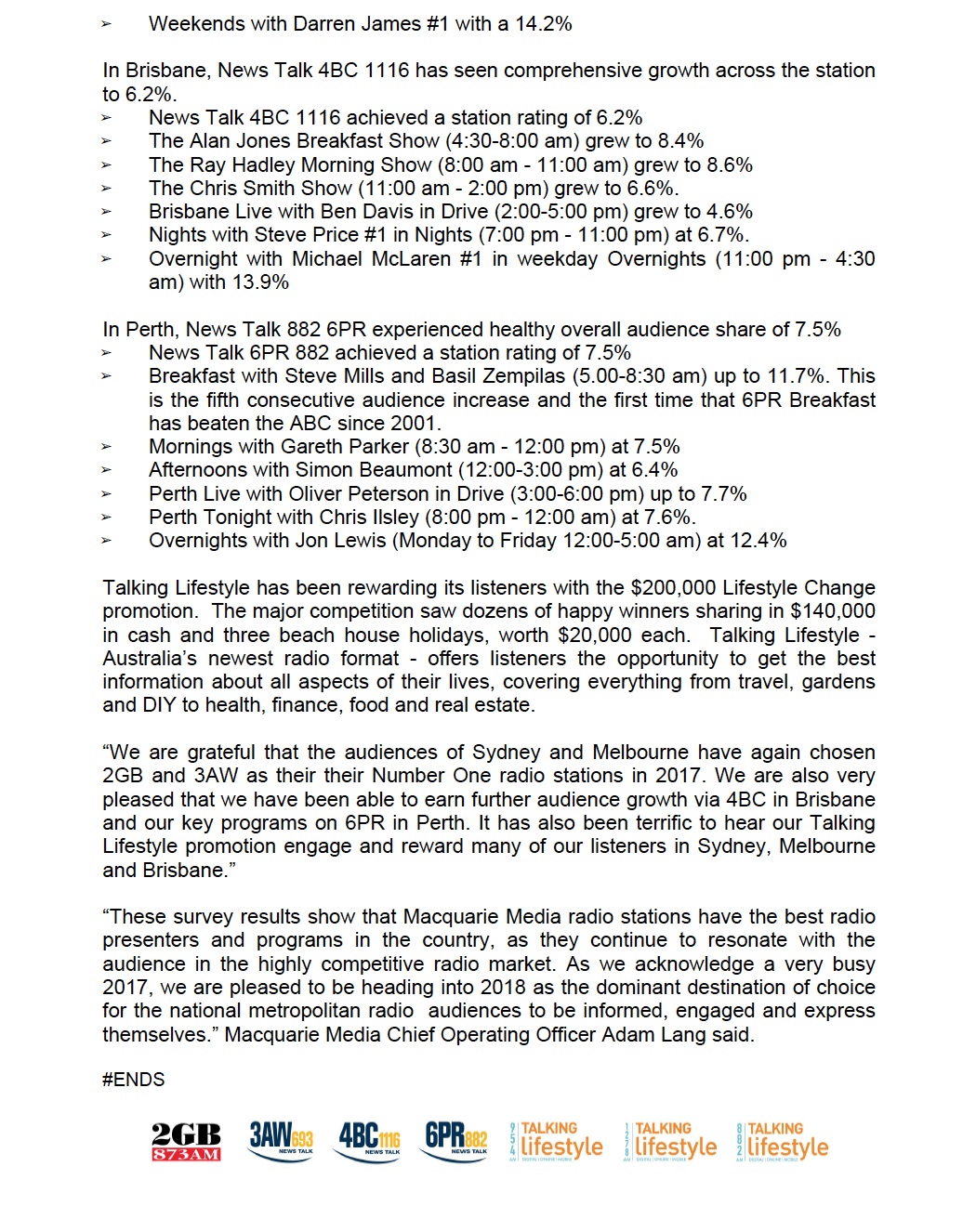 MEDIA RELEASE

NEWS TALK 4BC 1116 CONTINUES TO ENGAGE AND ENTERTAIN BRISBANE


Macquarie Media's Brisbane station News Talk 4BC has finished 2017 on the rise following a solid result in the latest radio ratings, led by Alan Jones in Breakfast and Ray Hadley in Mornings.

Survey highlights include:
News Talk 4BC 1116 achieved a station rating of 6.2%
The Alan Jones Breakfast Show (4:30-8:00 am) grew to 8.4%
The Ray Hadley Morning Show (8:00 am – 11:00 am) grew to 8.6%
The Chris Smith Show (11:00 am – 2:00 pm) grew to 6.6%.
Brisbane Live with Ben Davis in Drive (2:00-5:00 pm) grew to 4.6%
Nights with Steve Price #1 in Nights (7:00 pm – 11:00 pm) at 6.7%.
Overnight with Michael McLaren #1 in weekday Overnights (11:00 pm – 4:30 am) with 13.9%

Brisbane Operations Manager, Mark Braybrook, said: "To finish the year with such a solid increase is most encouraging. We have always said that we are here for the long haul and to build a solid audience base would take time. There has been plenty of hard work but still much more to do. With some terrific plans in place for 2018, we are very excited about what lies ahead as the station continues to grow."

Talking Lifestyle 882 has seen audience growth in Brisbane, off the back of its $200,000 Lifestyle Change promotion. The major competition saw dozens of happy winners sharing in $140,000 in cash and three beach house holidays, worth $20,000 each. Talking Lifestyle – Australia's newest radio format – offers listeners the opportunity to get the best information about all aspects of their lives, covering everything from travel, gardens and DIY to health, finance, food and real estate.


#ENDS

MEDIA RELEASE

NEWS TALK 6PR 882 CONTINUES TO ENGAGE AND ENTERTAIN PERTH


The GFK Survey 8 2017 figures have been released today showing positive audience increases for key programs on News Talk 6PR 882.

Survey highlights include:
News Talk 6PR 882 achieved a station rating of 7.5%
Breakfast with Steve Mills and Basil Zempilas (5.00-8:30 am) up to 11.7%. This is the fifth consecutive audience increase and the first time that 6PR Breakfast has beaten the ABC since 2001.
Mornings with Gareth Parker (8:30 am – 12:00 pm) at 7.5%
Afternoons with Simon Beaumont (12:00-3:00 pm) at 6.4%
Perth Live with Oliver Peterson in Drive (3:00-6:00 pm) up to 7.7%
Perth Tonight with Chris Ilsley (8:00 pm – 12:00 am) at 7.6%.
Overnights with Jon Lewis (Monday to Friday 12:00-5:00 am) at 12.4%
Macquarie Media Chief Operating Officer Adam Lang said: "Today's result is a terrific endorsement of the momentum we have seen at News Talk 6PR 882 in 2017. Lead by a very strong Breakfast show with Steve Mills and Basil Zempilas, our key weekday programs have grown audience especially with those over 40.

We are delighted with the audience growth that News Talk 6PR 882 has achieved in 2017 and look forward to growing our audience further in 2018."

#ENDS
ARN
The final radio ratings for 2017 have just been announced and for the fourth consecutive survey Australian Radio Network (ARN) takes out the position of #1 national network.

This result now delivers ARN the position of #1 2017 overall average network share for 2017.

ARN holds the #1FM station in Sydney and Adelaide and the #1FM Station in Melbourne. And in Sydney, ARN holds both the #1FM and #2FM stations and #1FM and #2FM Breakfast shows with KIIS 1065's Kyle & Jackie O and WSFM's Jonesy & Amanda.

Highlights across the country:

Sydney
#1FM Station – KIIS 1065 – up 0.4 to 9.9%
#1FM Breakfast – KIIS 1065's Kyle & Jackie O – up 1.0 to 12.1%
#2FM Station – WSFM – up 0.3 to 9.7%
#2FM Breakfast – WSFM's Jonesy & Amanda – 10.0%
Melbourne
#1FM Station – GOLD 104.3 – 9.6%
#4FM Station – KIIS 101.1 – 7.5%
Adelaide
#1 Station overall – Mix 102.3 – up 0.5 to 12.3%
#1FM Breakfast – Mix 102.3's Jodie & Soda – 11.8%
Brisbane
#3 Station overall – 97.3FM – 10.4%
#3FM Breakfast – 97.3FM's Bianca, Terry & Bob – 10%
#1AM Station overall 4KQ – up 2.1 to 10.2%
#1AM Commercial Breakfast – 4KQ's Laurel, Gary & Mark – up 1.1 to 8.9%
Perth
#3FM Station overall – 96FM – 10.2%
#3FM Breakfast – 8.9%