Our analysis of networks and cities.
Raw results here.
See also: DAB+ Results, Spin, Cumes.
Networks
Nova Entertainment
In a topsy turvy survey, typical of the first one of the year, win or lose, few CDs will want to put much store in the results until a trend is established.
NOVA
Nonetheless, the NOVA brand gained ground in every market – except Adelaide where it remained rock steady on an 11.0 share overall. Nova's new breakfast team Ben & Liam was expected to lift the station into a new era of supremacy in that market. Instead, the boys went down a smidgen. – 0.2 smidgens, actually, from the 10.1 left them by the show they replaced. Comparing this survey with the equivalent survey last year, the duo is on exactly the same score.
In Sydney, NOVA was up +0.5 to a 7.7 share overall which keeps them in touch with the FM leaders, all in the lower eights.
In Melbourne, NOVA was up 1.1 to place them within a striking distance (0.1) of FOX which is on an 8.4 share and 3rd on the FM band. In Brisbane, the brand put on a spurt of +0.7 to land in second place behind Triple M. While in Perth NOVA rocketed up +1.4 to wrest first place from MIX94.5.
smoothfm
smooth 95.3, Sydney, was down -1.2 to level peg with KIIS on an 8.1 share, placing both stations on equal 4th place or equal 2nd, FM.
In Melbourne, smooth 91.5 was up +1.1 for a 9.6 share making them #3 in the market behind 3AW and GOLD104.3
Southern Cross Austereo
Triple M Network
The day was a triumph in Brisbane for Triple M where the station grabbed the number one crown from a tight field of four FMs with what seemed like a modest gain of + 0.4. But previous leader 97.3 tanked by -1.6 to give up the lead.
From there on, though, the day turned much for the worse for the Ms. In Sydney they only went down by -0.3 to land on a 4.9. But in Melbourne the station was down -1.3 for a 5.5 share overall. They were down again, -1.4, in Adelaide to be in 8th place.
Worst of all, Perth's Triple M affiliate Mix 94.5fm plummeted -3.5 to place it a distant 3rd to NOVA93.7 and 96fm.
Still, its only the first survey of the year and the footy season is about to start.

HIT Network
The HIT stations fared somewhat better. 104.1 2DayFM in Sydney running on music and the smell of an oily rag shot up +1.2 to reach 5.3. FOX, in Melbourne rose by +1.1 to stay among the FM peloton. A more modest gain of +0.1 kept HIT105 in the hunt for market leadership in Brisbane.
But in Adelaide, HIT 107 shed -0.4. And in Perth HIT 92.9 was off by -1.3.
ARN
It was a case of ups and downs – actions and equal but opposite reactions for ARN.
Take the case of KIIS 106.5 in Sydney which was off by -0.7, while just down the Hume Highway, in Melbourne KIIS 101.1 was up +0.7 and so was its recently re-signed Breakfast duo Jase & P.J.
In Adelaide, Mix 102.3 was down -1.0 but retained #1 ranking while CRUISE1323 was up by the same margin, +0.1 to take the #1 AM place in the market, beating out the ABC and FIVEaa. Who said AM music was dead?
Back in Sydney, while KIISS was down -0.7, WSFM was up +0.9 so that it now leads the FM race in that market by just 0.1 ahead of sister station KIIS which is level pegging with smooth.
In Melbourne, despite easing back a tad, -0.2 tads, in fact GOLD 104.3 has become the station to beat on the FM band. On a 10.8 share, it's the only station in Melbourne besides 3AW on double digits and is 1.2 ahead of its nearest rival, smoothfm.
Brisbane was not a good survey for 97.3fm which took a -1.6 tumble to relegate it to 4th place in the market after being in the top two for so long. Yet, the venerable 4KQ was able to nudge upwards by +0.1 to give it #q1 AM status.
In Perth, it was a two horse race between, NOVA – #1 on a 14.0 share and ARN's resurgent 96fm on 13.6 and number two.
NINE Entertainment
NOTE: The stations last known as Macquarie Sports Radio have declined to participate in this survey but have promised to make a come-back in the next.
NINE and other Talk
Despite a slump of -2.3, 3AW was able to retain its market leadership in Melbourne with a 13.3 share. NINE's newly acquired crown jewels were kept intact by Sydney's 2GB which posted a gain of +1.1 to land on a 13.2 share – still not enough to eclipse AW.
In Brisbane, 4BC, which is largely networked from Sydney, managed a +0.4 gain to achieve a respectable 6.7 share while, 6PR, which is largely local to Perth, shed -0.6 for a 6.3.
Meanwhile the Nova Entertainment run FIVEaa nosedived -2.8 relegating this recent top station to 6th place in the market.
ABC
Local Radio
One of the vagaries of surveys is that you can climb up the rankings by simply staying still. So it was with ABC Sydney which returned an 8.9 share – exactly the same as in the previous survey. Yet, it's managed to leapfrog smooth and go from third to second place on the back of smooth dropping by -1.2.
In Melbourne, Aunty slid by -0.6 which was enough to go from third to fourth. In Brisbane, a +0.8 had had no impact on the ABC's standing as it stayed in sixth place. In Adelaide, though, a +1.2 jump in share was enough to catapult the station from 6th place to 4th. Which leaves Perth where the local station went from 6th to 5th as the result of a +0.8 lift in share.
triple j
triple j can usually expect a lift from the Hottest Hundred in Survey 1. And this survey was no exception – except in Brisbane where it shed -0.4. In Sydney the j's were up +0.9, In Melbourne +1.6. in Adelaide, a whopping +2.0. And in Perth +1.1 which landed it on a 9.8 share and 4th place.
Cities
Sydney
Smooth (down 1.2) and ABC News (down 1.0) had the biggest falls this summer survey, which included cricket tests and triple j's Hottest 100.
2Day FM had the biggest rise, up 1.2 share points on the back of its 'more music' breakfast format, and 2GB also rose.
2UE was not reported in this survey because it changed format during the field work. Nine Entertainment says it will be back next survey.
Top station 2GB gained 1.1 share points to score 13.2%
ABC Sydney moved into second place with the decline of smooth. It was steady at 8.9%
Third placed WSFM rose 0.9 to 8.4% overall
KIIS dropped into fourth place, down 0.7 to 8.1%
Smooth dropped into equal fourth place on 8.1% after losing 1.2 share points
Nova was fifth up 0.5 to 7.7%
2GB won breakfast, followed by ABC Sydney then KIIS. 2GB won mornings, evenings and weekends. Smooth won afternoons and Nova won drive.
There was a demographich prize for almost everyone this survey, with Nova winning the 10-17 demographic, triple j winning 18-24s, KIIS successful in 25-39s, WS securing 40-54s and 2GB trumphant with the over 55s.

Melbourne
3AW had the biggest fall of the survey (down 2.3), but still easily retained its top position in the market. SEN (down 2.0) and Triple M (down 1.3) also fell.
Smooth, Fox and Nova all rose by 1.1 share point overall.
Top station 3AW lost 2.3 to score 13.3%
Gold held second palce, slipping 0.2 to 10.8%
Smooth gained 1.1 to 9.6%, moving into second place
ABC Melbourne dropped to fourth place, down 0.6 to 8.7%
Fox held fifth place, up 1.1 to 8.4%
3AW won breakfast followed by ABC Melbourne then Gold. 3AW won mornings, drive and evenings. Gold won afternoons and weekends.
Nova won 10-24s, Fox won 25-39s, Gold won 40-54s and 3AW won the over 55s.
Brisbane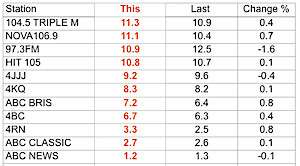 97.3FM fell most this survey (down 1.6), while ABC Brisbane and RN had the biggest rises (up 0.8).
Robin Bailey returned to her former station 97.3 this survey.
Brisbane has a new market leader, with Triple M gaining top spot, up 0.4 to 11.3%, after a significant fall by 97.3
Nova moved up to second position with a gain of 0.7, to score 11.1% overall
Former top placed 97.3 dropped into third place after losing 1.6 share points to score 10.9%
Fourth placed Hot105 gained 0.1 to 10.8%
Triple j retained fifth position, down 0.4 to 9.2%, ahead of 4KQ and ABC Brisbane.
SCA stations Hit and Triple M tied for breakfast leadership, ahead of 97.3 and Nova. Triple M won mornings and afternoons, Nova won drive and weekends, 97.3 and Nova tied in evenings.
Nova won 10-17s, Hit won 18-24s, triple j won 25-39s, 97.3 won 40-54s, Triple M won 55-64s and 4KQ won the over 65s.
Adelaide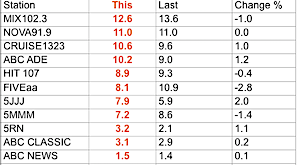 FIVEaa suffered the biggest fall this survey, down 2.8 to 8.1%, dropping it out of the top 5 during this summer survey. Mix and Triple M also lost share.
Triple J (up 2.0), ABC Adeladie (up 1.2) and Cruise (up 1.0) all increased audience.
Mix dropped 1 share point but still retained top position with 12.6% overall
Second placed Nova held steady at 11%
Cruise jumped into third position, up 1 share point to 10.6%
ABC Adelaide returned to the top 5, up 1.2 to 10.2% in fourth place
Fifth placed Hit 107 slipped 0.4 to 8.9%
ABC Adelaide won breakfast, ahead of Mix and FIVEaa. Mix won mornings and afternoons, Nova won drive, Nova and Mix tied on evenings and Cruise won weekends.
Nova won 10-24s, Hit won 25-39s, Mix won 40-54s, Cruise won 55-64s and ABC Adelaide won the over 65s.

Perth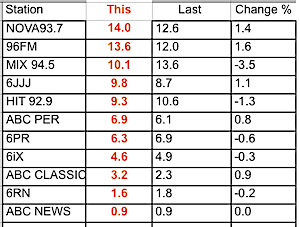 Mix 94.5 had the biggest fall of any station this survey, down 3.5 share points, losing top position in the market. Hit also dropped, down 1.3 share points.
96fm, Nova and triple j all gained this survey.
Nova jumped into top position, up 1.4 to 14.0%
96fm also performed well, up 1.6 to 13.6%, moving it into second place.
Mix lost 3.5 share points and fell from top position to third place on 10.1%
triple j moved into fourth place, up 1.1 to 9.8%
Hit dropped to fifth position, down 1.3 to 9.3%
Nova won breakfast ahead of 96fm. 96fm won mornings and afternoons, Nova won drive, Mix won evenings and Nova won weekends.
Nova won the 10-17 demographic, triple j won 18-39s, 96fm won 40-54s, 6IX won 55-64s and ABC Perth won then over 65s.
---
Subscribe to the radioinfo daily flash briefing podcast on these platforms: Acast, iTunes Podcasts, Podtail, Spotify, Google Podcasts, TuneIn, or wherever you get your podcasts.
Ask Alexa
:
'Alexa, play radioinfo flash briefing'
or
ask Google Home
:
"Hey Google. Play the latest Radioinfo flash briefing podcast."
---