Our analysis of networks and cities.
See the raw results and twitter discussion here.
Check the Spin Cycle here.

Networks
SCA
hit Network
There were some 'green shoots' as CEO Grant Blackley likes to call any improvement in 2Day's listenership. The slow burn Breakfast show went up 0.3 to a 3.3 share, level pegging with John & Garry over at 2UE. But as testament to their incredible appeal, the big gain went to Hamish and Andy in Drive who managed to put on a 1.2 gain to land on a 7.8 share – almost 3.0 more than the next highest rating show on the station.
It was an even better result for FOX in Melbourne with the station bouncing back to the top os the FM ladder with a 9.0 share overall. Fifi & Dave in Breakfast, H & A in Drive both had healthy gain with Nights the biggest improver, up 2.2.
With results like that in Sydney and Melbourne, it's unlikely that a smallish drop of 0.7 in Brisbane will upset SCA management too much. It is here that H & A enjoy their highest share of any market, 14.4. Yet they were beaten into second place by Hughesy & Kate over at 97.3FM, which also took top honours overall.
In Adelaide where the first station to be rebranded a "hit" was also the first to be seen to establish itself in the marketplace, took a tumble – 1.2 down overall, 1.2 down in Breakfast and down in every shift. Hit 92.9 in Perth remained steady with small losses in most shifts, made up for by a massive 1.9 gain in afternoons.
Triple M
Triple M Sydney did not have a happy survey with the station down 0.7 to land on a 6.0 share overall. Still they're big with blokes 25-54 and that's all that really matters to them.
In Melbourne the news was much better. Helped, no doubt, by the footy season the station gained a whole 1.0 to jump to an 8.2 share. Even better news for parent SCA, between FOX and Triple M they now have the number 1 and 2 FM stations, respectively, in Melbourne. In Breakfast, though, Triple M rules and FOX is number 2. Happy Days.
The Brisbane and Adelaide proved problematic with both Triple M stations shedding exactly 1.0 in share points each. But the lone wolf of Perth, Mix 84.5, just keeps on keeping up the occupation of number one with a healthy YoY gain.

Nova Entertainment
Another good result for smoothfm. The fact that the Melbourne outlet went down slightly while Sydney went up is immaterial to the fact that both stations are sitting comfortably in a mid 7's band. And that's good for business.
There's even more cause for celebration at the Nova end of the business with Sydney's Nova 96.9 reaching a 7.0 share with Fitzy and Wippa doing the heavy lifting in Breakfast reaching a 7.4 share in that shift.
In Melbourne too, where Nova is locked in a battle with KIIS – both with new Breakfast shows – to climb up the FM ladder and establish themselves among the leaders. In this survey, Nova has leapfrogged its KIIS rival. The Nova Breakfast show with Chrissy, Sam and Browny are now 0.9 ahead of Matt & Meshel on KIIS.
The Nova people would be chuffed in Brisbane too with a handy 0.4 gain overall secure in second place in that market. Up again in Adelaide, 0.5, to give them outright lead. Between them and step sister FIVEaa, Nova Ent. commands 22.6 per cent of that Market.
The Perth result was okay in the national context but disappointing locally. They dropped by only 0.5 but having been just 0.1 behind market leader Mix 84.5 last time, they now find themselves 1.2 behind. They are still a solid number 2.

Australian Radio Network
ARN hasn't had this disappointing a result – at least in Sydney and Melbourne – since they first rebranded MIX to KIIS.
In Sydney KIIS was down 1.3, WSFM down 1.2. But at least KIIS and their Kyle and Jackie O Breakfast show (down 1.4) remain number one FM. In Melbourne the news no better with KIIS now at the bottom of the commercial FM heap languishing on a 5.7 and the usually reliable GOLD, number one FM last time, number three now, having shed 0.9.
Conversely, everything improved in the other three markets. In Brisbane 97.3FM once again kicked ahead of its NOVA rival to consolidate number one spot overall while the venerable 4KQ also managed to edge upwards.
Both Mix and Cruise in Adelaide enjoyed upticks. And even ARN's latest acquisition in Perth, 96FM, showed signs of improvement.

Macquarie Media Ltd and Other Talk
It was an up and down survey for MML with both 2GB and 2UE losing ground in Sydney but 3AW surging ahead in Melbourne.
2GB, while still comfortably number on in Sydney has had its lowest overall share in a long time, 11.8 with the Alan Jones Breakfast show and the Ben Fordham Drive show leaking listeners while Mornings with Ray Hadley bucked the trend with a 0.5 rise.
At the other end of the scale, 3AW also put in a result that's not been seen in a while – a 16.0 share overall – 6.5 ahead of nearest rival ABC774. To put that into perspective, 3AW's lead is greater than the entire result for NOVA100 (6.3) which was considered a good outcome.
3AW's numbers in the Breakfast and Morning shifts are staggering. Ross & John have easily the biggest audience for any show in Australia with an incredible 21.4 share of Breakfast while Neil Mitchell has 17.0 per cent of Mornings.
MML's other talk station in Sydney, 2UE managed to post a 3.7 share overall. Even their sister station, which is on the chopping block for sale, performed better. 2UE's breakfast was down to a 3.3 share and Drive on a lowly 1.8. The station was saved from a worse result by improvements in Nights, Weekends and Afternoons with Tim Webster.
4BC in Brisbane also lost ground, down to a 4.8 share along with 6PR, Perth which shed 0.6 to land ain a 7.0 overall.
Nova Entertainment's stand alone talker FIVEaa was a big improver, up 1.4 to a 10.6.

ABC
Local Radio
For ABC Local Radio it went thus: 702 Sydney +0.2, 774 Melbourne -0.5, 612 Brisbane +0.6, 891 Adelaide -0.9, 720 Perth 0.0. A net loss of just 0.6 nationally. You could say, steady as she goes.
triple j
triple j had its ups and downs too with a net result of -0.4. Sydney -1.3, Melbourne +1.0, Brisbane 0.0, Adelaide -0.5, Perth +0.4.
Cities
Sydney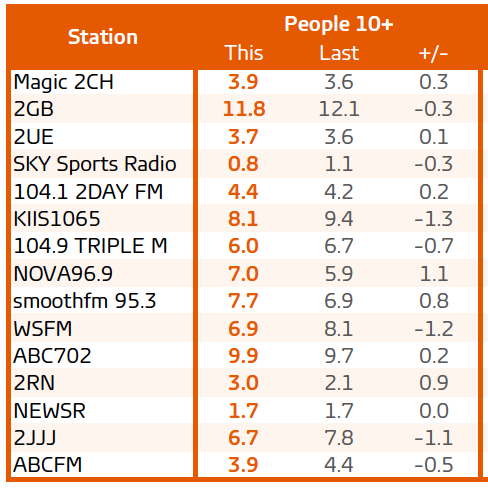 Nova scored the biggest gain in the Sydney market this survey, jumping 1.1 share points to 7.0%. KIIS, WSFM and triple j dropped most, with KIIS losing 1.3 share points, WS losing 1.2 and triple j down 1.1.
Market leader 2GB dipped by 0.3 to 11.8%, with Alan Jones losing 1.1 share points but still retaining the lead in the breakfast timeslot.
ABC702 was second on 9.9% overall, up by 0.2 share points with a gain of 0.8 in breakfast during this election survey.
Third placed KIIS scored 8.1, down 1.3 on last survey. Smooth was in fourth place, up 0.8 to 7.7%. Nova's gain of 1.1 share points moved it into fifth place with 7.0%.
KIIS won 10-17s and 25-39s, triple j won 18-24s, WS won 40-54s, ABC702 won 55-64s and 2GB won the over 65s.
2GB won breakfast ahead of ABC702, and 2GB also won mornings, afternoons and evenings. KIS won drive just ahead of ABC702. Smooth and 2GB tied for dominance of the weekend timeslots.
Melbourne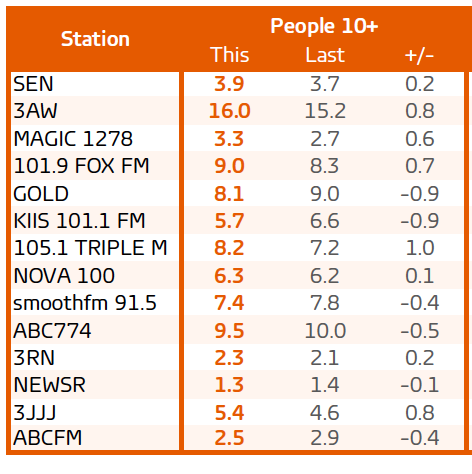 Triple M lifted strongly in Melbourne, up one share point to 8.2% in the first of the footy season surveys. Gold and KIIS lost most, both dropping by 0.9 of a share point.
3AW retained its number one position, up 0.8 to 16.0% and streets ahead of the rest in the breakfast timeslot. Breakfast presenters Ross and John have the highest share of breakfast of any market in Australia, reaching over 21% of Melbourne's radio listening audience.
Second placed ABC774 was down 0.5 to 9.5%, followed by Fox, up 0.7 to 9.0%.
Fourth placed Triple M gained one share point to 8.2% and Gold was in fifth place on 8.1%, down 0.9.
Fox won all the 10-39 demographics, Triple M won 40-54s and 3AW won the over 55s.
3AW won breakfast ahead of ABC774, and then 3AW went on to win every other timeslot in the market.
Brisbane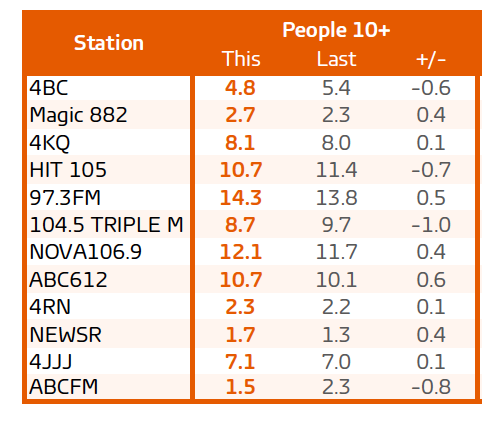 ABC612 rose the most this survey, up by 0.6, while Triple M had the biggest fall, down one share point.
First placed 97.3 gained 0.5 share points to 14.3%, strengthening its market leading position.
Second placed Nova106.9 rose 0.4 to 12.1%.
There was a tie for third place, with hit105 and ABC612 both scoring 10.7%. Hit lost 0.7, while ABC612 gained 0.6.
4KQ scored 8.1%, up 0.1 and triple j scored 7.1%, up 0.1.
Nova won the 10-17 and 25-39 demographics, Hit won 18-24s, 97.3 won the 40-54s, 4KQ won 55-64s and ABC612 won the over 65s.
ABC612 won breakfast ahead of 97.3. The at work slots of morning, afternoon and drive were won by 97.3. ABC612 won evenings and 97.3 won weekends.
Adelaide
Falls at Triple M and ABC891, and a rise for Nova, saw Nova91.9 taking out the top position this survey, after being tied with Triple M last survey, behind ABC891.
FIVEaa gained most this survey, up 1.4 share points.
First placed Nova gained 0.5 to 12.0%.
Mix 102.3 was second, up 0.4 to 11.8%, followed by ABC891 in third place, down 0.9 from its top position last survey to 11.4%.
FIVEaa moved to fourth place, up 1.4 to 10.6%. Triple M fell to fifth place, down 1.0 to 10.5%.
Nova won all the 10-39 demographics, Triple M won 40-54s, ABC891 won the over 55s.
ABC891 leads in breakfast, followed by FIVEaa. Mix won mornings and afternoons, Nova won drive, ABC891 won evenings and Nova won weekends.
Perth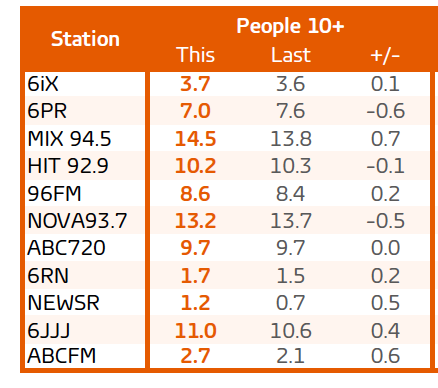 There was little significant movement in Perth, with the biggest fall being 6PR, down 0.6 and the biggest rise being at Mix.
Mix 94.5 consolidated its top position in Perth with a gain of 0.7 bringing it to 14.5% overall.
Second placed Nova 93.7 lost 0.5 to 13.2%, followed by triple j in third place, up 0.4 to 11.0%.
Hit 92.9 was fourth, down 0.1 to 10.2% and ABC720 was fifth, steady at 9.7%.
Nova won 10-17s, triple j won 18-39s, Mix won 40-55s and ABC720 won the over 65s.
Nova won breakfast ahead of Mix. Mix won mornings and afternoons, Nova won drive, Mix won evenings and ABC720 won weekends.