Our analysis of the networks and cities.
Full Survey 5 results here and Spin here.

Networks
Southern Cross Austereo
Another difficult survey for Australia's largest radio network.
Good news first.; Melbourne's Triple M held steady with The Hot Breakfast improving to a 9.0 share making it the number one FM in the breakfast time slot, ahead of stable mate FOX on an 8.0 breakfast share, making it number two FM breakfast in the market.
Overall, though, a strong showing from FOX puts it at number one FM in Melbourne 10+ displacing the ARN brands.
In Adelaide too, which has long been a problematic market for the group things are looking up for SCA, at least for this survey, with both Triple M and SAFM on the rise.
In Perth, things start to look less rosy. While Mix 94.5 recorded a 0.9 dip it remains a clear number one. But 92.9 went down by 1.3 placing it last among the major stations in the market.
In Brisbane Triple M lost just 0.1 overall despite as significant 1.1 loss in breakfast. Meanwhile B105 dipped down to 9.4 to finish in fourth place.
But Sydney remains the problem child with 2Day continuing to lose ground – down to a 3.8 share overall despite breakfast gaining 2.6. Adding to SCA woes, the hitherto blossoming Triple M has shed 0.9 overall to take it back to a 5.0 share.
NOVA Entertainment
Good news first: smoothfm in Sydney cracked the 7.0 barrier, posting a 7.2 (All Ppl 10+ Mon-Fri) while it held its own in Melbourne with a 6.5.
On the Nova side of things, the brand was pretty much rock steady in Melbourne, Brisbane and Adelaide.
It recorded a nice gain in Perth placing it at a strong number 2 in the market behind Mix 94.5.
Sydney, however, lost ground for Nova 96.9 landing it on a 6.4 share overall with Fitzy and Wippa sliding to a 5.8 in breakfast.

ARN
This time, a mixed bag, mostly packed with goodies, for the network. It was a great result in Sydney, even if the stations themselves performed somewhat erratically. KIIS106.5 bounced back up to an 8.7 share while WSFM eased back to a 9.4 allowing the company to retain bragging rights for the number one and two FM stations in the Sydney market.
But it is in Breakfast where the turnaround is most stunning. Jonesy and Amanda plummeted by 2.1 while Kyle and Jackie O shot up 1.5 to regain the number one FM crown in the time slot.
In Melbourne, both GOLD and Mix101.1 shed audience share allowing FOX to take over at number one FM.
In Brisbane, despite loss of 1.5, 97.3FM still managed to retain market leadership with a 13.8 share. Meanwhile on the AM band, the venerable 4KQ posted a decent rise to land on an 8.0 share.
In Adelaide, Mix is Cruising along. But seriously, Mix 102.3 remains way out in front with a 15.9 share while Cruise1323 on the AM band returned a healthy 8.7 overall.
Fairfax, MRN and Talk
If not Champagne then perhaps NV Cremant corks will be popping at Fairfax Radio headquarters because for the first time in (what seems like) a long time both stations in the biggest markets have gone up.
In Melbourne, 3AW is back up to a 14.0 share, territory in which it is far more accustomed and well ahead (2.0) of ABC774. The turnaround in breakfast was breath taking with Ross and John putting on 2.0 to climb to 18.6, while Red Symons on the ABC lost 2.8 to land on 14.4. Such is radio!
While we're in Melbourne, sport station SEN is up to a very respectable 5.1 share overall – even better a 5.5 Mon-Fri.
In Sydney, where every little point counts, 2UE rose to a 4.6 (Mon-Sun) on the back of a 7.3 share on the Weekends. to demonstrate how much those Weekends contribute to overall share, the Mon-Fri share figure is just 3.8.
Meanwhile, across the harbour at 2GB, the juggernaut rolls on with the station up 0.6 and Alan Jones up 1.4 in Breakfast.
4BC Brisbane fared not so well for Fairfax, down to a 4.4 with every shift losing share and only weekends holding its own.
In Adelaide, Nova Entertainment's only talker, FIVEaa did alright with a 0.8 gain and up to an 11.4 share jumping from 4th to 2nd place in the market.
Back in the Fairfax camp, 6PR Perth also enjoyed a good a gain to get it into double digits – 10.2 share overall.
ABC Local
You know markets are volatile when the ABC stations are up and down like a yo-yo. In overall market share, Sydney gained 1.6, Melbourne lost 1.4, Brisbane gained 1.6, Adelaide remained steady while Perth shed 0.6.
triple j
While the swings were't as great as for ABC Local (0.8 was the biggest) results were patchy just the same. Down in Sydney, up in Melbourne, up in Brisbane, down in Adelaide and up in Perth.
Cities
Sydney
2GB remains top station in Sydney, consolidating its lead with an increase of 0.6 share points to 13.1% overall.
ABC702 jumped into second place on 10.7%, with a rise 1.6 share points pushing WSFM into third place. WSFM lost 0.8 share points to score 9.4% overall, followed by KIIS, which gained 0.8 to 8.7%.
Smooth FM moved into fifth place on 7.2%, with a gain of 0.7 moving it ahead of stablemate Nova, which lost 0.8 to 6.4% overall.
2GB dominated all shifts except drive, which was won by ABC702.
Nova won the 10-24 demographics, KIIS won 25-39s, WSFM won 40-54s, 2GB won the over 55s.
Melbourne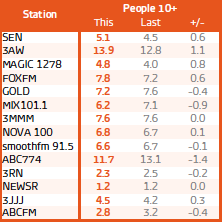 3AW regained top spot in Melbourne, rising 1.1 share points to 13.9%, pushing ABC774 back into second place on 11.7%, down 1.4.
There's daylight between the top two and the rest of the pack in Melbourne. Third placed Fox scored 7.8%, up 0.6. Fourth placed Triple M was steady eddie on 7.6%. Gold was sixth with 7.2%, down 0.4, followed by Nova on 6.8, up 0.1.
3AW's Ross and John (pictured) won breakfast after swapping places with ABC774's Red Simons. 3AW won all other shifts except evenings, which was won by ABC774.
Nova won 10-17s, Fox won 18-39s, 3AW and Gold tied for dominance of the 40-54 age group and 3AW won all listeners 55+.
Brisbane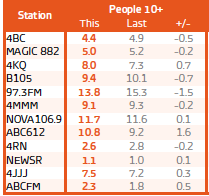 In Brisbane 97.3 lost some of its lead, dropping 1.5 share points to 13.8% overall, but retaining top spot. Second paced Nova rose 0.1 to 11.7% overall.
ABC612 jumped into third place, gaining 1.6 to 10.8%, pushing B105 into fourth place on 9.4%, down 0.7. Fifth placed Triple M slipped 0.2 to 9.1%.
ABC612 won breakfast ahead of 97.3. mornings and afternoons were won by 97.3. Nova won drive and nights. 97.3 won weekends.
Nova won all under 40 demographics, 97.3 won 40-54s, 4KQ won 55-64 and ABC612 won the 65+ age group.
Adelaide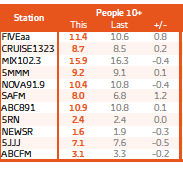 Market leader Mix 102.3 slipped 0.4 to 15.9%, well ahead of second placed FIVEaa, up 0.8 to 11.4%.
Third placed ABC891 rose by 0.1 to 10.9%, followed by Nova on 10.4%, down 0.4. Triple M was fifth with 9.2%, up 0.1.
ABC891 won breakfast, ahead of Mix, which won all the other daytime shifts. 5AA won evenings and Mix won weekends.
Nova won the under 25 demographics, Mix won 40-54s, Cruise won 55-64s and 5AA won weekends.
Perth
Mix 94.5 retained its market lead despite a drop of 0.9 to 14.2%. Second placed Nova gained 0.6 to 12.4%.
96fm was third on 10.7%, down 0.4, followed by triple j, up 0.6 to 10.3%.
6PR moved into fifth place with a strong gain of 1.2 taking it to 10.2% overall. ABC720 was pushed to sixth place on 10.0%, down 0.6.
ABC720 and Mix 94.5 both tied for breakfast leadership. Mix won mornings and afternoons, Nova won drive, ABC720 won evenings and Mix won weekends.
Nova won 10-17s and triple j won the 18-39 demographics. Mix won 40-54s, 6IX won 55-64s and 6PR won the over 65s.