"The Messenger" Behind the Wire and The Wheeler Centre Australia has picked up the coveted Grand Award (National or International Affairs) at the New York Festivals® International Radio Program Awards, honoring the World's Best Radio Programs.
The ten-part podcast series is based on thousands of voice messages sent via burner phone by Abdul Aziz Muhamat (pictured), a refugee detained on the Australian-run detention center on the Manus Island, Paua New Guinea, to journalist, Michael Green.
This award-winning series was also recognized with 2 Gold Trophies.
Overall Australian entrants were honoured with 20 awards.
Michael Green, Presenter/producer, Behind the Wire (pictured below accepting the award) said, "I also know how eloquently and insightfully Aziz has described what he has seen and experienced throughout four years in Australia's offshore immigration detention centre on Manus Island. We've been speaking most days for a year and a half, and it's been a privilege and a joy to get to know him – and I think it's like that for the listeners too. Our small team, who are mainly volunteers, has worked so hard on this show and it means a lot to us to be recognised by the Grand Jurors for New York Festivals."
"Thank you for acknowledging our work on The Messenger. What I have seen in detention, what I have experienced – there is nothing in this planet that will make me forget. But I am really really grateful to each person who spent even one minute of his or her time to listen to The Messenger podcast. I send my thanks to the Behind the Wire team and the Wheeler Centre. I would like to send my special thanks to Michael Green,"
said Abdul Aziz Muhamat.
​With podcast listenership on the rise, on-demand audio is capturing the attention of listeners engaged by programming covering a robust number of genres and topics.
Podcasts entries taking home the Gold include: "Majd's Diary: Two Years in the Life of a Saudi Girl" Radio Diaries; "Phoebe's Fall" Fairfax Media; Campus – CBC Radio One's "The Virginia Tech Massacre" Canadian Broadcasting Corporation; and Occupation in Eastern Oregon" Oregon Public Broadcasting.
Phoebe's Fall tells the full story of the short life and brutal death of Phoebe Handsjuk. Produced by The Age, the series has been hailed as Australia's answer to Serial.
Silver trophies went to: "The Siege Of Sarajevo" RTÉ Voices by Evelyn McClafferty," and "Back Story" Canadian Broadcasting Corporation.
Entries garnering Bronze trophies: "Someone Knows Something" Canadian Broadcasting Corporation; and "Pin Kings" SportsCenter Features ESPN.
Sydney community station 2SER was a Gold Radio Winner for Think Health in the Health/Medical category and a Silver Radio Winner for Think: Digital Futures in the Science and Technology category.
SBS Australia was a Silver radio Winner for their entry Unwanted Australians in the History category.

The
ABC
was a Bronze Radio Winner with
Pacific Perspectives
in the Best Sports Coverage category. The ABC also picked up Bronze for
Beyond the Coal Rush
in the Climate Change & Sustainability category and A New Chapter for Stradbroke Island in the Profiles/Community Portraits category.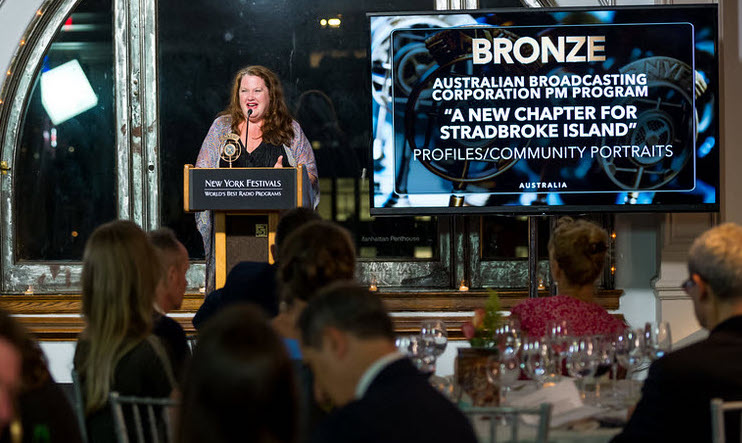 SBS Mandarin Radio was a Bronze Radio Winner with their entry The Defector. An insider's account of cover-up and surveillance at China's state media juggernaut in the best Best Special Report category.

SBS Radio scored the most number of finalist nominations in this year's awards, with six nominations in all.
Overall 19 entrants from Australia were finalists.​

Meantime the
Grand Jury
honored RTÉ Ireland with the prestigious title of Broadcaster of Year.
RTÉ Radio Ireland was in the spotlight taking home the renowned Broadcaster of the Year Award for their illustrious achievements; this is the fourth time that RTÉ has been honored with this title.
The network earned an impressive 10 Gold trophies, 8 Silver, 10 Bronze, and 12 Finalist Certificates.
Jim Jennings, Managing Director of RTÉ Radio, said: "For RTÉ to be named New York Festivals' Radio Broadcaster of the Year amidst wide international competition is truly an honour. The win is testament not only to the collective output of our radio stations, but also to the broad appeal and quality of our programming. This is extremely important to us as a public service broadcaster. From the excellent Documentary on One series, the imagination of RTÉJr Radio, the skilled current affairs reporting, the creative hub of Drama on One, to the innovation of podcast series Voices, RTÉ programme makers have been duly recognized with the awarding of a selection of gold, silver and bronze medals."
Prominent award-winning radio industry executives honored winners and presented segments: Mark Travis, New York Philharmonic USA; Joe Richman, Sarah Kate Kramer, Nellie Gilles, Ben Shapiro, Radio Diaries USA; Tim Desmond, RTÉ Radio 1 Ireland; Jennie Cataldo, BMP Audio USA; Sean Brocklehurst, Albert Leung, and Eric Van, CBC Radio One Canada; Jon Tjhia and Sophie Black,
The Wheeler Centre Australia and Michael Green, Behind the Wire Australia
and Clea Chang, Intelligence Squared USA.
NYF's International Radio Program Awards for The World's Best Radio Programs honors radio programming and promotions in all lengths and formats from radio stations, networks and independent producers from around the globe.
To view the full list of 2017 winners visit:
HERE
.