Jeremy Fernandez and Tom Tilley will host the Australian of the Year Awards, broadcast live on ABC, ABC News 24, ABC iview and ABC Local Radio from Parliament House in Canberra on Monday, 25 January at 7:30pm (AEDT).
Highlights of the broadcast will include red carpet arrivals, inspiring stories about the outstanding Australians in the running for Awards and an exciting performance from iconic Australian artist Jimmy Barnes, before Prime Minister Malcolm Turnbull announces the next Australian of the Year.
ABC Managing Director Mark Scott says, "The ABC prides itself on being the home of Australian stories, conversations and culture and is pleased that in 2016 it will again present to its audiences the best of the nation's Australia Day celebrations, including the award of one of the nation's highest honours, the Australian of the Year, as well as triple j's Hottest 100."
CEO of the National Australia Day Council, Jeremy Lasek, says, "We are very excited to have an extended broadcast of the 2016 Awards which has also moved into prime time, meaning hundreds of thousands more Australians will get to share in this significant national event. I know there's growing excitement about who will be announced as the 2016 Australians of the Year. Saying farewell and a huge thank you to the 2015 recipients Rosie, Jackie, Drisana and Juliette will be a very special part of the broadcast. Rosie has certainly changed our nation for the better with her courageous leadership on the issue of family violence."
Host Jeremy Fernandez of ABC and ABC News 24 says, "I'm very proud to host the Australian of the Year Awards alongside Tom for ABC. It's an honour to play a part in an event that will pay tribute to the impressive accomplishments of some of Australian's most inspirational people and it will be a particularly poignant time for me as I celebrate 20 years of Australian citizenship myself. There are some truly exceptional candidates for Australian of the Year and I can't wait to bring their stories into homes around the country."
Co-host, triple j's Tom Tilley (pictured below), adds, "Forget New Year's, Australia Day Eve is where the party's at! There will be so many incredible Australians in one place at one time, making history and I can't wait to bring you all the action from Canberra. As well as taking a moment to celebrate the hard work that's already been done, the awards are a catalyst for more – just look at what Rosie Batty has done in a year."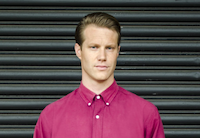 In addition to broadcasts across ABC, ABC News 24 and ABC iview, ABC will deliver a strong offering of Australia Day focused programming across its radio network. Local Radio will present 12 hours of national programming on Australia Day from Western Australian, Tasmania, New South Wales and Victoria, focusing on the Australian Ambassador program, and on Australian expats celebrating Australia Day around the world.
From midday (AEDT) on Tuesday, 26 January, triple j will kick off their highly anticipated annual poll The Hottest 100, counting down the most popular songs of the year as voted by the public. Listeners can tune into the chart show via radio, online or via the triple j app.
In the lead up to Australia Day, ABC Extra will run as a pop up radio station, reflecting on what it means to be Australian, through the voices of recent recipients of the Australian of the Year, through those who have presented the Australia Day Address, and through those who have come to Australia from overseas. The station will also showcase great Australian music, including, Indigenous performers.
For more detail about ABC's coverage of these events visit www.abc.net.au/australiaday/