Voicebot.ai has released its Australia Smart Speaker Consumer Adoption Report 2019 that now places the country ahead of the U.S. in user base, relative to population, despite having the devices available for less than half the time.

The report also highlights that 2 in 3 smart speaker owners now use their purchases to listen to radio.
In the 18 months since smart speakers became available in Australia, access by adults has gone from zero to 29.3%, or 5.7 million Australians, and the faster adoption rate has been accompanied by more intense usage with over 43% of smart speaker owners say they are also using voice assistants on their smartphones more since purchasing a smart speaker.

With nearly 1.8 smart speakers per user, that means over 10 million devices have been sold in the country to date meaning Australian smart speaker adoption was so rapid in 2018, that the user base relative to population now exceeds the U.S.

Unlike the U.S., Google Home in the market leader with a dominant market share of over 68% with Alexa (14%) and Apple HomePod (5.5%) both a long way behind, and the Google Home Mini is the most widely adopted smart speaker by a significant margin with 34.3% relative market share due mainly to its $79 price point.


Despite the low relative cost and heavy discounting during holiday periods, just under one-third of Australians without smart speakers are not interested in the product category, yet of those consumers without one, 16.1% are expected to make a purchase and three-out-of-four say they will acquire a smart speaker this year.

Eighty percent of smart speaker owners in Australia say they use them as least on a monthly basis, over 46% use them on a daily basis, meaning about 2.6 million Australians are using their smart speakers every day.

More than one in five smart speaker owners in Australia have purchased a smart display with the breakout leader in the category, the Google Home Hub, which only became available in October 2018 and has captured 41.5% share of smart displays.

The living room(58%) is by far the most popular location compared to 30.7% in the bedroom and 28.9% in the kitchen.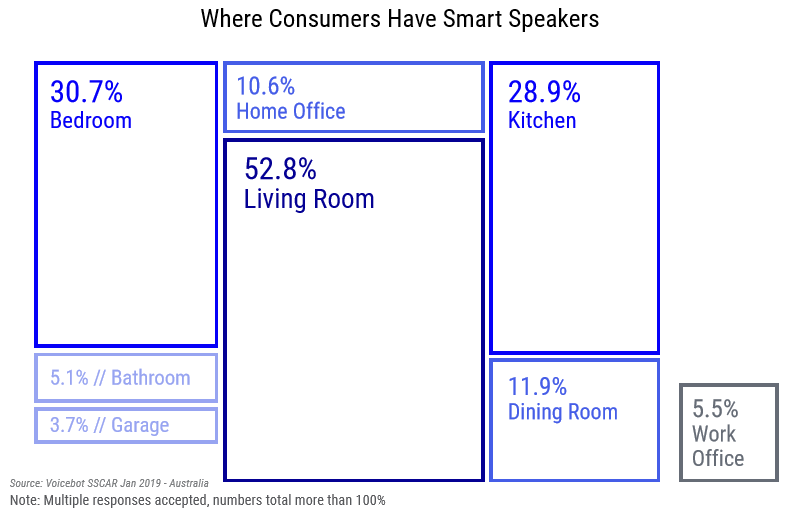 The top three uses of smart speakers is for asking general questions, playing streaming music, and learning about the weather, followed by setting a timer or alarm and then listening to radio followed by news and sport.

The number of users listening to radio has grown from 29.4% in 2017 to 67.4% showing significant growth in 18 months.