The Standard Media Index is reporting that Australia's media industry has felt the full consequences of the COVID-19 pandemic's impact on the economy in April,.

Reduced business confidence drove a 35.4% decrease in media Agency advertising expenditure (ex-abnormal items) to $331.13 million.

All major media are reporting large double-digit declines in year-on-year ad spend in April as the market reports by far the largest decline recorded.

The same trend is seen in NZ, with NZ April bookings back 37.9% but in that market one major media is delivering growth with Newspapers' Agency spend up 4.5% in April.

The headline decline for the Australian market in April hit 37.4% but that was before the removal of two key abnormal items: Political Parties/Unions/Industry Assoc. category bookings given they spiked last year ahead of the May Federal election, and Cinema bookings due to the industry's closure this month.

However, there was some positive news with a 16% increase in Domestic Bank ad spend and a 20% increase in Government ad spend (ex Fed Govt) as both groups promoted COVID-related messages.

SMI AU/NZ Managing Director Jane Ractliffe said the level of decline is almost twice that seen during the depths of the global financial crisis. "Australia's advertising economy suffered the full force of the COVID impact in April as it was the first full month in which our economy was in partial lockdown.

"Large categories such as Travel advertisers simply stopped most of their spending due to the COVID restrictions – Travel alone cut ad spend by $20.2 million – and the closure of all Cinemas had a double impact as firstly there was no ad spend into Cinemas and that in turn had a second impact as those businesses themselves stopped advertising and that saw the Cinema/Theme Park product category report the third largest dollar decline this month (-$16.3 million, or back 86%)."

Ractliffe said that before this April result the largest ad spend decline reported by SMI was a 19% fall in April 2019 during the depth of the global financial crisis.

"Clearly this decline is far larger and was also more sudden than the GFC which evolved over a few months. In contrast, the COVID lockdowns occurred within weeks of the virus' potential danger being realised, so it's had a more devastating impact on media which had no time to prepare for such an extreme loss of revenue," she said.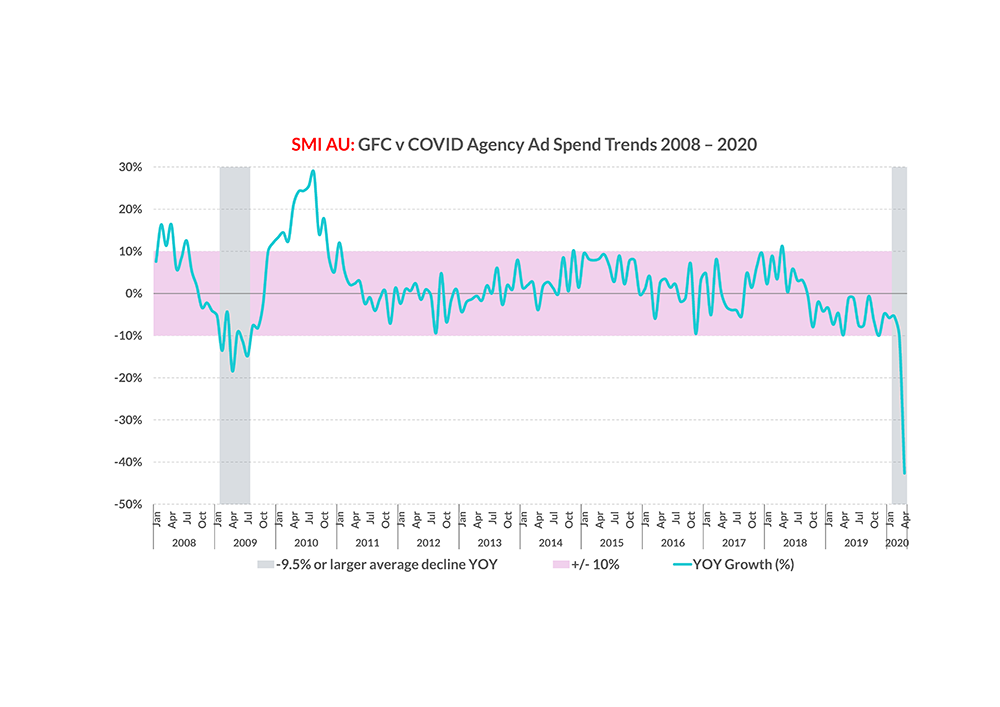 And Ractliffe forewarned ad spend in May was also likely to be similarly reduced, mostly due to the loss of all AFL and NRL matches which normally attract premium Television ad spend during this month and another full month of reduced Outdoor audiences.

But she said SMI's Forward Pacings data was looking more positive in June, with 32.5% of the value of last June's ad spend already guaranteed which is a 4% improvement on the level of future demand evident at the same time last month.

"And we can already see in June that product categories such as health insurance, online media and savings/deposits have already guaranteed to spend more on advertising in June 2020 than they did in June 2019 so there's clearly some green shoots already in the market," she said.

The sharp contraction in April demand has now pushed the market back 14.8% for the January – April period and by 9.3% in the financial year-to-date.

Also this month, SMI has two new data developments with the first being ad spend for six Banking new sub categories within the Domestic Banks market. New sub categories for which ad spend insights are available for all media and Digital sectors includes Home Loans, Bank Brand/Sponsorship and Consumer Banking.

And SMI's Category Forwards have been expanded, with Future Demand data now expanded from 41 categories to 140 sub categories to provide more detailed data on the emerging growth categories as the market recovers.

More detail on individual Media ad spend in April 2020 is provided over page. We've also created an historic view of ad spend to provide the context for this month's decline and a view of recent ad spend trends within the new Banking sub categories.
---
Subscribe to the radioinfo daily flash briefing podcast on these platforms: Acast, Apple iTunes Podcasts, Podtail, Spotify, Google Podcasts, TuneIn, or wherever you get your podcasts.