Chart Highlights – June 30, 2022
Top Debut: Beyonce's return sees 'Break My Soul' debut at No. 8
Heating Up: 'Sway My Way' makes its way into the Top 10
Chart Milestone: Harry Styles cracks 10k spins with 'As It Was'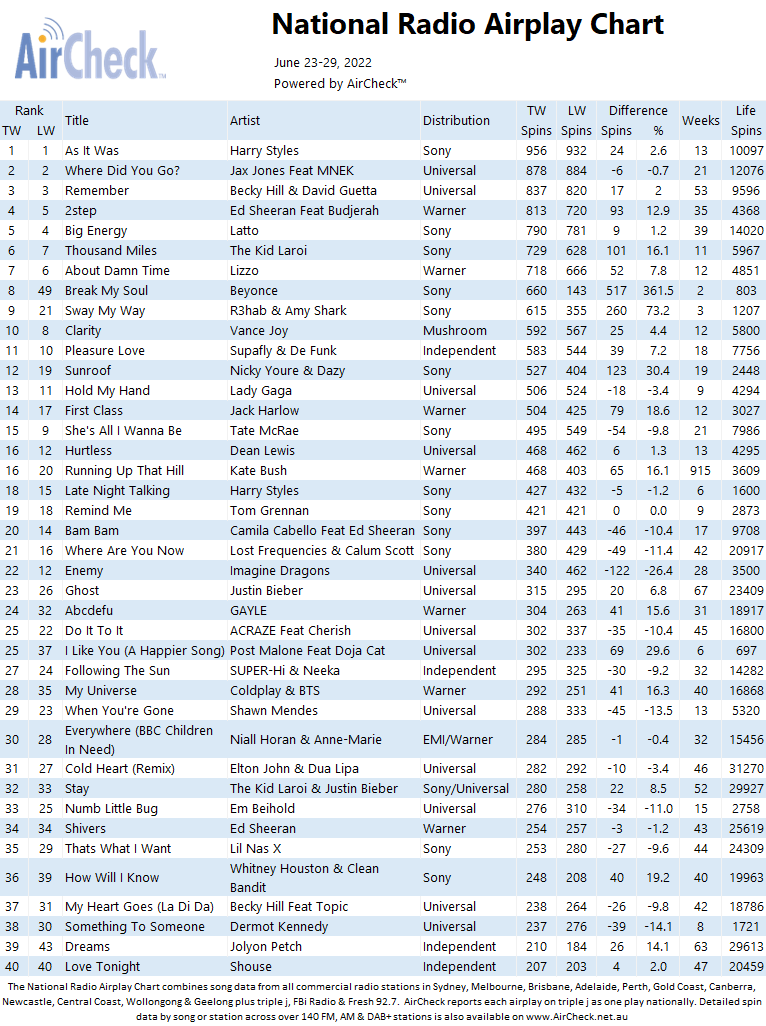 Beyonce's new single 'Break My Soul' secures a lofty debut at No. 8 on the latest AirCheck National Radio Airplay Chart.
'Break My Soul' was by far the most-played song on Nova this week. All five Nova stations averaged 73.6 spins each, double the next best station – KIIS1065 – which recorded 36 spins.
R3HAB & Amy Shark's 'Sway My Way' shot up 12 places to No. 9 this week after gaining an extra 260 spins (+73.2%). The 90s rework was a firm favourite on KIIS1065 (42 spins) and KIIS1011 (40).
Harry Styles remains steadfast at the summit for a sixth consecutive week with 'As It Was'. Additionally, the No. 1 song hits a significant milestone, cracking 10,000 lifetime spins.
Since the song's release in late March, 29 stations across Australia have offered up spins for the chart-topping single, which remains on 28 station playlists this week.