Boomtown's industry-first online regional media planning tool, Boomtown Hub, has attracted almost 3,000 users since its launch just five months ago, as media planners and buyers increasingly include regional Australians in client campaigns.

Boomtown Hub integrates regional media across a comprehensive network of maps, rich category insights and a consolidated briefing portal.

The first-of-its-kind Hub includes:
Interactive media coverage maps and search tools, providing visibility of the networks and publishers operating in each regional market;
Opportunities across digital, television, print, radio and out of home across hundreds of assets and thousands of markets;
Access to insights across 10 key categories including retail, automotive, finance and travel;
Streamlined briefing with one avenue to multiple regional media owners, aimed at improving workflow and reducing manual processes.
UM Senior Partnerships Manager, Australian Government, Caitlin Mills, says, "The Boomtown Hub is an incredibly useful and simple tool that can quickly identify regional vendors in any market that you are looking to cover, which reduces the complexity in planning regional campaigns. The Hub also contains a whole range of category media insights which are useful for planning regional campaigns.

"Not only is the tool easy to navigate and intuitive to use, the best part is that once you have found what you are looking for, a brief can be sent straight to the media based on the selections you have made."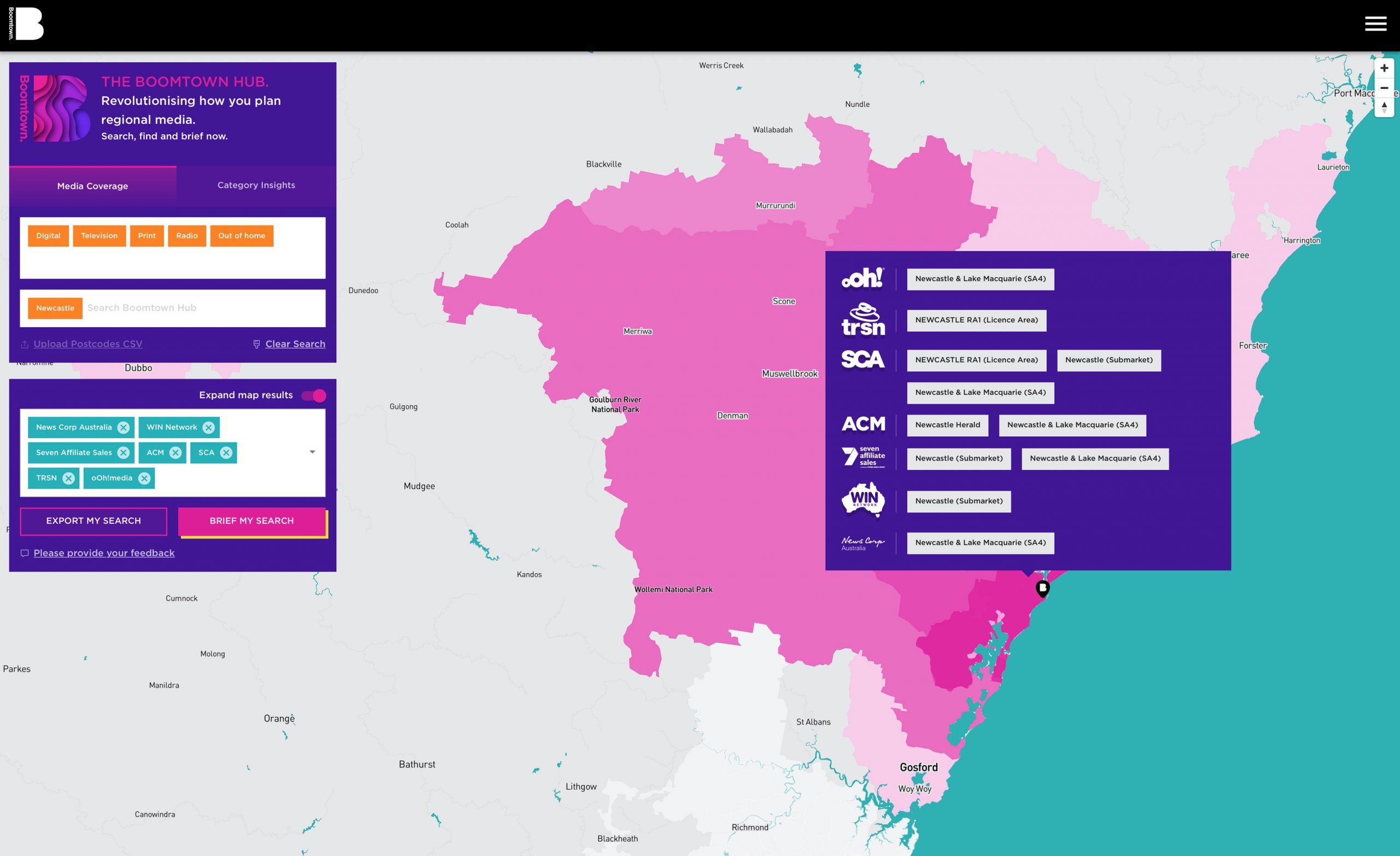 A recent tracker study* into perceptions of Boomtown revealed that 96% of media buyers would consider using regional media in their next advertising campaign and 90% have used regional media in the last 12 months. In addition, 98% said regional media was effective in achieving an ROI for advertisers.

The Hub comes as Boomtown regions swell to 9.1 million following unprecedented population growth in the past 18 months due to the 'work from anywhere' phenomenon driven by COVID-19. Young urban professional families and digital nomads account for a significant proportion of this metro migration.

Prime Media Group General Manager Sales & Marketing, Dave Walker, says, "Boomtown Hub has been custom built by the industry, for the industry. The uptake of the Boomtown Hub has been significant from the outset and sustained over the past five months, which demonstrates that it's an effective planning tool. We're delighted that the industry has so enthusiastically embraced the Boomtown Hub, because it also shows just how dynamic Boomtown is and how many fresh, untapped opportunities its growing audiences continue to afford advertisers."

Source: *Boomtown Trade Tracker Study August 2021 from SCA iQ.