What is the collective noun for a group of breakfast announcers? The question was posed by Adam Spencer as he went to air in Sydney's digital radio OB. Around the country broadcasters celebrated the 3rd birthday of digital radio
Breakfast announcers broadcast their shows today from high profile public locations to celebrate three years of digital radio and the successful addition of digital radios into Toyota cars.
ABC listeners decided that the colelctive noun for the broadcasters could be "a broadcast" of breakfast announcers.
Toyotas featured prominently at each OB, recognising the fact that the company is the first local car manufacturer to feature DAB+ digital radio as standard in selected locally built vehicles. Toyota gave away five of what are now Australia's best sounding cars on the morning of the event. One winner in each state picked from a Camry Atara SL, Camry Hybrid HL or an Aurion V6 Presara.
See more pics on our radioinfo facebook page.
More than 50 different commercial radio stations plus the ABC and SBS put rivalries aside this morning and broadcast simultaneously in Sydney, Melbourne, Brisbane, Perth and Adelaide to a combined potential audience of more than 13 million people in the massive outside broadcast to celebrate three years of digital radio.
Nearly one in ten Australian households has a digital radio with household penetration forecast by PWC to reach 16% by December 2013 and 18% by June 2014. The digital radio technology, switched on in 2009, is tracking ahead of forecast. DAB+ digital radio has nearly 1.3 million listeners each week in the five state capitals and over 900,000 DAB+ digital radio devices have been sold.
Sydney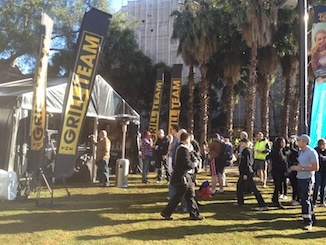 In Sydney the breakfast shows sounds were interspersed with the sound of ferry horns sounding from nearby Circular Quay, and the sound of screaming Asia Pop fans who came to First Fleet Park to see their pop idols, Nu'Est, a Korean band like One Direction.

Various marquees had singers performing, and The Edge had a fire eater entertaining their visitors.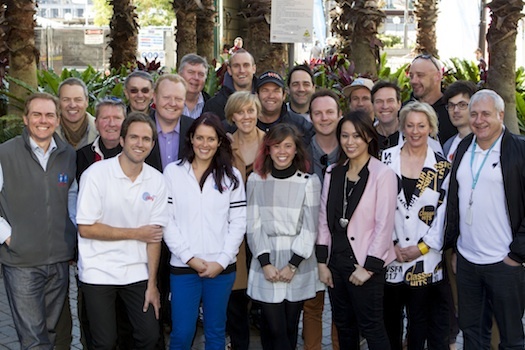 In each city, at the end of the breakfast broadcasts, rivalries were put aside and all the broadcasters got together for a radio industry 'team photo.'
Melbourne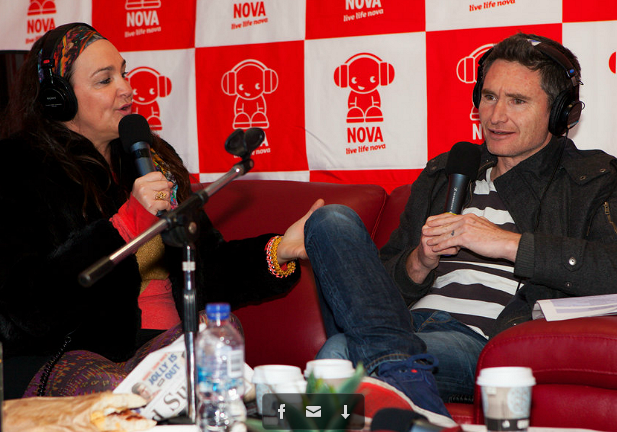 The Melbourne event had a good crowd and good clear weather, but our reporters in Melbourne say it was a bit chilly with Chrissie and Jane in blankets and flanalette.
The last key holder to open the box won the car and threw his hands up in the air with joy. Fox drew a huge crowd giving away One Direction tickets.
Fox FM's The Matt & Jo Show and Triple M's Hot Breakfast teams headed to Federation Square for a morning of live fun and special guest appearances.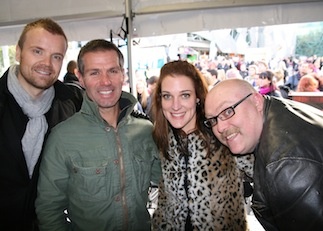 Joining Matt and Jo for a chat was Michala Banas, currently featuring in Winners and Losers, Miss Universe Australia 2011 Scherri-Lee Biggs, and Collingwood Football Team's Harry O'Brien. The crowd was also treated to a special live acoustic performance by Sarah De Bono, with prizes and giveaways throughout the morning!
Brisbane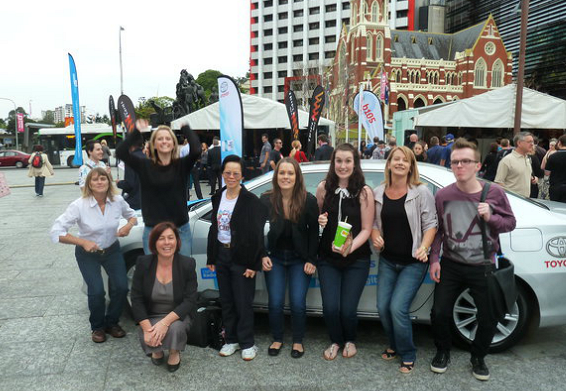 Brisbane had an Olympic feel with Emily Seehbom, Christian Springer, Brittany Broben and the Lord Mayor visiting various station tents.
Adelaide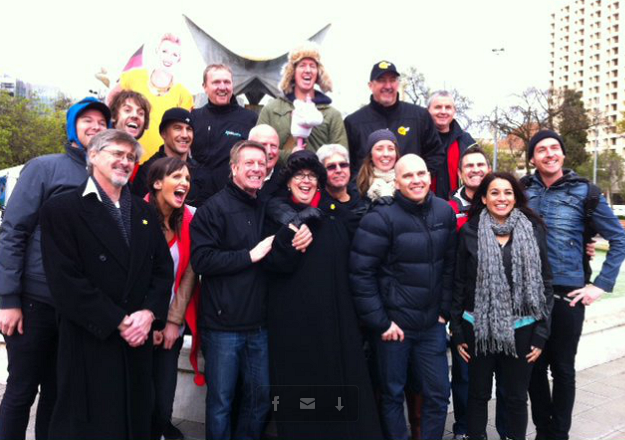 Our Adelaide reporters say there was a steady stream of people joined all the breakfast teams in Adelaide, with 5AA having a Master Chef winner to do a cooking show, SAFM had a popular band called the Sundance Kids, Nova Boy danced around the Fountain and Triple M took the cake…….a midget on a shetland pony. Premier, opposition leader and Mayor turned up to the event in Adelaide.
Perth
The Perth OB had the Lord Mayor and WA's strongest man lifting things. Good crowds were reported and comedian Joel Creasy was on air with Mix 94.5.
See our facebook page for more pics from this morning.
Stations, please send your best photos from this morning's OB and we will post them on our facebook page gallery. Email [email protected].