Carly Portch is joining Hit WA's state-wide regional Breakfast show, Hit Breakfast with Allan & Carly, commencing in 2022.
She will join current host Allan Aldworth and replaces Michelle Anderson who is moving to Triple M Perth's new Rush Hour Drive show.
Carly is no stranger to the Hit Network, having broadcast for the last 18 months as the Mornings announcer for Hit Orange, and before that at Hit Griffith, Central Queensland and Cairns.
She can also humbly brag that she's a TED Talks speaker, having shared the merits of 'Learning to Live Out Loud' at one of its recent events. During the talk she spoke about being vulnerable and how just because you are in the public eye criticism doesn't affect you. For even the most vocal people it can still take courage to be open and to speak their mind. Learning to live out loud isn't easy but well worth it.
Hit Head of Content – Regional, Blair Woodcock, says, "Carly is an amazing storyteller who consistently wears her heart on her sleeve and gives everything she has to any of the breakfast shows that she's been involved in. Now teaming up with Allan in WA, I cannot wait to hear what they can create for our listeners."
Carly says, "I am beyond excited to join the Hit WA team and work alongside Allan who is not only funny on the air but a hard worker off air. I can't wait to get out and explore the great state of WA. It is a dream to do what I love in paradise. After a year on workdays, I may need to set more than one alarm, but I am hoping the time difference makes it easier!"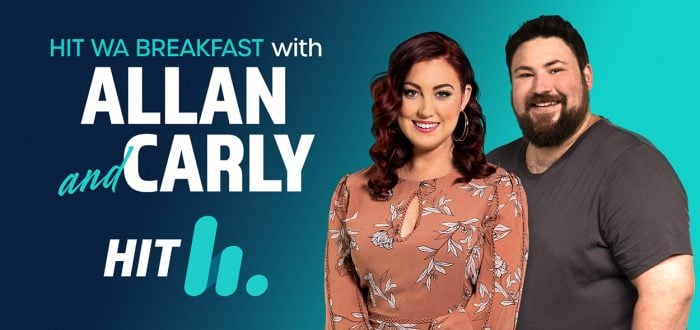 Hit Breakfast with Allan & Carly airs on the Hit Network's following stations:
Hit 106.5 Karratha
Hit 101.3 Broome
Hit 91.7 Port Hedland
Hit 96.5 Geraldton
Hit 95.3 Albany
Hit 95.7 Bunbury
Hit 100.5 Bridgetown
Hit 102.3 Esperance
Hit 97.9 Kalgoorlie
Hit 94.9 Katanning
Hit 105.1 Merredin
Hit 100.5 Narrogin
Hit 96.5 Northam