Chart Highlights – August 4, 2022
Top Debut: Macklemore & Tones And I combine to reach No. 29
On the Move: George Ezra, OneRepublic advance to new peaks
Chart Milestone: Shouse's 'Love Tonight' celebrates one year in the Top 40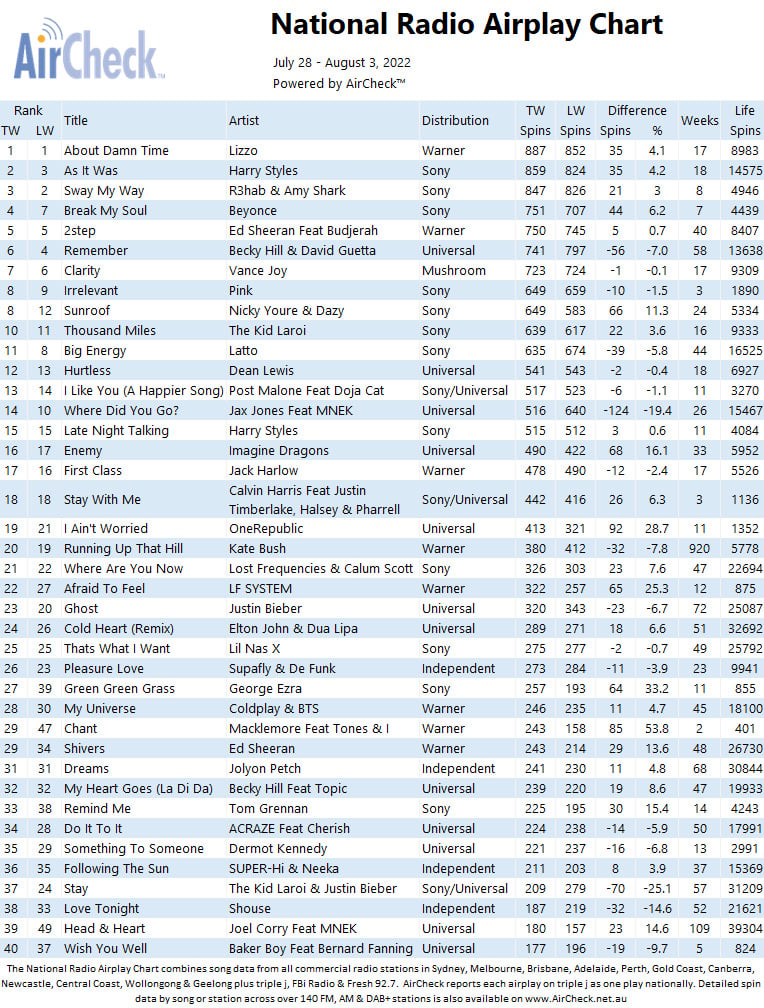 Macklemore's epic new tune 'Chant' alongside Aussie Tones And I is making waves at radio, securing a debut at No. 29 on the latest AirCheck National Radio Airplay Chart. 'Chant' received the bulk of airplay from the Hit Network, which accounted for roughly 65% of all spins this week. CADA also offered up support with 36 spins.
George Ezra's 'Green Green Grass' rose 12 spots this week to No. 27, gaining 64 spins (+33.2%). KIIS1065 offered up 20 spins, 16 more than last week. Elsewhere, OneRepublic was also on the move with a +28.7% rise for 'I Ain't Worried', prompting a move up to No. 19.
'Love Tonight' by Shouse has reached a new milestone on the airplay chart, notching one year in the Top 40. Triple j recorded Australia's first spin at 11:24 pm on 11 July 2021.
Overall, 'Love Tonight' has received a total of 21,621 lifetime spins across 30 stations, with a peak position of No. 7. It was also the highest charting song by an Australian artist at radio in the first half of 2022.