Chris Lewis takes us on a journey through his career in country radio
Little did I realise when I entered commercial radio in 1969-70 that, by the end of some 45 years of journalism – just about all of it in radio – I would have spent about two-thirds of that time at various country stations.
I certainly didn't plan it that way because in the early 1970's most of us worked our way to capital city radio instead of from it. You worked damn hard to get there but as someone told me once, "never get over confident as you climb the pyramid – you don't want to slide down on your arse to the bottom!"
So maybe I enjoyed 'the bush' far more than I thought. Given the number of stations I worked at, that would seem spot on. I did miss that day-to-day contact with many newsroom colleagues who'd driven the country to cap city way, but I made a lot of new country-based friends all the same.
Certainly, the early part of my radio career was spent in Adelaide (5KA) and especially Melbourne (3XY, 3DB, 3MP, 3AK and 3AW) but those country station postings kept appearing on the horizon – is it any wonder I couldn't keep my feet on the ground? It wasn't just the enjoyment of country living – but mixing it with country radio was more fulfilling away from the rat-race.
My first country posting was 8HA Alice Springs where the isolation factor was huge. It seemed Alice was in the middle of nowhere just as the station was midway between the town and the airport – a distance of some kilometres. Once at the station, I stayed there for just about all my daily shift. Closing the station down at midnight, weekdays or weekends was kind of historic – something that doesn't happen these days as far as I know. I played 'God Save the Queen', switched off a few buttons and the lights, then caught a taxi back to my flat.
Muswellbrook's 2NM and Power FM (two stints 1973-75 and 2000-01) was a lot different. A mining town in the heart of the Upper Hunter Valley of NSW where pubs mixed with clubs, and I gradually got used to rugby league – Group 21 from memory. Staff turnover was average – it varied really – because 2NM and Power FM were part of a training field for those staff wishing to get ahead, as I still was at that time. A couple of years followed at 2NX Newcastle, 2SM (oh so briefly) and then along came Melbourne's 3XY in The Age building in Spencer Street.
3XY I thought was a good move but it was unsettling and 3DB appeared on the horizon – a larger newsroom and what a grand station it was. As most of us know, 3DB no longer exists, unfortunately.
Over 11 years later 3DB and I parted company but not before I learned a lot – especially from my late mother – "keep your eyes and ears open and your mouth shut"! It eventually sunk in after leaving the radio newsroom life but it wasn't easy.
It was at 3DB that I took on producing with late writer and well-known motoring editor Bill Tuckey. Tuckey taught me a lot about writing and seeking out the hard and hidden facts of a story and little did I know that his advice would eventually see me return to 'the bush' – Bay FM, K-Rock, 3CS, 3YB, 2QN and Classic Rock and finally 5MU and Power FM.
What I have not mentioned is the time and years spent in various hospitals and medical clinics with FAP – Familiar Polyposis. With me it's hereditary. Anyone with it would know how draining FAP can be. Not to mention five lengthy operations.
There was also work-cover to overcome at Murray Bridge where my legs became entangled in headphone cords and I flew into a studio door frame which took its toll on my right and eventually my left shoulder and neck area. I had no choice but to go down the work-cover path – little did I realise how lonely it was in my career at Murray Bridge – some 10 ½ years. I could describe it as being shut out and not even being allowed to say goodbye to listeners of 'Weekday Magazine' – a 2-hour show I'd hosted on 5MU for much of my time there, apart from looking after local news on both stations. Some staff chose not to know me anymore – lousy really, seeing I was the innocent party, but that didn't matter.
But the crux of my story – life around the country in radio – is left to last.
For over 3 ½ years I had ' a family' at 2QN and Classic Rock, Deniliquin NSW looking after local news and an afternoon on air shift. I settled in rather well at 'Deni' – again a training station for many announcers going north or south, and the ute capital of Australia when the town's population swells by several thousand ( not to mention the utes!) and the law enforcement fellas have a field day (sometimes) with ute drivers disobeying the law or should I say – allegedly disobeying the law! Honestly, some of the excuses put forward by the cops when I was there were utterly ridiculous.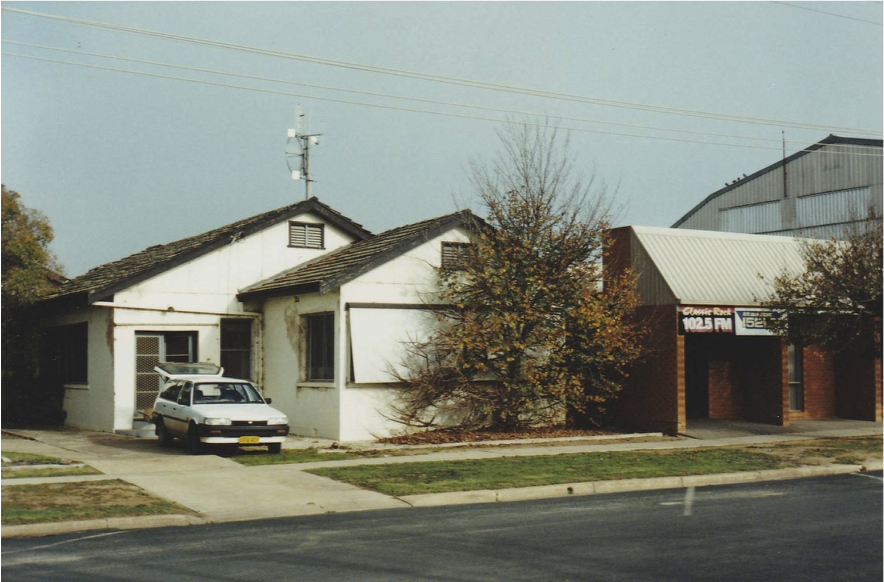 2QN Old and New Studios 2004

But back to Deni – where Dave Robertson ran a tight ship as GM. He may have been a little old fashioned but his heart and mind were in the right place. Reminds me of 2QN's long time breakfast announcer Paul Dix – a lovely bloke who always had a smile on his face. No task was too great for 'Dixie' – a true champion.

Chris and Paul Dix 2004
Deniliquin is blessed with a lot of charming and proud people too – some of whom have endured extremely tough drought years. Suicides, rarely spoken about on air at that time because it was taboo, were not uncommon when I was there. The phone calls from widows said it all. Nevertheless, Deni is my favourite. The people were kind and thoughtful and I will always remember them as well as the town itself.
I had to leave Deniliquin for personal reasons. I didn't want to but I had been "on the road" for some nine years – purely to remain active in commercial radio – and I wanted to be closer to my wife in Adelaide (how the heck she put up with me away for so long I'll never know!) apart from which my Mother was struggling after the sudden death of my Father in early 2004.
I'll never forgot Deniliquin and if we (my wife included) ever had the chance, we'd go back there – a place where I spent many days in paradise.