It's a bit like a wartime prisoner exchange – KIIS has swapped Chrissie for Meshel and NOVA has swapped Meshel for Chrrissie.
Who got the better deal?
Historically, Melbourne has been considered to be a less volatile radio market than Sydney but in more recent times Melbourne's where the game is well and truly on.
In GfK Survey 1 there was just 0.7 between the first and last of Melbourne's six commercial FM stations. By Survey 8, FOX had increased its audience share by 2.1 to 9.7 overall and has kicked away from the pack leaving main rivals KIIS and NOVA in its wake.
While neither Triple M, GOLD or smooth compete directly with FOX, KIIS and NOVA do. Both are committed taking the fight right up to them in 2016.
Below left: GfK Survey 1, 2015. Right, Survey 8 2015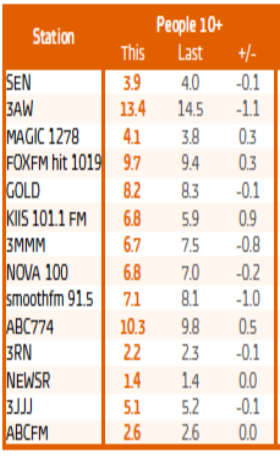 FOX's success has been built on both Breakfast with Fifi & Dave and Drive with Hamish & Andy. The latter are on a 12.8 share – far and away number one in Melbourne. Fellow Melbournians Hughesy and Kate on KIIS have a 9.3 share while the number one Drive team nationally, NOVA's Kate, Tim and Marty can only manage an 8.3 against their homie rivals.
With their Drive talent settled, both KIIS and NOVA have revamped their breakfast shows for 2016. Both were keen to find talent that was already well known to Melbourne audiences and understood the special demands of breakfast radio. That's a pretty small gene pool in which to go fishing.
As it turned out, both stations have picked up the other's discards. Former MIX (now KIIS) co-host Chrissie Swan is going to NOVA while former NOVA breakfast co-host, Meshel Laurie is going to KIIS (nee MIX).
Unsurprisingly, both network Content Chiefs believe they made the better choice.
ARN's Duncan Campbell, who, it could be said, has had some success with "discarded" talent at KIIS in Sydney had this to say:
"Nova decided not to keep Meshel – I don't know what the thinking was behind that but that's their call. I think she's very talented.
"At the end of the day, in order for the station to grow, it's got to get an audience from somewhere. So if we get some Meshell Laurie fans across from Nova, we're happy to accommodate them."
Nova's Paul Jackson has big plans for his new breakfast show Chrissie, Browny and Sam but has his doubts about the opposition.
"Matt (Tilley) and Meshel together? I don't know what that dynamic will sound like," he says, "But this isn't Chrissie Swan like you previously heard her on ARN. Sam Pang is absolutely brilliant. He's funny every time he opens his mouth. Jonathan Brown a huge character and huge in AFL history.
"So, this is a different show, three people, great chemistry and Chrissie's a part of that but you've never heard her treated like this before the way these guys banter and they way the chemistry is. We have created a proper show here," says Mr Jackson.
Duncan Campbell was also happy to offer an opinion about his rival's show. "I think the new Nova show questions the targeting of the station given the people on board and how it will sound."
He then went on to say, "We just forge ahead with our strategy which is to ensure we have the best talent onboard and we can create the best shows. And we continue to make the changes we need to til we get it right.
"We made a lot of changes in Melbourne and we feel we've got all our ducks in a row and we feel very confident about next year," says Mr Campbell.
Photo credits: Meshel, standup.com.au, Chrissie, chrissieswan.com.au, arrows image: shutterstock