Chart Highlights – January 13, 2022
New Leader: Ed Sheeran ends Elton John & Dua Lipa's chart reign
Biggest Mover: Taylor Swift's 'Message In A Bottle' gains 99 spins
Bounce Back: Rain Radio & DJ Craig Gorman re-enter the Top 40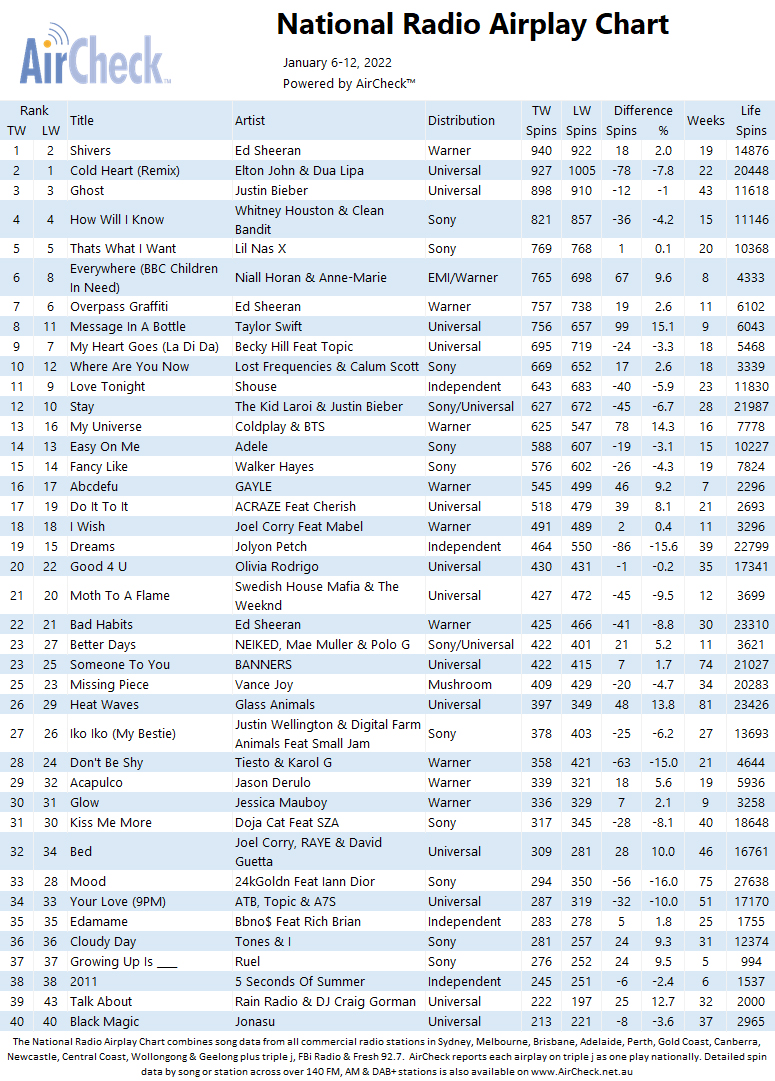 The AirCheck National Radio Airplay Chart has a new leader with 'Shivers' by Ed Sheeran hitting No. 1 after 19 weeks. Sheeran displaces Elton John & Dua Lipa's 'Cold Heart', which falls to No. 2 after fourteen weeks at the top.
'Shivers' registered a total of 940 spins, up +2%, with support from 25 outlets. Interestingly, the song was most-played in only one major metro market this week (Melbourne).
Taylor Swift's 'Message In A Bottle' had the biggest spin increase of all songs in the Top 40, gaining +15.1% (99 spins). KIIS 1065 contributed 49 spins, while Nova stations upped their support by 50 spins across five metro stations.
Rain Radio & DJ Craig Gorman re-entered the chart at No. 39 with 'Talk About'. The song was one of the Top 10 most-played across the Nova network this week. 'Talk About' reached a high point of No. 34 in September last year.