Community Broadcasting Association CEO Jon Bisset has told the Senate Inquiry into Public Interest Journalism, "community radio is producing more local content compared to other sectors… we play more local music and support a greater diversity."
"With the likely reduction of media ownership, community services are going to get more important as time goes on."
Questioning Bissett and CBAA President Philip Randall, Senators Xenophon and Dastyari were impressed with the large number of community radio listeners each week.
If the pair ever end their parliamentary careers, perhaps they have a career in radio ahead of them if these exchanges are anything to go by.

Sen Dastyari: "Those figures are impressive, I'm surprised at how large [community radio listening] is.
Sen Xenophon: "He wants his own show now."
Sen Dastyari: "Dasty and Xeno, how does that sound."
Sen Xenophon: "We'd do well… but I don't think we should quit our day jobs."
Later in the hearing Senator Dastyari quipped about citizenship status, with Senator Xenophon being one of the parliamentarians whose citizenship eligibility for Parliament is in question and Senator Xenophon goaded Senator Dastyari about his sporting prowess, in an amusing exchange that would go down well on breakfast radio.
Both have an understanding of community radio, with Senator Xenophon in his student days, being a movie reviewer for 5UV, and Senator Dastyari last year speaking at the Ethnic Broadcasters Conference.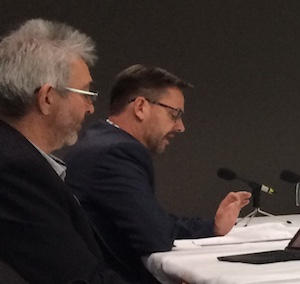 On more serious matters, the Senators canvassed the possibility of more government advertising being earmarked for community broadcasting, the importance of the training that is done in the community sector, funding grass roots campaigns for de-radicalisation through community radio and funding for more community radio research.
While recognising the importance of government funding, Jon Bisset also pointed out that community broadcasters are also very active in raising their own funds. "Government funding is extremely important for helping us provide infrastructure… but the average station is operating on about 10% government funding and most of the money is coming from their own activities," he said.
The funding suggested last week by Pauline Hanson's One Nation party was also discussed:

Jon Bisset
: "We have been having discussions with all of the cross-bench, we were aware that they were all supportive of the digital radio funding… we were surprised with some of the other announcements, not disappointed, but we were surprised… We think they were extremely valuable proposals.

"One of [the proposals] was to boost Community Radio News… at the moment National Radio News is a national service and [extra funding] would enable us to make it more state based if that money did come through."
Sen Xenophon: "That would certainly make a difference to local journalists employed…
Watch the CBAA Senate appearance here.