In a media environment where public and commercial newsrooms are having their funding continuously squeezed, the community broaadcasting sector is well positioned to do more local news, Ahern Media and Training CEO Steve Ahern told the CBAA conference last week.

Ahern foreshadowed that the Community Broadcasting Foundation will be looking to increase news across the sector in 2019 – bolstering training and facilitating the sharing of content with funds recently granted by the federal government, after a submission prepared by his company and the CBAA.

This will help stations to meet ACMA's revised license conditions requiring them to demonstrate that their content is local, and will help stations to grow their audience as public and commercial stations decrease their localism, causing listeners to go elsewhere to search for content that is relevant to them. It will be particularly important in regional areas.

Free media is a hard won privilege in Australian society and it should not be taken for granted, according to Ahern, who urged community broadcasters to take news seriously in their radio and television stations.
In his CBAA conference workshop, Ahern explained that small community stations don't need to be scared to do news – even one 2 minute local bulletin per day that is written and delivered at the station is a big step forward. "One locally produced news bulletin gives you the power to cover local issues and order your stories in a way that is relevant to your community… it becomes a place marker, listeners will make an appointment to listen to it if it is the only local news they can get," said Ahern.

Ahern emphasised that "news" can be defined simply, as new facts that are relevant to your listeners, and warned stations not to feel pressure to copy how public and commercial radio have typically structured their news coverage. "Produce bulletins that are relevant to your community, that is what people want to hear from community radio, it's what the McNair research shows," he said, quoting the latest McNair 'Reasons for Listening' results, which put local information and news as the top reason why people listen to community radio.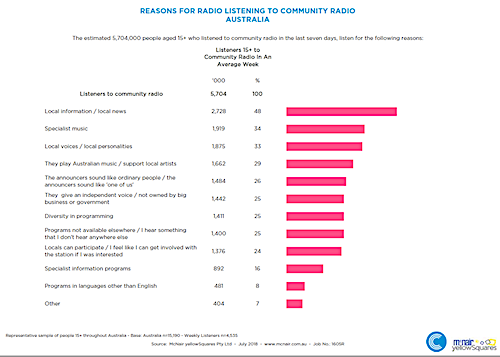 There are three key steps for community stations to start doing news. First, determine your go-to sources, second get together as a station and set parameters around what is and isn't relevant for your community, third get the right apps on your smartphone to record and edit audio grabs, so that anyone in the station can get good audio if they are at a newsworthy event.

Relevant local sources include your local hospital, police station, fire service, local courts, and local political candidates. Talk to them regularly, and set-up a generic "news" email so that those and other organisations can send you media releases and tip-offs.

Once your sources are in place, decide what geographical area you will cover – just the reach of your signal or further? You'll also need to decide the mix of national, state and local news, as well as if you will cover sport and weather. Are there important rounds for your area: farming, mining, crops, education, etc.

"If you're a university town like Newcastle or Armidale, then your audience will be interested in federal government decisions on education and how they affect local staff working for that Uni… if your station is in a mining town then industry, technology and export stories relating to mining and local jobs will be of interest to your listeners."

Even though premium news products such as NewsBoss, Burli and RCS News are available, a word processor, a basic audio editor like Audacity, and a simple way to capture audio – like the Voice Memos app on your iPhone – is a sufficient technological baseline to begin doing news. "No need for specialist recorders anymore – stations can invest in external mics that attach to your smartphone, or even use the microphones usually attached to your headphones if you have nothing else available."

Additionally, Ahern gave a simple 3 paragraph structure for every radio news story:
Para one: A short sentence summarising what has happened, who was involved.
Para two: Explain more detail. Answer the who, what, when and where questions. Tell listeners why it is important to them.
Para three: Include background or a different viewpoint
Then include an audio grab if you have one.

Other radio news writing tips include:
Radio is a present tense medium, write in present tense where possible. Newspapers write in past tense.
Radio is an audio medium, that's why we want audio, sounds, voice reports other voices in our bulletins, not just the news reader.
News is about facts, make sure you have them. Check facts, confirm from more than one source.
Get the details right, check names and pronunciations.
Collaborate with other community stations if you don't have enough resources of your own.
There are legal and procedural rules, don't be scared of them, just learn how to work within the rules.
News is not a place for editorialising.

In these days of fake news, social media manipulation, less localism and disreputable sources, people are wondering who to trust and how to get their own voice heard. "Community radio is well placed as a local trusted source in the community to fill a gap that has been created by the changing media landscape," said Ahern.