Comment from Jen Seyderhelm.
Earlier this month I went to my girlfriend Kim's house.
We had become acquainted after I read an article about her and decided to become her friend, first on social media, then in real life.
This is not normally how I approach establishing a friendship; however, one of my resolutions this year had been to make some new buddies. I've moved a lot. I'm finally out of the young kid stage of motherhood. I've tended to be really scared of meeting new people. I was trying to be brave. Some people said no or never responded. Some coffee dates and outings fizzled to nothing. Kim accepted me and my quirks.
Kim organises gatherings of likeminded people once a month. I was expecting some food, fun banter and maybe some meditation. Instead she asked all who were there to take a story of a current or existing hurt and to change the narrative from a negative to a positive.
Normally this is my mojo; I'm the glass half full girl. I'd already been doing it throughout that day.
Wed Nov 6 –
Received confirmation of some Government voiceover and podcast teaching for 2020
Contact at Government had gotten so excited by my enthusiasm at teaching podcasting that she'd further asked me to teach the teachers!
I was really enjoying my new role at 2CC, despite the 4am alarm.
I'd unexpectedly found my holy grail vinyl album – Mystery Girl by Roy Orbison – front and centre at a store I had no intention of walking past. So glad I did!
A couple of mates had sent me positive and loving affirmations – just because.
My second article was to be published on RadioInfo.
A write up of my podcast was printed in Telum Media…. AND
I'd had to resign from my dream job. A job I'd accepted only a couple of days earlier as a breakfast announcer in a major market with people I knew I'd love, for personal reasons I'm not going to go into.
1-7 are great. They're really great. I'm a lucky girl. 8 though had left me hurting because I'd earned that role.
Selling 1-7 to myself was particularly tough, but I'd spent the day doing just that. I've been in this industry long enough to know that no one cares about the fish you don't catch or the race you don't win.
I'd planned to keep this news pretty much to myself, buck up and get over it until Kim put forward the negative to positive exercise. I did 8 back down to 1. I thought I'd totally sold my positive spin, but Kim saw through me, said giving up any dream sucks and that she heard all the other internal battle going on that I, by nature, tend to keep to myself.
Later that night when I got home I sent Kim an overtired message saying I was "disgusted" with myself at both unburdening myself and wallowing, even for a small portion of time. The next morning, after walking my dog (my mind cleanser) I rang Kim and apologised for my message and stupid shame over sharing some genuine hurt.
She issued me the challenge to write this letter of compassion towards myself. I'm sharing mine for all the other people in this industry who are also glass half full; who find it hard to tell anyone when they're having a shit day, week or year because we take pride in our positivity.
I am lucky/fortunate/blessed/whatever label you want to put on it. It my responsibility, I feel, as a result to be the kind of person who lifts other people up and makes them feel appreciated and noticed. I want to be the kind of person that you want to see when you come to work every day, rather than the alternative. I don't have baggage; I love and hug freely. Too freely? Nope.
I joke and laugh a lot. It isn't an act. It is who I am and I like me. If you look amazing, did a great job on air, were thoughtful, creative or had a great idea I'll let you know. To your face. Immediately. Spontaneously. Am I less of a person by building you up? Nope to that too.
Some days, some rare days, putting a positive spin on is harder than others. November 6 was one such day, but I'll be okay. I'll wear bold colours and smile till I feel it inside too. Someone in my world who reads this will hug me until I'm ready to let go. There'll be more, but it's my story, and as such, no one will ever care to the extent that I do about what's going on in it. That's life, whether you are glass half full or empty.

To those who take the time and effort to see, hear, love and give 100% in all they do every day, even when it feels like there's a hole in the glass – thank you.

About the author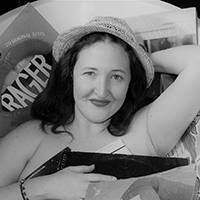 Jen Seyderhelm is a radio announcer, producer, news reader, lecturer, Rockwiz victor and podcaster.
Her podcast, 20/40, celebrates friendship and conversation between two women with a 20-year age gap. In her spare time, Jen does stand up comedy, is writing her first book, and posts music trivia around her vast collection of vinyl singles daily, online.