Continuing his series of columns, Melbourne radio legend Doug Aiton recalls his interview with Dame Joan Sutherland
---
My interview with Joan Sutherland took place at both 3AW and later in her hotel suite, the latter being for the Sunday Age, who I wrote a column for called 'Conversations'.
I actually met Joan Sutherland at 3AW. Despite her reputation, she looked like anyone else. Her bright incisive eyes took me in at a glance and she seemed totally in control as we began our conversation.
The radio interview was fine and by the time we finished we had spent an hour together both on and off air. So when we moved to the Regent Hotel we felt thoroughly at home with each other. For the entire time Miss Sutherland had been courteous and forever giving. She almost seemed to be offering her first interview.
I have always found it more profitable as an interviewer to treat world famous people in a distinctively strange manner. That is, to avoid talking about what they are famous for because everyone knows that.
So we concentrated on different aspects of her life. That is, her childhood, her hopes, her parents, her early years, and so on.
Thus, I learned about her childhood in Sydney and all the years leading up to 1959. That is, the year she got her big break in London singing the role of Lucy Ashton in Donizetti's Lucia Di Lammermoor.
She told me that that was the time when she went home after her performance, had supper with her family and went to bed quite unaware of the storm she had caused. She woke up in the morning to be told by all the newspapers that she was a sensation, something she had far from expected.
The most riveting thing she told me about her early years was the death of her father. He climbed the endless stairway from the beach to their home, sat down in a comfortable chair, and died.
One thing that captivated me about Joan was that from the start she spoke with absolutely no pose. For a start she had no trace of a British accent despite many years not only in London but in a celebrated circumstance. Her accent was pure Australian and it was interlaced with very Australian sayings.
She was, in short, a delight. I had to remind myself that here was a woman who was familiar with most of the figures in fine opera of the time throughout the world. She talked of Maria Callas, for example, in very familiar terms as though she was a neighbour over the back fence.
She also leaned back and looked into the distance as she spoke of her early years in Sydney. I felt that she was doing this for the first time in a long time.
She also gave me the impression that she was fully prepared for a long interview, whereas in fact it was more or less sprung on her, and she coped very well.
At the end of the interview, I sort of closed it suddenly by pausing for a moment, then saying "that's all." Miss Sutherland then erupted into a burst of applause and laughter, and she said "just a moment", with which she sprang from her chair, went to the fridge in her room, and produced a nicely chilled bottle of champagne, which she presented to me.
I felt embarrassed because it was she who should have been receiving some sort of present from me for giving me so much of her time.
She presented to me the epitome of warmth, good health, and familiarity – although we had never met before.
She died a few months later.
About the Author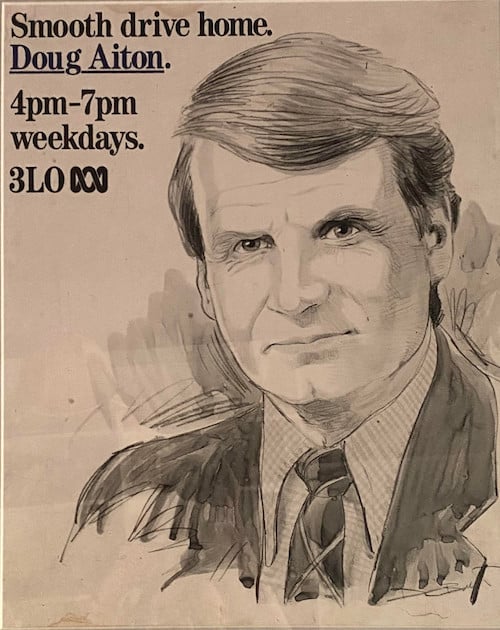 Doug Aiton was the Drive time Presenter at Melbourne's 3LO from 1987 – 1997.
He has a combined past of newspapers and radio including a weekly column for the Sunday Age for about ten years. He is married to Judy and has three children.
Now in his 70s, Doug still presents a regular program on The Pulse Geelong.