Comment from Jen Seyderhelm
I was contacted a couple of weeks ago by a professional colleague who is coordinating a film festival. He asked me if I might be interested, have time and be willing to voluntarily record podcast interviews with the film directors.
I said yes.
I work full time, have a thriving side business and also teach my skills to the next generation of radio announcers, podcasters and voiceover artists. Within that training I've always ensured students put a monetary value on their time and skills and equally appreciate that in life you get what you pay for.
You definitely can't eat exposure.
Why would you buy the cow when the milk is given for free?
Yet, in these most difficult times, I want to acknowledge how I have benefitted, financially, professionally and personally, from work I have done for free.
I have several things I ask myself before I volunteer my time:
1) Is there a tangible outcome that I will be able to use in the future?
2) Will this lead me to connect with people, networks and businesses that I may not otherwise have had access to?
3) Will I gain knowledge from the experience that might increase my skill set?
And,
4) Can I see any future paid potential from this interaction?
The podcasts I conducted with the directors above immediately ticked 1 and 2. One of the directors offered me valuable information towards a project I am working on, that was beyond my knowledge and experience and one of the other directors has agreed to be a part of what will be a paid adventure in 2022.
I recognise that the above was offered to me as I'm now what I would describe as "mid career". I am however only two years into running my own business.
In my earliest days, when I didn't have another source of income, I wrote articles aligned with my business for free and put them out to industry publications to effectively test the waters around my voice and ability. I have since ticked 1 through 4 off with a professional outcome being the ongoing knowledge and guidance I receive from those who edit and publish my work.
I also put forward a pilot online taster course in voice over and podcasting to a local business chamber and council. I did this thinking that the people who attended had the potential to become paid customers in the future. That happened. Demand though for the courses now means I am paid to run them and have created a suite of online training packages that I can adapt to whichever industry I am addressing.
I have moderated panels, judged awards and MC'd events without payment. These are essential networking opportunities and activities I always enjoy. Reviewing other podcasts for the Australian Podcast Awards was eye opening. Not only did I gain knowledge and insight into so many worlds beyond my scope of experience, but the quality and ambitions of some of the recordings have made me a better teacher, podcast creator and producer.
I wish to revisit my professional colleague who is coordinating a film festival for which I recorded podcasts. That colleague's name is Tim Daly and it's the 4th International This Is My Brave Mental Health Film Festival. Tim does incredible things in my community, largely in his own time and using his own resources. Likewise, I say yes to MCing another professional colleague Nicky Green's music events because she donates all profits to Domestic Violence organisations or Lifeline. Nicky and Tim's values align with mine.
Perhaps I should have added a number 5 to my list of reasons for working for free; the opportunity to give back.
I limit my commitments across the week and don't say yes to everything. I never say yes when I should be financially rewarded or if I feel coerced. Equally, I don't ask for people to work unpaid for me. If you expect free labour then you cannot expect a set timeframe, quality standards or a positive ongoing relationship.
You get what you pay for.
I was introduced to this producer rate sheet this week, which is an excellent resource for a role that is underappreciated and undervalued in film and in audio production. I will continue to teach the financial value of skills and time and outline pay rates and industry standards within my and other aligned arts fields.
But, I also want to allow wiggle room to do some things for free. For future goals and gains or simply because it makes you feel good because you're giving back.
Time gifted can be well spent.
About the author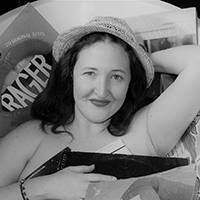 Jen Seyderhelm is an announcer, podcaster, producer, writer, news reader and music historian.
She's Breakfast co-host at 2CA in Canberra.
Jen's podcast, 20/40, celebrates friendship and connection between two women with a 20-year age gap. She is taken her podcast, teaching and storytelling skills on the road as part of an exciting national conversation project.