Chart Highlights – 16 May 2019
Highest Debut: Ed Sheeran & Justin Bieber 'I Don't Care' debuts at No.2​
Biggest Mover: Shawn Mendes up 325 spins to No.6 with 'If I Can't Have You'​
New Entry: Bastille's 'Joy' enters the chart in its third week on air at No.34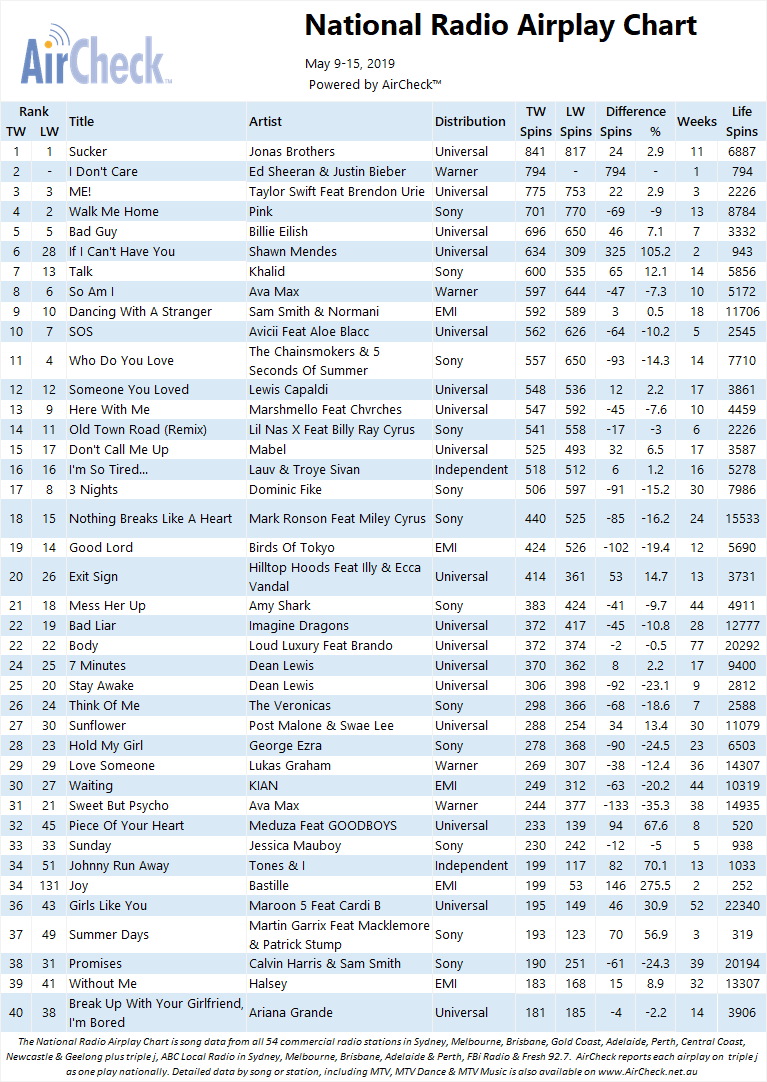 With two of the most popular artists right now collaborating, there's no surprise Ed Sheeran and Justin Bieber's 'I Don't Care' was in instant hit earning a massive 792 spins across 19 stations in its first week with Nova 100 Melbourne the song's top supporter with 66 spins.

Radio stations across Australia quickly embraced the track, earning Ed & Justin the highest AirCheck debut of the year, breaking the record held by Taylor Swift's 'Me!', released only two weeks ago landing at No.3 with 702 spins.
Shawn Mendes latest release also rose up the chart last week with 'If I Can't Have You' up 325 spins in its second week on air, the Hit network helped the rise upping spins by 264% while KRock Geelong and Star 104.5 Central Coast jumped on the bandwagon adding 17 and 16 spins respectively.
Following the success of their previous track 'Happier', British band Bastille entered the chart with 'Joy' and the track skyrocketed 97 places up the chart with Nova 1069 out in front spinning the track 28 times.