As Robert Spicer reported in the last news item of 2UE's 6pm news, "it is the end of an era for 2UE News."
The 2UE and 2GB newsrooms have merged and will now operate from 2GB's Pyrmont studios.
The first 2UE bulletin from those studios was heard at 7pm tonight.
Award winning morning news reader Steve Blanda is expected not to make the move to Pyrmont and will be one of the many redundancies from the Sydney newsroom.
Today (Friday 10 April) the morning bulletins were simulcast on both 2GB and 2UE, read by Macquarie's morning newsreader Natalie Peters. The same bulletins were heard on both stations, but 2UE's bulletin had a localised 2UE sign off after the weather.
Fairfax and Macquarie Radio Network have now joined and the newsroom merger is the first step in a process that will become more clear from tomorrow as Adam Lang, who is charged with the task of merging the two entities, tells staff in each station around the country where they will fit into the new company.
"The iconic 2UE microphone has been at all the major news events for the past 90 years, from Gough Whitlam's dismissal and the Granville train disaster… Robert Spicer from the Greenwich Studios…" said Spicer in his report.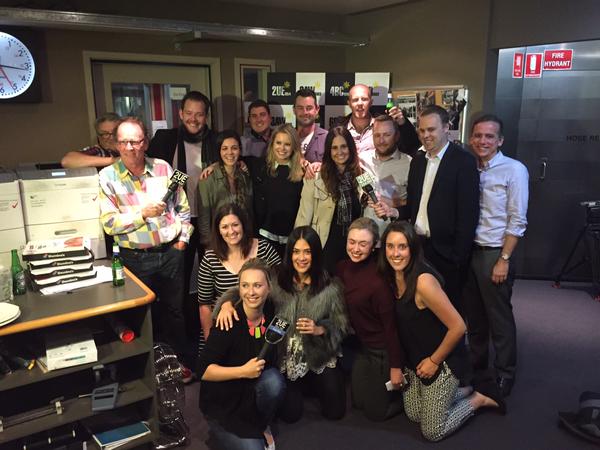 2UE News Team Photo from Matt De Groot's twitter feed.
6pm full bulletin.
7pm full bulletin, which began with the 2UE theme then opened with "Macquarie National News at 7…."