Adelaide breakfast radio host Mark Soderstrom left a bloody mess to clean up in the Mix 102.3 studio, literally.
Soda was left bleeding from his left eye, after slamming the studio door into his own face, while rushing out of the studio during Tuesday morning's Erin & Soda show.
"I can't believe what's just happened … you've sprinted out of the studio, your big size 14 hoof's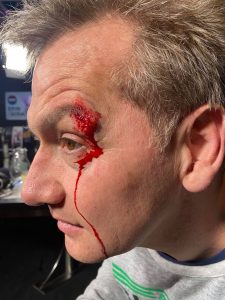 got caught in the way, you've headbutted the door and you've split your left eye," Erin said during the mid-show emergency. "There's blood everywhere … you need stitches by the way."
Thankfully no stranger to injuries after a lifelong sporting career, Erin quickly took charge during in the bloodbath, playing nurse for the morning and creating makeshift butterfly clip from the studio's basic first aid supplies.
Soda continued on air and finished the show with Erin's quick fix.