The federal government's delayed 2020/21 budget, released tonight, is a high spending stimulus plan that hopes to maintain economic activity long enough for Australia to come out of its covid pandemic slump.
radioinfo examines how will it affect broadcasters and associated industries.
Commercial Broadcasters
Commercial Broadcasters will benefit from the continuation of Jobkeeper as it tapers off to its end next March, although, if advertising picks up more than expected, those broadcasters may become ineligible for the subsidy, which is now income tested each month. If the subsidy ends, then it is a sign that companies are making money, so that would be an outcome to be wished for.
As well as Jobkeeper, commercial companies will benefit from a weekly $200 hiring credit called Jobmaker, for hiring young workers for 20 hours per week or more, which might stimulate entry level jobs in some radio companies. From 7 October 2020, eligible employers will be able to claim $200 a week for each additional eligible employee they hire aged 16 to 29 years old; and $100 a week for each additional eligible employee aged 30 to 35 years old for the next 12 months.
Instant asset write offs will also benefit the bottom line of companies large enough and cashed up enough to take advantage of asset purchases.
Money has also been allocated in the Department of Communications budget for the continuation of a range of programs that support media, and the licence fee relief for commercial broadcasters is expected to continue for at least another year.
The Public Interest News Gathering (PING) program will continue in 2020/21 with an allocation of $48.7 million, but is not budgeted to continue beyond the end of the 2021 budget year. Regional Broadcasting subsidies will continue in each year of the five year forward estimates, but the amounts are not disclosed. The government allocated $9.9 million to the program in the 220/21 year, but it is not known whether this amount will continue at the same level in future.

The Government has also provided $5.0 million to the Australian Associated Press Limited Newswire (AAP) to continue delivering its important newswire service Australia wide, which brings the total investment in the Public Interest News Gathering Program to $55.0 million to support the continued production and distribution of high quality public interest journalism in regional and remote Australia. The Judith Neilson Institute and the Alliance for Journalists' Freedom have also been granted Deductible Gift Recipient status, which means that donations to those bodies are now tax deductable.

Community Broadcasting
The Community Broadcasting sector will get $19.9 million in the current 2020/21 up from $19.7 million the previous year. The funding, distributed through the CBF, will drop to about $16 million in the following years.
Some Community stations may also be able to access the Jobmaker subsidy to give young broadcasters their first break with some part time paid work, if their income allows the station to match that government funding. There may also be some money available for the community groups running those stations through programs such as the Department of Communications' COVID-19 Response Package and a range of Community Development Grants for new projects.

ABC and SBS

The government's allocation to the public broadcasters maintains similar levels of funding as the 2019/20 financial year, although the much publicised cuts at the ABC are a result of expected funding shortfalls in long term funding that do not take salary and transmission cost increases into account.
The government's allocation to the ABC increases from $1.062 million in the 2019/20 year to $1.063 in 2020/21, then jumps to $1.070 in the 2021/22 budget year, but drops to $1.057 the following year. ABC is allowed to earn commercial revenue from merchandise sales through its shops and from program sales, but not from advertising, so it is not likely to be able to make up that amount in earnings.
The budget papers says the ABC "plays a significant role in the lives of all Australians, not only through the broadcasting and digital media services it delivers, but also through direct engagement with local communities around the country. It also underpins the creative industries and… projects Australia's national values and identity to a wider world."
The ABC's place in the Australian media environment is distinctive because of its Charter, which gives the Corporation "particular responsibilities, such as providing independent news and information. The ABC Act guarantees the editorial and administrative independence of the ABC from the Government."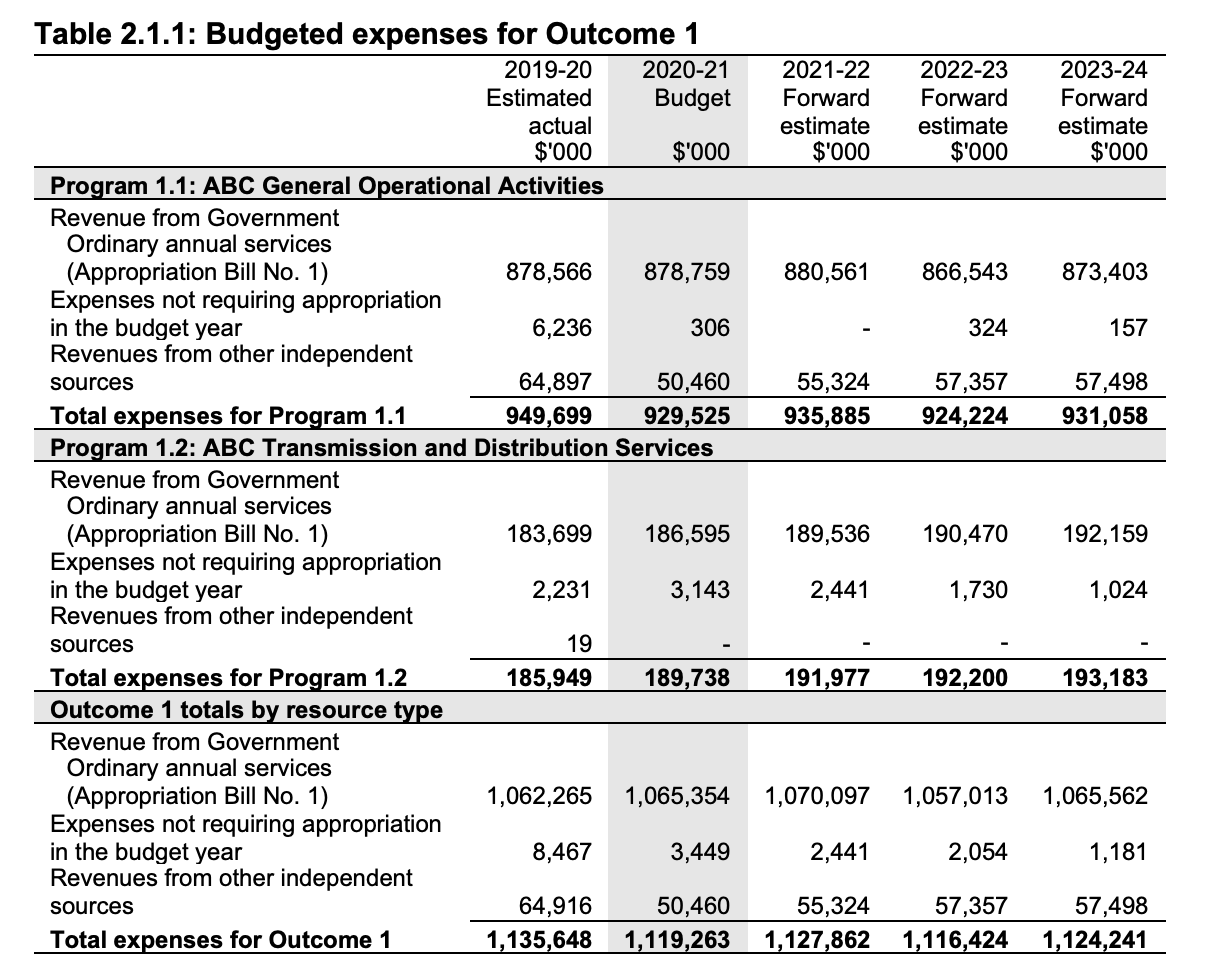 SBS funding increases fractionally over the next three years, from the 2019/20 financial year's $290 million, to $297 million in 2020/21 and $298 million the year after that. But in the 2022/23 budget year SBS funding from government drops by ten million to $288 million, perhaps because it is assumed that the broadcaster may be able to earn more of its own revenue again by then once advertisers come back to media in full force. Unlike the ABC, SBS is allowed to earn a portion of its revenue from commercial advertising.
In the portfolio budget papers, SBS describes its radio and language output as unique, "delivering 68 language services on radio and online, and dedicated digital music channels, to the 21% of Australians who speak a language other than English at home."
SBS Radio communicates a diversity of views and perspectives to Australian audiences, using both traditional radio and digital delivery via app, podcast, dedicated webpages and social media, and expects to continue this mission in coming years.
As well as government income, the budget papers show that the corporation expects to earn $112 million in revenue from its own sources.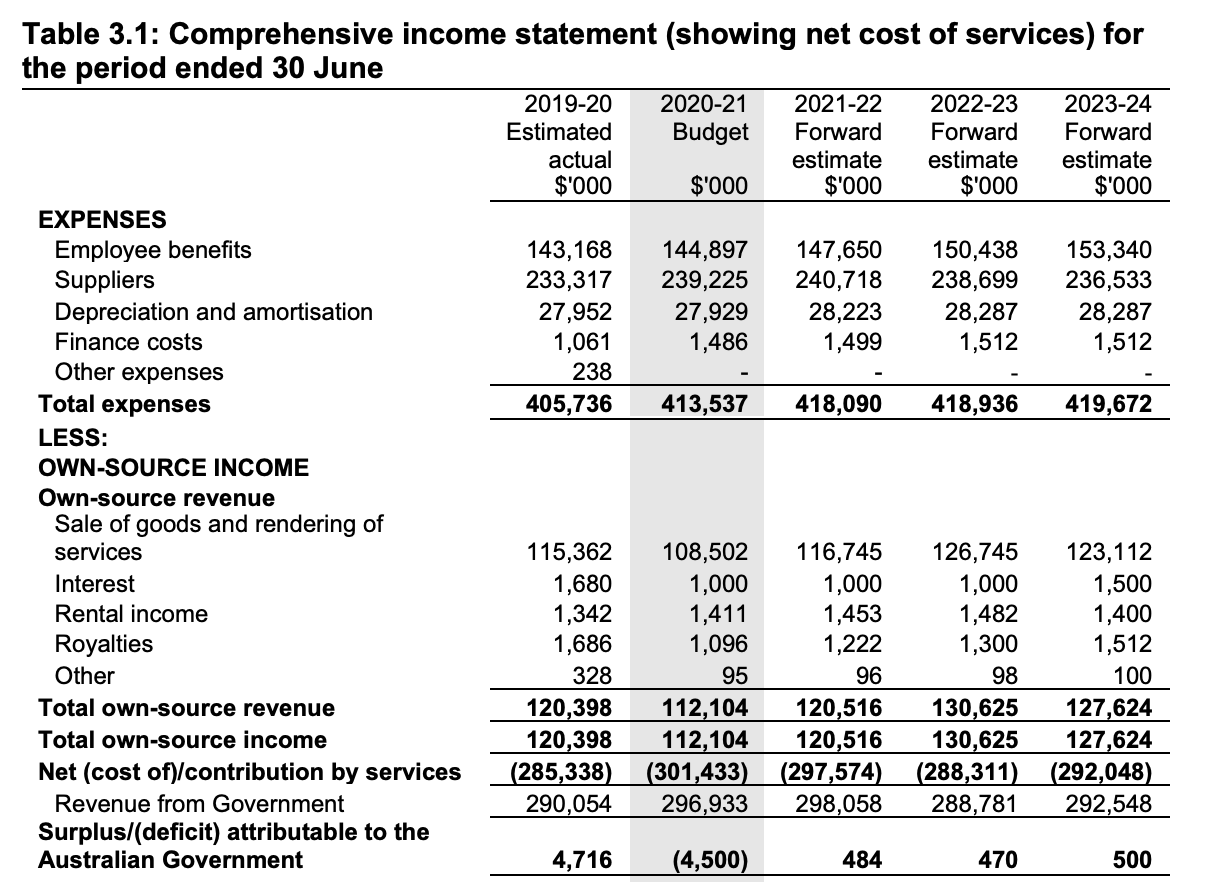 Communications Minister Paul Fletcher has told radioinfo:
"The ABC and SBS are a valued and intrinsic part of Australia's broadcasting culture. This is reflected in the funding support they continue to receive from the Morrison Government.
"The ABC receives more than $1 billion from the Government every year. Its operational funding is secured by three-year funding arrangements, affording the ABC more financial certainty than any other media organisation in the nation. We are currently in the middle year of the ABC's funding 'triennium' which runs from 1 July 2019 to 30 June 2022, so there is no change to the ABC's funding in the 2020-21 Budget.
"As I have consistently explained, the ABC has secure and rising funding locked in for the current triennium. It received $1.062 billion in 2019-20 (up from $1.045 billion in 2018-19); it will receive $1.065 billion in the budget year (2020-21); and $1.070 billion in 2021-22.
"SBS will receive $296.9 million in the budget year (2020-21), which includes funding for enhanced language services. There will be an increase of $1.1 million in 2021-22."

ACMA
The Australian Communications & Media Authority's departmental resourcing will increase from $133 million in the 2019/20 financial year just passed, to $150 million in the 2020/21 financial year, after carrying forward some appropriations from the previous year.
"The emergence of digital platforms continues to cause disruption to consumption of traditional broadcast media," according to the ACMA's budget narrative. "Boundaries between digital platforms and traditional broadcast media are increasingly blurred and attention is turning to the appropriate regulatory framework for content delivered over all platforms."
To achieve "a communications and media environment that balances the needs of the industry and the Australian community through regulation, education and advice, the ACMA will focus on these strategic priorities:
· Spectrum arrangements that benefit all Australians
· Public confidence in communications and media services
· A regulatory framework that anticipates change
· To deliver this outcome, the ACMA will engage with consumers, industry and government on shaping and applying the regulatory framework to maximise the benefits for all Australians."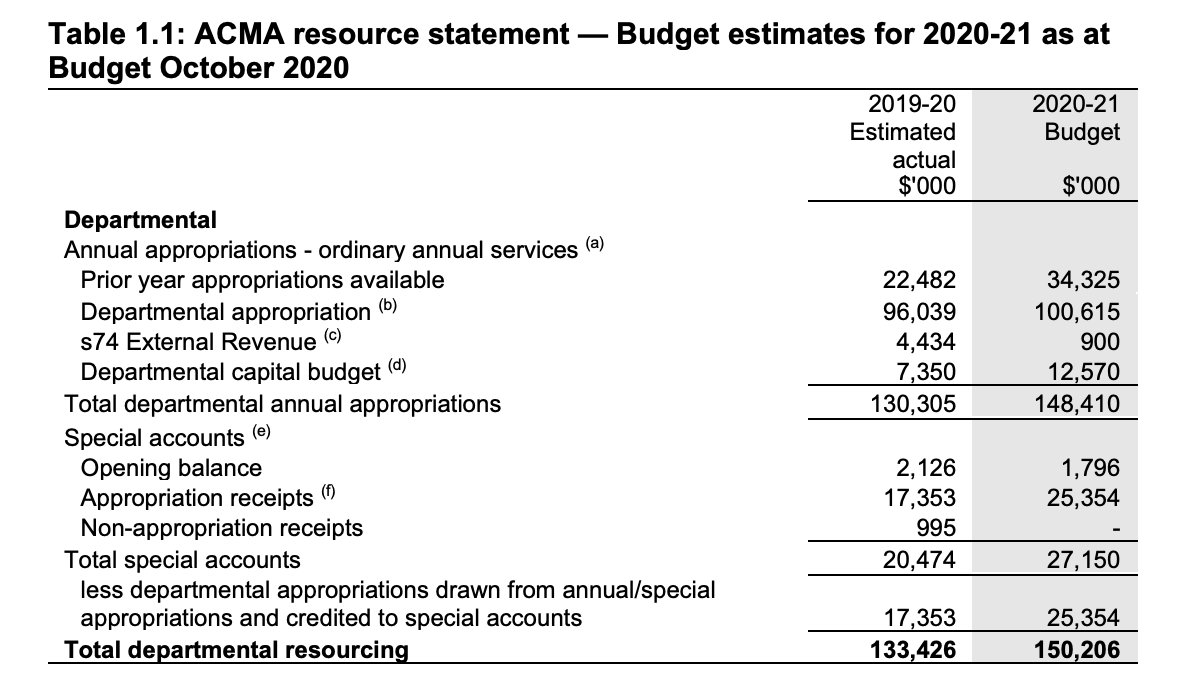 AFTRS, NFSA and others
The Australian Film Television & Radio School will receive an increase, up from $22.6 million in the 2019/20 budget year to $25 million in 2020/21, but will decline slightly in the out years.
The National Film & Sound Archive's government funding will increase from the current $25.1 million in 2019/20 to $26.5 million in 2020/21, but will decline after that. Both AFTRS and NFSA are able to earn their own income in addition to government funding, with AFTRS revenue coming from student fees and NFSA earning income from exhibitions and programs.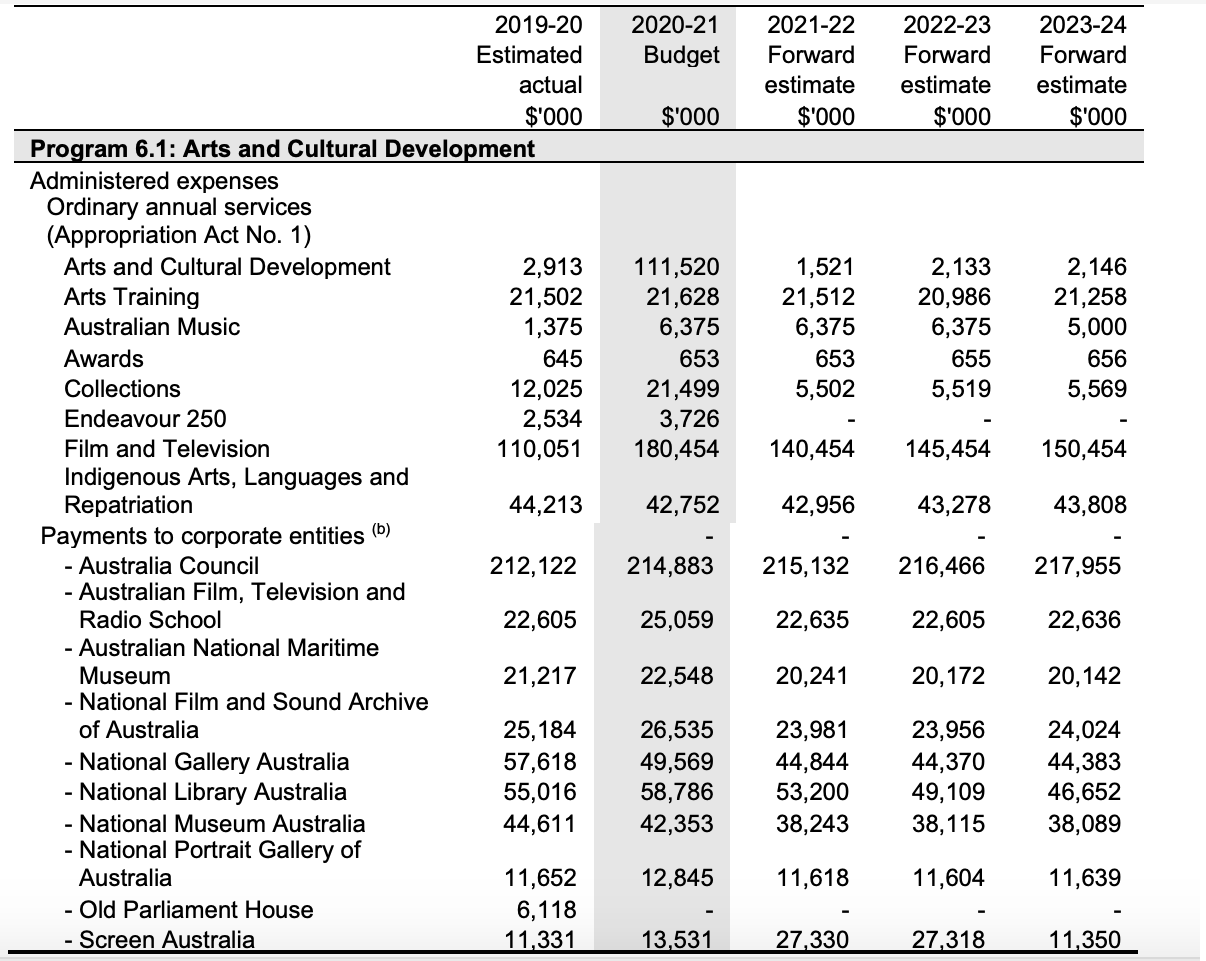 The Australian Music sector is set to receive a big stimulus, with government allocations increasing from $1.3 million in the 2019/20 year to $$6.3 million in 2020/21 and the following few years. Other areas of interest are also shown in the chart above, from the Department's top level budget papers.
The budget papers still use the standard formatting in their financial year columns, but due to the changed timing of this calendar year's budget, which was delivered when the 2020/21 financial year had already begun, there is the possibility of the columns in the charts being misleading for readers. For clarity, the first column in the charts, the 2019/20 budget year, has already ended and the 2020/21 budget year has already begin (it began on 1 July 2020).
Related report: A very different covid budget lockup for Canberra Press Gallery radio reporters
---
Subscribe to the radioinfo podcast on these platforms: Acast, Apple iTunes Podcasts, Podtail, Spotify, Google Podcasts, TuneIn, or wherever you get your podcasts.