Nothing too drastic in the budget outcomes for ABC, SBS, ACMA, NFSA and AFTRS
The ABC will lose almost 50 more jobs in the next financial year, according to documents released in tonight's Federal Budget. Job cuts had already been flagged for the national broadcaster and these are presumably part of the process carried across financial years.
The budget papers show that government funding to the national broadcaster will increase by about $10 million, but that revenue from other sources will decrease, resulting in an actual decrease of about $30 million in the national broadcaster's overall budget.
Funding for the national broadcaster is allocated in two areas: ABC General Operational Activities ($865,459,000) and ABC Transmission and Distribution Services ($178,221,000).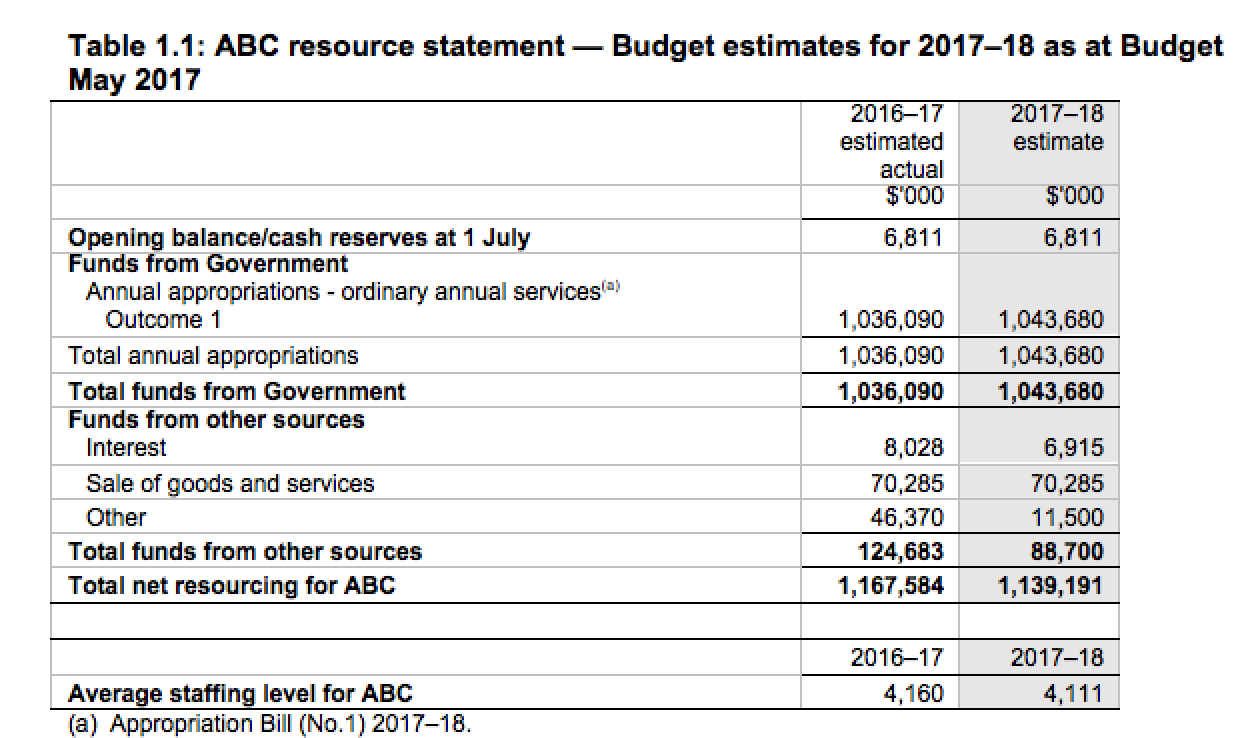 In the digital radio transmission funding area, ABC Radio is aiming to achieve "100% coverage of mainland state capital cities that have access to ABC digital radio transmissions."
Own-source revenues are principally comprised of revenues from ABC Commercial activities, as well as other minor amounts from co-production arrangements, facilities hire, services provided, interest and commissions.
The ABC is budgeting for an operating surplus of $3.1 million in 2017–18. About half of the national broadcaster's costs are spent on staff, a cost which is budgeted to decrease over the next five years.

SBS
SBS's government allocation for next financial year will decrease by about $1 million. Australia's language-based, second national broadcaster, which is able to sell advertising, is expecting a decrease in advertising revenue next financial year, down from $104 million to $98 million, which will leave SBS about $10 million short of this year's budget. Despite the expected fall in revenue, staffing is expected to rise by about 25 people.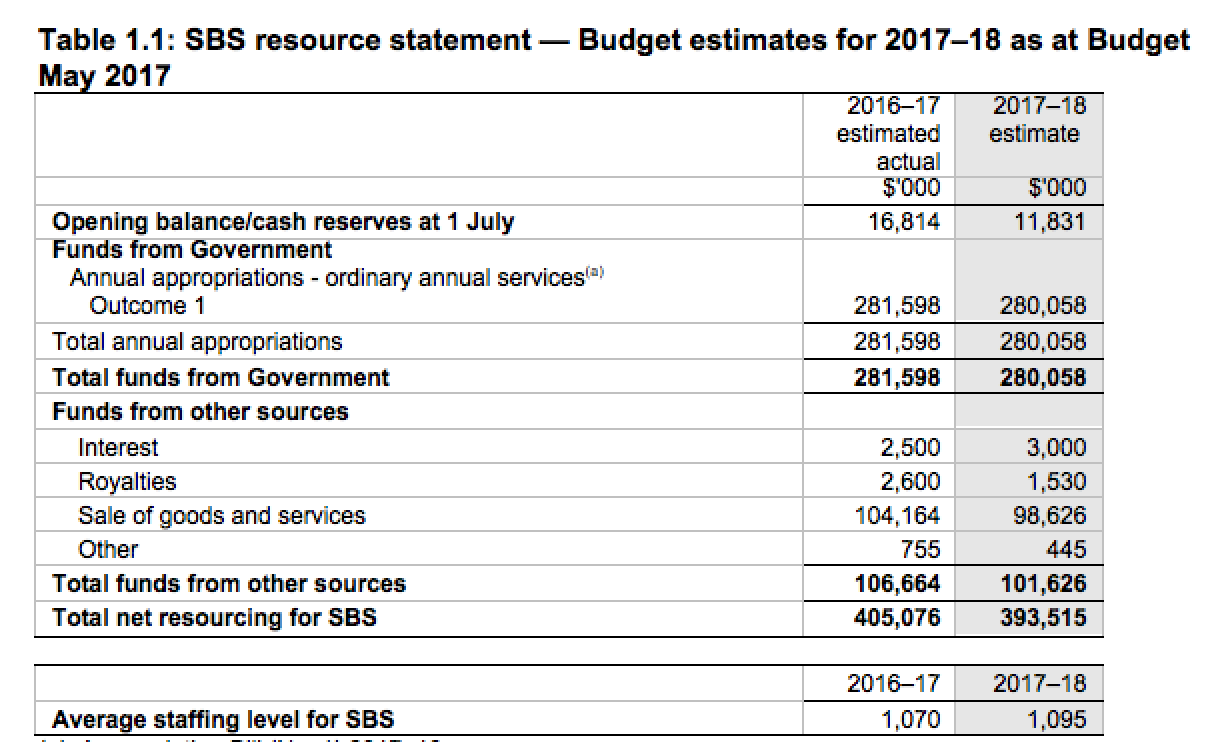 ACMA
The ACMA will lose nearly $130 million in revenue as a result of the abolition of the licence fee announced last week.
The total appropriation from the Department of Communications for the ACMA will increase in the 2017/18 financial year from $93,879,000 to $96,322,000 and staff numbers are expected to remain the same, at 418 people.
With the impending media reforms, the ACMA and the Department of Communications will be kept busy in the coming year administering the legislative changes to build "a communications and media environment that balances the needs of the industry and the Australian community through regulation, education and advice."
Community Broadcasting
Within the Department of Communications portfolio, funds are also confirmed for the recently announced additional funding for community digital radio, to be delivered through the Community Broadcasting Program, which will see an increase of about $4 million next financial year, reflecting the digital radio funds, then slightly decreasing estimates in the out years.
AFTRS
Government funding for the Australian Film Television and Radio School will decrease by about $300,000, from $22,985,000 to $22,683,000, but AFTRS is predicting an increase in its own revenue by about $1 million to offset the fall in government funding. Staff numbers are predicted to be stable in the next financial year.
NFSA
The National Film and Sound Archive's ordinary appropriation will decrease by about $400,000, but the national repository of broadcast audio, film and television will benefit by a one off equity injection of $1 million for other services. Staffing will remain consistent next financial year.