Coober Pedy describes itself as "The Opal Capital Of The World." And it most likely is. The mining town is located 846ks from Adelaide and 685ks south of Alice Springs. It's fair to say it's out of the way.
Coober Pedy is also home to maybe 3,250 to 4,000 people. Nobody knows for sure exactly how many. What is known is that 59 nationalities are represented with a large number of Greeks, who put on their now famous, and looked forward to, Greek Bar-B-Que every Thursday night at the Greek Club. All welcome.
Coober Pedy is also home to 800 to 900 Aboriginals.
Tourism and Opals keep Coober Pedy going. At first sight the town ain't pretty. Some years ago I took one look at The Pedy, filled my car with Petrol and drove on. Since then I have come to know what makes this place tick, it's people, and how to enjoy the relaxed life style of this unique place. I spent 22 days here a couple of years ago.
Coober Pedy has a radio station, cleverly named "Dusty Radio 104.5fm" which evolved from the effort of Mr Bob Price who taught Media Studies at the local school.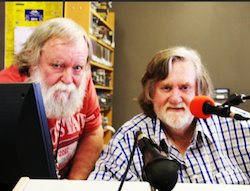 In 1997 in the school gym, something resembling a radio station began to take shape. A while later it became a "Community Partnership" and was moved into the old police house. Dusty Radio to this day is still officially a schoolroom and Bob Price is the School's Principal and part of the committee of three who run it. Another member of that trio is Kevin Woon (pictured left with Keith McGowan right) who is Station Manager/Chairperson of Dusty Radio Inc, and conducts the Wednesday Night Blues Program "Big Bad Kev's Blues Show." He does other stuff too.
Kevin arrived in Coober Pedy in 2002 after doing some training at 5DGTR Mt Gambier. That made him immensely qualified for his role at Dusty.
The sad truth is Dusty Radio is pretty much a non event. Almost all you hear is music off a computer, with no station id's, no voices, no time calls, no local info, no weather, no news, no nuthin'. Dusty Radio is a gem in the Opal fields laying undiscovered. Kevin Woon told me "I have a vision for this place to become much more important to the community than we are, but we can't get volunteers. No one wants to present programs and if they do, it'll only be for a week or two then they move on. It's the itinerant nature of this place."
Kevin showed me the "station roster " on the wall, but for 3 to 4pm Monday to Friday, it was pretty much empty. "Each day we have an hour presented by the media studies kids from the school and some of them are pretty good, in fact one lass is now on the Indigenous station in Port Augusta," the Station Manager told me proudly.
I sat in the Dusty Radio studio feeling almost angry about what I was seeing and hearing here. I questioned again Kevin's efforts to get the station on the air properly. "We've had articles in the local paper, we've asked the various community groups, sports clubs… you name it and we've asked them," Kevin told me.
In an effort to get more station awareness in the region Woon said, "I'd like to get our program broadcast in the main street from loudspeakers and we have recently purchased a caravan, which we will equip and paint up and take to local events." Nice idea Kevin, but we have no staff, remember ?
When I asked Kevin about the station's income I was told there are no ads this week and there were three the week before. When I ask locals about Dusty Radio they don't know a lot, but then there isn't a lot to know.
As I was about to leave Dusty Radio a girl from the school's media studies arrived to conduct her first radio program. With her was a lad who presented a 60's Hit Parade the night before. The Station Manager told the boy his show was very good and I got the feeling he'll be behind the mike some more. Maybe these kids will be the future of Dusty Radio 104.5fm, the "Undiscovered Gem of the Opal Fields."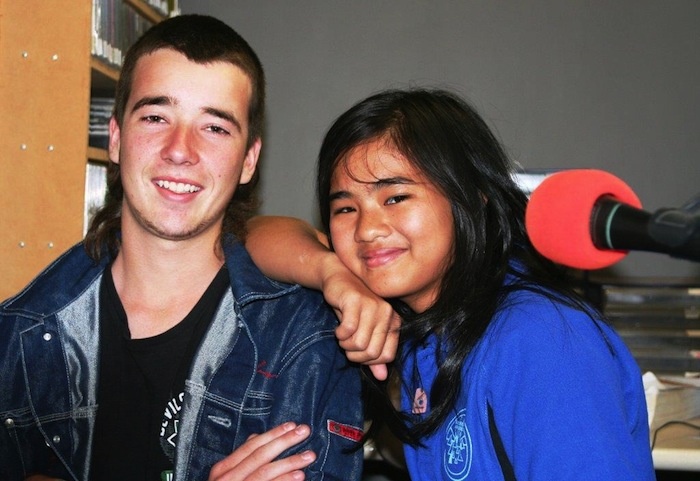 Radio Stars of the future? Who knows? James "Mullet" Bunting and Chrystal "CJ" Jem arrive at Dusty Radio to broadcast their program.