Yesterday Bruce Ferrier recalled his first day in radio, 50 years ago.
What happened next? We asked Bruce to summarise the rest of his career after 4VL.
I was at 4VL from 1972 to 1974… a long time to stick around at a starting station, but Color Radio announced they were buying it in early 1973, then had an hiatus courtesy of being offered 4WK Darling Downs and thus breaching the '4 stations in one State' maximum rule. They got 'Joh Bee-Often-Peedupon' to apply his influence in Canberra to get the rules changed.
Color Radio was 'IT' in those days in Queensland radio, and I was glad I stayed as John Foley came in and taught me Sales, Marketing & especially Promotions.
From there I went into Sales at 4AK Toowoomba, became Sales Manager, then moved to Sydney with AWA National Sales in 1978, repping their regional stations.
In July 1979, I made the jump to 2GB Macquarie to look after their Inter-Station Services & Special Events division. The latter was collapsing due to the impact of satellite coverage and colour TV, so I changed it into a programming service, and started specialising in radio comedy. My main competition – Reg James and Grace Gibson Productions. We were 'friendly rivals' it must be said!
Macquarie Special Events morphed into Independent Radio Services circa 1982, and our comedy heritage opened up a close association with Triffique Productions. With Triffique we went on to create The Samuel Pepys Show and later How Green Was My Cactus. 'Cactus' was initially only going to be 65 episodes (sending up Keating's 'banana republic' statement) but took off so well that it went on…and on…and on. We lost it it to Austereo in 1991, but it 'came back home' in 2003 and carried on to be the longest radio series in Australian radio history – 33 years ('Blue Hills' on the ABC only lasted 26 years, after all! 😀).
In the mid-80s I became 'The Voice of the Seven Network'. That was in the early days of TV amalgamation so suddenly my voice went nation-wide across all the metro Sevens and Prime TV in regional markets, doing all those 'TONIGHt on SEVEN' promos. A nice gig indeed, which I absolutely loved!
In 1991, I took over the syndication wing of Albert's 'The Radio Shop' and renamed it back as Grace Gibson Productions – after all, Grace Gibson was THE driving force who created so many of their shows for 30+ years – her history dates back to setting up Artransa in 1932 and Grace Gibson Productions in 1944.
And we're still around!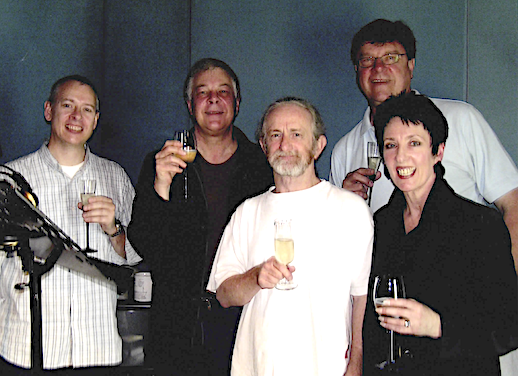 Cactus Team: audio engineer Bill Dowling, Keith Scott, writer Doug Edwards, Bruce Ferrier and Robyn Moore.