"The cloud sounds light, fluffy and magical, but it's not, it's complicated and takes expertise to use it well," Steve Ahern told the SMPTE Conference, while chairing today's opening session.
Three speakers shared their expertise on 'the cloud' during the session, with Adobe's Jon Barrie telling conference delegates, "30% or more of what is stored in the cloud is useless, because nobody except the person who put it there knows why its there and what to do with it."
Barrie, presenting a paper prepared by his colleague Bill Roberts, advised that indexing and an intelligent interface are also needed to get the most out of cloud storage.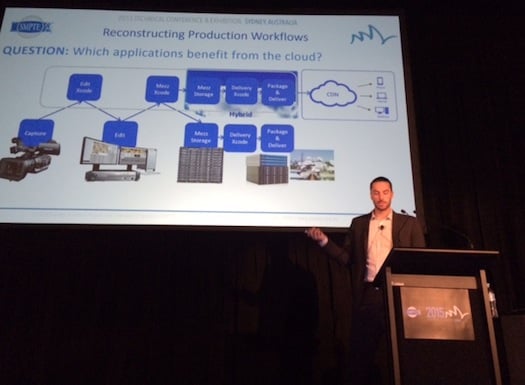 In an
explanation
of things to consider while using cloud storage,
Telestream's
Josh McMahon
told the audience:
"The economics and agility of the cloud means it makes sense to use it, but what parts of your workflow should you put in the cloud?"
He concluded that large files with high editing or processing needs are not usually appropriate for the cloud, but that storing edited material and sharing it via the cloud are cost effective sensible uses of the technology.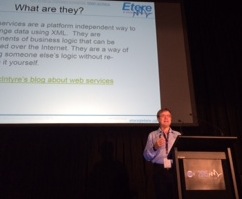 Fabio Gattari from Etere Singapore explained more about the cloud, telling delegates it is an efficient way of achieving many production tasks, but that you must choose systems which keep your content safe and secure from unauthorised access. Other advantages of cloud usage include no need for disruptive equipment upgrades, no downtime when upgrading software, and that cloud web services are "independent and stateless."
He explaind the SOAP (Simple Object Access Protocol) interface that makes cloud usage possible across many operating systems.
"Quit the old technologies such as drop box and use the cloud," he told the conference.
At the Exhibition space, concurrent with the conference, RCS (pictured above) is displaying its scheduling and playout software in conjunction with its new infrastructure partner Wheatstone.
Also on display are a range of new microphones, on air systems, radio apps and peripherals. radioinfo will report more about these developments from the Sydney conference over the next few days.