Last week RCS President & CEO, Philippe Generali, visited Australia to meet with Keith Williams VP, Asia Pacific and to personally inspect the company's latest installations at Nova Entertainment stations.
The visit coincided with the final of the Cricket World Cup. But while French born Mr Generali, now based in New York, knows much about computer science, his knowledge of cricket was somewhat lacking. A lazy Sunday among Aussie fans soon fixed that. So, by the time I caught up with him he could scream "Howzat?" with the best of them, albeit with a French accent.
From humble beginnings in 1979, RCS has grown to become the world's largest broadcast software company. Today it has more than 10,500 radio stations, TV music channels, cable companies, satellite music networks and Internet stations worldwide using its software.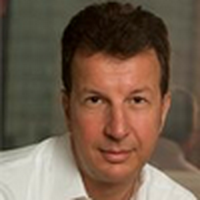 "The world is going mobile, no doubt about that," Mr Generali (left) tells me emphatically. "We're going from a place where it used to be a desktop with one person who had all the software knowledge and the typing skills. And everybody had to ask them to do something. Now everyone can have their own mobile device and they can do everything themselves. So, the software has to be user-friendly, it has to operate from anywhere and from the cloud."
For example Acquira is RCS' centralised traffic system that allows an account executive to schedule ads from on their tablet, sitting in the client's office. Or they can log into the system and show the client where their ads ran. A traffic manager attending a wedding in Greece can login and make adjustments. And through Selector2Go a music director can tweak the playlist while waiting in a queue for Chinese takeaway.
As for any technologically based organisation, staying ahead of the curve is an ongoing challenge.
"Our focus is giving our users a mobile interface. Then we'll be able to put all our horsepower in the cloud which means less demand for engineering, less demand for huge rack rooms and less people woken up in the middle of the night. It's much easier to scale up. It's the way the world is going," says Mr Generali.
Peter Saxon