Who would have thought a couple of months ago that Australia's lockdowns would begin lifting so soon. It is a tribute to the balance between smart health regulations and pragmatic business decisions.
Things are not perfect, but they're a lot better than elsewhere.
As the lockdowns ease while we still maintain sensible precautions, the radio and advertising industries are beginning to see the first green shoots.
Using our jobs page as an indicator, some of the best stations are the smaller regional independents. This week we have had jobs at 8HA/Sun FM Alice Springs and Sea/Mix on the Sunshine Coast. The little guys seem to be the canaries in the coal mine that may indicate the beginnings of recovery.
Some of the bigger networks still seem to be struggling and are not able to recruit yet. Maybe it will take them longer to recover.
Meanwhile, as of 20 May 2020, 910,055 businesses had enrolled in the JobKeeper program. Despite the Despite the recent reporting error, 759,654 businesses have already made claims and received $8.7 billion of approved payments.
The JobKeeper program is scheduled to continue until September, which hopefully, will see other radio businesses coming out of their slump and advertising more jobs.
In his National Press Club address today, Prime Minister Scott Morrison said: "It will not be business as usual. Opening up will be harder than closing down… we will have to all live and work in a way that creates a sustainable COVID save economy and society."
"We are In uncharted territory… We can also, sadly, expect unemployment and underemployment to rise before it falls. Debt and deficits to rise sharply, as costs rise and revenues fall. This will test our confidence and resolve.
"That is why the reopening of our economy must be followed by a concerted effort to create momentum and to rebuild confidence. The overwhelming priority of this reset will be to win the battle for jobs…
"Our confidence is building, with consumer confidence climbing back 80 per cent in the past eight weeks off the dramatic fall. We must start by working together… by restoring the jobs that have been lost."
During his speech he launched a JobMaker plan to stimulate recovery and future growth, which will no doubt will be scrutinised by all sides of politics and industry in coming days.
Later in the week he spoke to Fitzy and Wippa on Nova 96.9 and was praised by Fitzy for his new conciliatory approach to building jobs growth.
"That is the test… anyone who wants to work with me to create a job, we've got a partnership. I don't care what perspective you come from, if you want to make jobs then that's what this plan is designed to do. We've got to bring people together in a way that they haven't been doing for a very very long time."
How the next steps with the recovery will affect the national broadcasters will be very different from the commercial and community sectors. Staff at the national broadcasters are expecting cuts, the community sector is hoping the funding balance between government grants and local fundraising support can be maintained, while the commercial sector is hoping for a quick return to economic prosperity.
Keep watching our jobs pages for indications of which companies are recovering more quickly than others as the economy begins its return to normal.
In other Covid-19 related analysis of how economies might recover, a McKinsey study looking at buying sentiment in the apparel and fashion sector has found declines in purchase intent of 70 to 80% in offline and 30 to 40% in online in Europe and North America, even in countries that haven't been under full lockdown. "E-commerce is clearly not offsetting the sales declines in stores. Nevertheless, it has been a lifeline for fashion brands as stores have been shuttered—and it will continue to be critical during and after the recovery period. In China, the return of offline traffic has been gradual, with 74 percent of Chinese consumers saying they avoided shopping malls in the two weeks after stores reopened.1 This suggests that some percentage of offline sales could permanently migrate to e-commerce," says the research.
And another study identified six key things that Asian countries did to minimise the effect of the virus, as shown in this chart.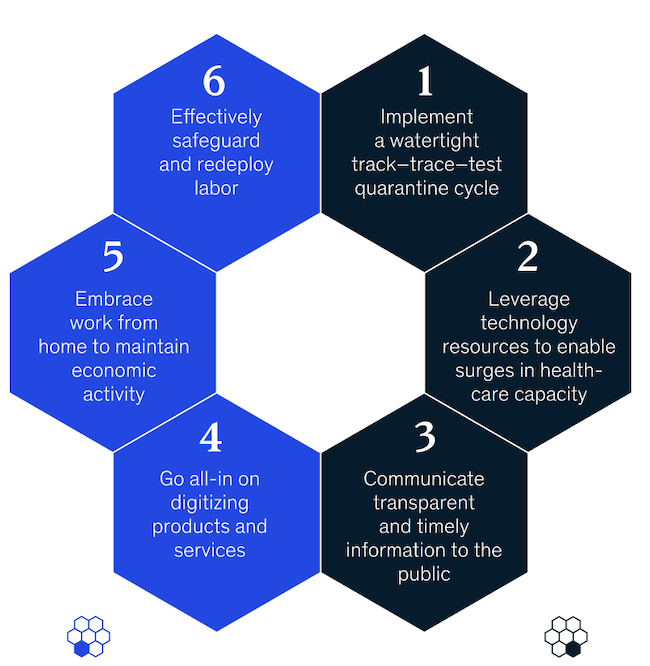 ---
Subscribe to the radioinfo daily flash briefing podcast on these platforms: Acast, Apple iTunes Podcasts, Podtail, Spotify, Google Podcasts, TuneIn, or wherever you get your podcasts.
Ask Alexa: 'Alexa, play radioinfo flash briefing' or ask Google Home: "Hey Google. Play the latest Radioinfo flash briefing podcast."

---